University of Allahabad Exam Result 2023
Onlineresultportal.com | Updated: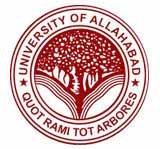 The Allahabad University is formally called the University of Allahabad which is a Central University located in Allahabad in the Indian State of Uttar Pradesh. Established on 23 September 1887, it is the fourth oldest University in India and is regarded to be once known as the "Oxford of the East". Later in June 2005 it has evolved in to the present status of Central University. This institute of national importance has its area campus of 232 acres of land which houses the administrative building, research centre, library, computer centre, administrative computer centre, Gandhi Bhawan, hostel accommodation for boys and girls students, National Cadet Corps Unit, Sports facilities and other incredible infrastructures. This University is also an active member of UGC, AIU and NAAC. Moreover, Allahabad University also provides affiliation to over 12 constituent colleges in Allahabad.
This University of excellence hires the best faculty members from the country and abroad in its faculties of Arts, Science, Commerce, Law and Medicine. It provides undergraduate, postgraduate and diploma courses and degrees in various fields of History, Anthropology, Education, English, Languages, Geography, Journalism & Mass Communication, Philosophy, Music & Performing Arts, Biochemistry, Botany, Physics, Mathematics, Earth & Planetary Science, Electronics & Communication, Commerce, Economics, Law, Medicine and many more subjects. The university also provides professional degree programmes in Business Management, Electronic and Telecommunication Engineering, Educational Training, Human Resource Development and Management. Accordingly, with the UGC Scheme for vocational courses, vocational options have been provided in the graduate degree programs.
Students and scholars are advised to check the University website- www.allduniv.ac.in for details about admission, courses, fees structures, notification, etc. On the other hand, www.onlineresultportal.com is also handy for the students to get information about all Indian Universities state wise along with results of various examinations.
Latest Updates:
Latest Announcement: Link 1 | Link 2
Date
B.A. Part I, 2022-23
29-09-2023
B. SC. Part I, Session 2022-23
11-09-2023
BALLB (H) III Sem, Session 2022-23
04-09-2023
BALLB (H) VI Sem, Session 2022-23
04-09-2023
BALLB (H) VIII Sem, Session 2022-23
04-09-2023
LLM . III Sem, Session 2022-23
04-09-2023
LLM . I Sem, Session 2022-23
04-09-2023
LLB (H) III Sem , Session 2022-23
04-09-2023
B.A Part II, Session 2022-23
28-08-2023
B. Com. Part I, Session 2022-23
18-08-2023
B.Sc Part II, Session 2022-23
14-08-2023
B. Com Part - II, Session 2022-23
09-08-2023
LL.B. Entrance results declared
03-07-2023
MBA (Level I) results declared
03-07-2023
Results of the PGAT-II, all subjects except MBA Courses Declared
30-06-2023
Results for PGAT-I Courses have been declared
29-06-2023
B.A. Part -III, 2022-23 Exam Result
28-06-2023
The results of IPS PG Courses (M.Sc. Food Technology, PGDCA , MCA and M.Voc. ) declared
27-06-2023
The LL.M. and M.Com. Entrance Test 2023 results are declared
26-06-2023
BALLB (H) X Sem 2022-23
26-06-2023
B.Sc Part III 2022-23
23-06-2023
L.L.B. (Honors) VI Sem 2022-23
19-06-2023
B.Com Part - III, 2022-23
09-06-2023
LLB (H) II Sem Exam Result 2023
08-05-2023
LLM II Sem Exam Result 2023
08-05-2023
Details of Allahabad University
Full Name
University of Allahabad
Nickname
AU University
Affiliations
UGC
Contact No
0532 246 1083
Website
www.allduniv.ac.in
Founded
23rd September 1887
Email
registraraualld@gmail.com
Address
Senate House Campus, University Road, Old Katra, Allahabad -211002
State
UP
Country
India
List of courses offered by Allahabad University

Degree
Duration
Arts Courses
B.A.
3 Years
M.A.
2 Years
M.A. (Ancient Indian History and Archaeology)
2 Years
M.A. (Anthropology)
2 Years
M.A. (Defence Studies)
2 Years
M.A. (Economics)
2 Years
M.A. (Education)
2 Years
M.A. (English)
2 Years
M.A. (Geography)
2 Years
M.A. (Hindi)
2 Years
M.A. (Mathematics)
2 Years
M.A. (Music)
2 Years
M.A. (Painting)
2 Years
M.A. (Philosophy)
2 Years
M.A. (Political Science)
2 Years
M.A. (Psychology)
2 Years
M.A. (Sanskrit)
2 Years
M.A. (Statistics)
2 Years
M.A. (Urdu)
2 Years
Ph.D. (Ancient History)
3 Years
Ph.D. (Arabic)
3 Years
Ph.D. (Defence & Strategic Studies)
3 Years
Ph.D. (Defence Stuidies)
3 Years
Ph.D. (Economics)
3 Years
Ph.D. (Education)
3 Years
Ph.D. (Geography)
3 Years
Ph.D. (Hindi)
3 Years
Ph.D. (History (Medieval & Modern))
3 Years
Ph.D. (History)
3 Years
Ph.D. (Music)
3 Years
Ph.D. (Painting)
3 Years
Ph.D. (Persian)
3 Years
Ph.D. (Philosophy)
3 Years
Ph.D. (Political Science)
3 Years
Ph.D. (Psychology)
3 Years
Ph.D. (Sanskrit)
3 Years
Ph.D. (Urdu)
3 Years
Engineering Courses
M.Tech. (Electronics Engineering)
2 Years
Ph.D. (Food Technology)
3 Years
Medical Courses
Ph.D. (Nutritional Science)
3 Years
Science Courses
B.Sc.
3 Years
B.Sc. (Applied Science)
3 Years
B.Sc. (Home Science)
3 Years
M.Sc. (Applied Geology)
2 Years
M.Sc. (Biochemistry)
2 Years
M.Sc. (Botany)
2 Years
M.Sc. (Chemistry)
2 Years
M.Sc. (Computer Science)
2 Years
M.Sc. (Geography)
2 Years
M.Sc. (Mathematics)
2 Years
M.Sc. (Physics)
2 Years
M.Sc. (Psychology)
2 Years
M.Sc. (Statistics)
2 Years
M.Sc. (Zoology)
2 Years
Ph.D. (Anthropology)
3 Years
Ph.D. (Biochemistry)
3 Years
Ph.D. (Bioinformatics)
3 Years
Ph.D. (Biotechnology)
3 Years
Ph.D. (Chemistry)
3 Years
Ph.D. (Computer Science)
3 Years
Ph.D. (Environment Studies)
3 Years
Ph.D. (Environmental Science)
3 Years
Ph.D. (Mathematics)
3 Years
Ph.D. (Physics)
3 Years
Ph.D. (Zoology)
3 Years
Management Courses
M.B.A.
2 Years
Commerce Courses
B.Com.
3 Years
Ph.D. (Commerce)
3 Years
Ph.D. (Statistics)
2 Years
Agriculture Science and Technology Courses
M.Sc. (Agricultural Entomology)
2 Years
M.Sc. (Agriculture Botany)
2 Years
M.Sc. (Agriculture Chemistry & Soil Science)
2 Years
Ph.D. (Agriculture Botany)
3 Years
Ph.D. (Agriculture Chemistry)
3 Years
Ph.D. (Agriculture Zoology)
3 Years
Post Graduate Diploma in Remote Sensing and Geographical Information System (GIS)
2 Years
Information Technology Courses
M.C.A.
3 Years
Law Courses
Ph.D. (Law)
2 Years
List of colleges affiliated with Allahabad University