Annamalai University Exam Result 2023
Onlineresultportal.com | Updated: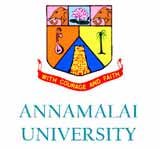 Annamalai University- the largest Public residential University of India is established in 1929 at Chidambaram in the Indian State of Tamil Nadu. The University was founded by the famous entrepreneur Annamalai Chettiar and moreover the University is also named after him. The University Grants Commission (UGC) recognizes various courses of the University's higher education in Science, Engineering, Humanities, Agriculture and Arts. Moreover, Annamalai University has also won accolade from the National Assessment and Accreditation Council (NAAC) with "A" Grade. Another important milestone of Annamalai University is providing more than 500 courses through distance education. For making distance education more popular with Annamalai University, the Directorate of Distance Education (DDE) offers education to those students who have a desire to study but are unable to attend the campus.
Over the years Annamalai University has imparted and offered quality education with 10 Faculties namely Medicine, Dentistry, Agriculture, Engineering & Technology, Arts, Education, Fine Arts, Science, Indian Languages and Marine Sciences and 49 departments of study. Higher education is imparted in levels of undergraduate, postgraduate and research levels. This seat of higher learning has extended its service to the doorsteps of the people who are far away from the University's learning centres with innovative learning techniques. The students who are interested to gain the precious higher education and innovative knowledge from Annamalai University can have a look at its official website- www.annamalaiuniversity.ac.in regarding admission, admission forms, courses, fees structures and other notifications. Moreover, www.onlineresultportal.com is also an useful education website to provides details about all Indian Universities and results of various examinations.
Latest Updates:
Result Announcement Click Here
Date
B.Sc., Horticulture Admitted List published
25-08-2023
B.F.Sc. (Academic), B.F.Sc. (Vocational) Admitted List published
25-08-2023
B.pharm, D.Pharm & Pharm.D Provisional Merit list published
25-08-2023
B Sc. (Hons.) Agriculture Provisional Admitted List published
23-08-2023
B.Sc. Agriculture [Self Supporting] - Academic Provisional Admitted List published
24-08-2023
Diploma in Mining Engineering Programme
10-08-2023
B.Sc. (Hons.) Agriculture, B.Sc. (Hons.) Agrriculture (Self Supporting)
07-08-2023
B.Sc. (Hons.) Horticulture Provisional Merit List published
07-08-2023
B.Pharm, D.Pharm & Pharm.D (6 years) Programme Random number published
07-08-2023
About Annamalai University

Full Name
Annamalai University
Affiliations
UGC, NAAC
Contact No
04144 238 282
Website
www.annamalaiuniversity.ac.in
Founded
1929
Email
au_regr@ymail.com
Address
Sadagopan Nagar, Annamalai Nagar, Chidambaram, Tamil Nadu 608002
State
Tamil Nadu
Country
India
List of courses offered by Annamalai University

Degree
Duration
Arts Courses
B.A. (Economics)
3 Years
B.A. (English)
3 Years
B.A. (History)
3 Years
B.A. (Human Rights)
3 Years
B.A. (Political Science)
3 Years
B.A. (Public Administration)
3 Years
B.A. (Sociology)
3 Years
B.A. (Tamil)
3 Years
B.Ed.
1 Years
M.A. (Ancient Indian History and Archaeology)
2 Years
M.A. (Applied Economics)
2 Years
M.A. (Business Economics)
2 Years
M.A. (Development Studies)
2 Years
M.A. (Disaster Management)
2 Years
M.A. (Economics)
2 Years
M.A. (English Literature and American Studies)
2 Years
M.A. (English)
2 Years
M.A. (Gandhian Studies)
2 Years
M.A. (Hindi)
2 Years
M.A. (History and Archaeology)
2 Years
M.A. (History)
2 Years
M.A. (Linguistics)
2 Years
M.A. (Philosophy)
2 Years
M.A. (Philosophy, Culture and Tourism)
2 Years
M.A. (Political Science)
2 Years
M.A. (Population Studies)
2 Years
M.A. (Public Administration)
2 Years
M.A. (Social Work)
2 Years
M.A. (Sociology)
2 Years
M.A. (Tamil)
2 Years
M.Lib.Sc.
2 Years
M.Lib.I.Sc. (Integrated)
5 Years
M.Phil. (Economics)
2 Years
M.Phil. (Education)
1 Years
M.Phil. (English)
2 Years
M.Phil. (Linguistics)
2 Years
M.Phil. (Mathematics)
2 Years
M.Phil. (Philosophy)
2 Years
M.Phil. (Physical Education)
2 Years
M.Phil. (Political Science)
2 Years
M.Phil. (Population Studies)
2 Years
M.Phil. (Psychology)
2 Years
M.Phil. (Public Administration)
18 Months
M.Phil. (Sociology)
2 Years
M.Phil. (Statistics)
2 Years
M.Phil. (Tamil)
2 Years
Post Graduate Diploma in Public Relations
1 Years
Post Graduate Diploma in Travel & Tourism Management
2 Years
Engineering Courses
M.Tech. (Food Processing Technology)
2 Years
Medical Courses
B.P.T.
4½ Years
B.Pharm.
4 Years
B.Sc. (Nursing)
4 Years
M.B.B.S.
5½ Years
M.P.T.
2 Years
M.Sc. (Nursing)
2 Years
Diploma in General Nursing and Midwifery (G.N.M.)
42 Months
Science Courses
B.Sc. (Applied Chemistry)
3 Years
B.Sc. (Electronics)
3 Years
B.Sc. (Mathematics)
3 Years
B.Sc. (Mathematics, Computers, Statistics)
3 Years
B.Sc. (Psychology)
3 Years
M.Phil. (Applied Geology)
1 Years
M.Phil. (Biochemistry)
2 Years
M.Phil. (Botany)
1 Years
M.Phil. (Chemistry)
1 Years
M.Phil. (Computer Science)
2 Years
M.Phil. (Physics)
2 Years
M.Phil. (Zoology)
1 Years
M.Sc. (Applied Botany)
2 Years
M.Sc. (Applied Psychology)
2 Years
M.Sc. (Botany)
2 Years
M.Sc. (Electronics)
2 Years
M.Sc. (Geoinformatics)
2 Years
M.Sc. (Herbal Science)
2 Years
M.Sc. (Mathematics)
2 Years
M.Sc. (Physics)
2 Years
M.Sc. (Zoology)
2 Years
Management Courses
B.A. (Marketing Management & Retail Business)
3 Years
B.B.M.
3 Years
M.B.A. (Environmental Management)
2 Years
M.B.A. (Hospital Management)
2 Years
Master of Financial Management (M.F.M.)
2 Years
Master in Marketing Management (M.M.M.)
3 Years
M.Phil. (Business Administration)
2 Years
Master of Human Resource Management (MHRM)
2 Years
Post Graduate Diploma in Business Administration
1 Years
Post Graduate Diploma in Financial Management
1 Years
Post Graduate Diploma in Foreign Trade
1 Years
Post Graduate Diploma in Marketing Management
2 Years
Post Graduate Diploma in Personnel Management & Industrial Relations
1 Years
Mass Communications Courses
Post Graduate Diploma in Advertising
1 Years
Commerce Courses
B.A. (Business Economics)
3 Years
B.Com. (Accounting and Finance)
3 Years
B.Com. (Computer Applications)
3 Years
Bachelor of Business Studies (B.B.S.)
3 Years
M.Com. (Accounting and Finance)
2 Years
M.Com. (Accounting and Finance)
2 Years
M.Com. (Accounting and Taxation)
2 Years
M.Com. (Business Studies)
2 Years
M.Com. (Co-operative Management)
2 Years
M.Com. (Corporate Accountancy)
2 Years
M.Com. (Entrepreneurship)
2 Years
M.Com. (Financial Services)
2 Years
M.Com. (International Banking)
2 Years
M.Phil. (Commerce)
1 Years
Agriculture Science and Technology Courses
B.Sc. (Agriculture)
4 Years
B.Sc. (Horticulture Science)
3 Years
Information Technology Courses
Post Graduate Diploma in Software Marketing
1 Years
List of colleges affiliated with Annamalai University

S.N.
College Name
Ahmedabad
1
Complete Fire Design Solutions - CFDS
2
Inter National Institute of Fashion Design - INIFD Ahmedabad
Ajmer
1
Inter National Institute of Fashion Design - INIFD Ajmer
Allahabad
1
Inter National Institute of Fashion Design - INIFD Allahabad
Alwar
1
Inter National Institute of Fashion Design - INIFD Alwar
Ambala
1
Inter National Institute of Fashion Design - INIFD Ambala
Amritsar
1
Inter National Institute of Fashion Design - INIFD
Anand
1
Inter National Institute of Fashion Design - INIFD V.V. Nagar
Aurangabad
1
Inter National Institute of Fashion Design - INIFD Aurangabad
Bhilai
1
Inter National Institute of Fashion Design - INIFD Bhilai
Bhopal
1
Institute of Fire Engineering and Safety Management - NIFS
Bilaspur
1
Inter National Institute of Fashion Design - INIFD Bilaspur
Chandigarh
Inter National Institute of Fashion Design - INIFD Chandigarh
Chennai
1
Institute of Fire Engineering and Safety Management - NIFS
2
Inter National Institute of Fashion Design - INIFD Chennai
Coimbatore
1
Institute of Fire Engineering and Safety Management - NIFS
Cuddalore
1
Rajah Muthiah Medical College
Delhi
1
Indian Institute of Telecom Management - IITM
Dhanbad
1
Coxtan College
2
Inter National Institute of Fashion Design - INIFD Dhanbad
Ernakulam
1
Inter National Institute of Fashion Design - INIFD Cochin Campus
Erode
1
K.M.R. College of Pharmacy
Firozpur
1
Inter National Institute of Fashion Design - INIFD Ferozepur
Ganjam
1
Institute of Fire Engineering and Safety Management - NIFS
Guwahati
1
Inter National Institute of Fashion Designing - iNIFD Guwahati
Hamirpur
1
Inter National Institute of Fashion Design - INIFD Hamirpur
Hyderabad
1
Institute of Fire Engineering and Safety Management N.I.F.S.
2
Inter National Institute of Fashion Design - INIFD Hyderabad
Indore
1
Inter National Institute of Fashion Design - INIFD Indore
Jabalpur
1
Inter National Institute of Fashion Design - INIFD Jabalpur
Jaipur
1
Inter National Institute of Fashion Design - INIFD Jaipur
Jharsuguda
1
Institute of Fire Engineering and Safety Management - NIFS
Kakinada
1
Institute of Fire Engineering and Safety Management - NIFS
Kolkata
1
Adi Nalanda Institute of Hotel Management - ANIHM
2
Elitte Hotel School - EHS
3
Flying Cats Kolkata
Mandi
1
Inter National Institute of Fashion Design - INIFD Mandi
Mangalore
1
Institute of Fire Engineering and Safety Management - NIFS
Mumbai
1
Inter National Institute of Fashion Design - INIFD Mumbai
2
Inter National Institute of Fashion Design - INIFD Mumbai Bandra/Khar
3
Inter National Institute of Fashion Design - INIFD Vashi
4
Sharda College of Management Studies
Nagpur
1
Institute of Fire Engineering and Safety Management - NIFS
Nainital
1
Inter National Institute of Fashion Design - INIFD Nanital, Haldwani
New Delhi
1
Inter National Institute of Fashion Design - INIFD Delhi
2
Inter National Institute of Fashion Design - INIFD Delhi
3
Inter National Institute of Fashion Design - INIFD New Delhi
Patna
1
Inter National Institute of Fashion Design - INIFD Patna
Puducherry
1
Bridge Academy for Media Studies - Puducherry
2
Soorya Institute of Management Studies - SIMS
Pune
1
Inter National Institute of Fashion Design - INIFD Pune
2
Inter National Institute of Fashion Design - INIFD Pune, Koregaon Park
3
Inter National Institute of Fashion Design - INIFD Pune, Pimpri
Ranchi
1
Inter National Institute of Fashion Design - INIFD Ranchi
Rourkela
1
Institute of Fire Engineering and Safety Management - NIFS
Secunderabad
1
Institute of Fire Engineering and Safety Management N.I.F.S.
Thane
1
Inter National Institute of Fashion Design - INIFD Thane
Trichy
1
Institute of Fire Engineering and Safety Management - NIFS
Vadodara
1
Inter National Institute of Fashion Design - INIFD
Vijayawada
1
Institute of Fire Engineering and Safety Management - NIFS
Vishakhapatnam
1
Flying Cats Visakhapatnam
2
Institute of Fire Engineering and Safety Management - NIFS
3
National Institute of Fire Engineering and Safety Management - NIFS