Atal Bihari Vajpayee Hindi Vishwavidyalaya ABVHV Exam Result 2023
Onlineresultportal.com | Updated: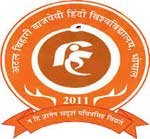 Atal Bihari Vajpayee Hindi Vishwavidyalaya is a prestigious State University which was established in December 2001 at Bhopal in the Indian State of Madhya Pradesh. This is a unique University because it was established towards the development of Hindi language and moreover this is the University for those students who lay back behind due to English language. There are various intelligent students who want to pursue higher education but are not able to do so due to English language as they are comfortable in Hindi and also prefer to get higher education in their national language. In this regards, Atal Bihari Vajpayee Hindi Vishwavidyalaya promotes Hindi language by making Hindi as a medium of instruction for spreading knowledge in various subjects. Moreover all research work and teaching is done in Hindi language.
This is a non-affiliating University and its jurisdiction is spread all over Madhya Pradesh. One of the interesting feature of this University is that it is named after the Hindi poet and former Prime Minister of India Shri Atal Bihari Vajpayee. The University Grants Commission (UGC) has recognized all courses taught under diploma, certificate, degree, post-graduation, research and P.Hd programmes. These courses were taught under the guidance of good faculty members which teaches various subjects under the faculty of Arts, Biology, Commerce & Management, Social Sciences, Language Studies & Translation, Law, Agriculture, Engineering, Medical, Journalism & Mass Communication, Oriental Studies, Fine Arts, Computer Sciences, Education and Home Science. Aspiring students can check more information at the official website- www.abvhv.org about courses, admission, fees structure and other notification. In addition to these popular education portals like www.onlineresultportal.com is also useful for the students so that they can access information about various courses, universities, examination results, admit cards, etc.
Details of Atal Bihari Vajpayee Hindi Vishwavidyalaya
Full Name
Atal Bihari Vajpayee Hindi Vishwavidyalaya
Nickname
ABVHV
Affiliations
UGC
Contact No
0744-2411041/42
Website
http://www.abvhv.org
Founded
2011
Email
abvhvbpl@gmail.com, abvhu.acadamy@gmail.com
Address
Bhopal, Madhya Pradesh
State
Madhya Pradesh
Country
India
List of courses offered by Atal Bihari Vajpayee Hindi Vishwavidyalaya

Degree
Duration
Arts Courses
B.A. (Hons.) (Economics)
3 Years
B.A. (Hons.) (English)
3 Years
B.A. (Hons) (Hindi)
3 Years
B.A. (Hons) (History)
3 Years
B.A. (Hons) (Philosophy)
3 Years
B.A. (Hons) (Political Science)
3 Years
B.A. (Hons) (Sanskrit)
3 Years
B.A. (Hons) (Sociology)
3 Years
M.A. (Economics)
2 Years
M.A. (English)
2 Years
M.A. (Hindi)
2 Years
M.A. (History)
2 Years
M.A. (Philosophy)
2 Years
M.A. (Political Science)
2 Years
M.A. (Public Administration)
2 Years
M.A. (Sanskrit)
2 Years
M.A. (Sociology)
2 Years
M.Phil. (Economics)
2 Years
M.Phil. (English)
2 Years
M.Phil. (Hindi)
2 Years
M.Phil. (History)
2 Years
M.Phil. (Mathematics)
2 Years
M.Phil. (Philosophy)
2 Years
M.Phil. (Political Science)
2 Years
M.Phil. (Sanskrit)
2 Years
M.Phil. (Sociology)
2 Years
Ph.D. (English)
3 Years
Ph.D. (Hindi)
3 Years
Ph.D. (Philosophy)
3 Years
Ph.D. (Sanskrit)
3 Years
Medical Courses
M.Sc. (Medicinal Plants)
2 Years
Ph.D. (Medicinal Plants)
3 Years
Science Courses
B.Sc. (Hons.) (Zoology)
3 Years
B.Sc. (Hons.) (Botany)
3 Years
B.Sc. (Hons.) (Chemistry)
3 Years
B.Sc. (Hons.) (Mathematics)
3 Years
B.Sc. (Hons.) (Physics)
3 Years
M.Phil. (Botany)
1 Years
M.Phil. (Chemistry)
1 Years
M.Phil. (Physics)
2 Years
M.Phil. (Zoology)
1 Years
M.Sc. (Biodiversity & Conservation)
2 Years
M.Sc. (Chemistry)
2 Years
M.Sc. (Computer Science)
2 Years
M.Sc. (Environmental Management)
2 Years
M.Sc. (Mathematics)
2 Years
M.Sc. (Meteorology)
2 Years
M.Sc. (Physics)
2 Years
M.Sc. (Remote Sensing and GIS)
2 Years
M.Sc. (Resource Management)
2 Years
M.Sc. (Zoology)
2 Years
Ph.D. (Applied Chemistry)
3 Years
Ph.D. (Botany)
3 Years
Ph.D. (Chemistry)
3 Years
Ph.D. (Mathematics)
3 Years
Ph.D. (Physics)
3 Years
Ph.D. (Zoology)
3 Years
Post Graduate Diploma in Plant Biodiversity
2 Years
Management Courses
M.B.A. (Business Economics)
2 Years
M.B.A. (International Business)
2 Years
M.B.A. (Logistics and Supply Chain Management)
2 Years
M.B.A. (Retail Management)
2 Years
M.B.A. (Service Management)
2 Years
Ph.D. (Environment Management)
3 Years
Post Graduate Diploma Course in Advanced Wildlife Management
10 Months
Post Graduate Diploma in Environmental Management (PGDEM)
2 Years
Post Graduate Diploma in Tourism Management
1 Years
Commerce Courses
B.Com. (Hons.)
3 Years
M.Com.
2 Years
M.Phil. (Commerce)
1 Years
Ph.D. (Commerce)
3 Years
Information Technology Courses
Post Graduate Diploma in Computer Applications (PGDCA)
1 Years
Post Graduate Diploma in Information Technology (PGDIT)
1 Years
Post Graduate Diploma in Web Designing
1 Years
Multimedia, Animation and Gaming Courses
Post Graduate Diploma in Animation Technology (PGDAT)
18 Months
Yoga and Naturopathy Courses
M.Sc. (Yoga)
2 Years
List of colleges affiliated with Atal Bihari Vajpayee Hindi Vishwavidyalaya