Berhampur University Exam Result 2023
Onlineresultportal.com | Updated: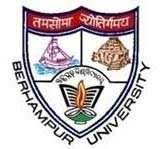 Berhampur University is one of the best and renowned University of Orissa, India situated in the Berhampur district. Established in 1967, the campus of Berhampur University spreads over 250 acres of area and has authority over colleges and educational institutes in districts of Ganjam, Gajapati, Koraput, Rayagada, Nowrangapur, Malkangiri, Kandhamala and Boudh in Orissa. This is the only State Government University to achieve "A" Grade distinction from the National Assessment and Accreditation Council (NAAC). Other affiliation and recognition is provided by the University Grants Commission (UGC) and Association of Commonwealth Universities (ACU).
The University offers undergraduate and postgraduate courses as well as distance education programmes in areas of Arts, Science, Commerce, Law, Education, Medicine, Engineering, Pharmacology, Homoeopathy, Ayurveda, Nursing, Military Science, Library Science and Fine Arts. The University offers various courses under the faculty of Arts & Humanities, Science, Management and Law. Around 1000 students were admitted to these courses every year and admission strictly given on the basis of merit and students need to qualify for the entrance examination conducted by the University.
The University has also achieved great distinction in research activities and has got worldwide recognition in research projects which were funded by U.G.C., I.C.S.S.R., C.S.I.R. and D.S.T. etc. Moreover, Berhampur University provides world-class facilities like incredible infrastructure, banks, post office, canteens, etc. More information about Berhampur University including details about admission, courses, latest notification, fees structure are available at its official website- www.buodisha.edu.in . Additionally, information about all Universities and courses are also available at educational portals like www.onlineresultportal.com.

Details of Berhampur University

Full Name
Berhampur University
Affiliations
UGC
Contact No
0680 222 7333
Website
www.buodisha.edu.in
Founded
2 January 1967
Email
info@buodisha.edu.in
Address
Brahmapur, Odisha 760001
State
Odisha
Country
India
List of courses offered by Berhampur University

Degree
Duration
Arts Courses
M.A. (Applied Linguistics)
2 Years
M.A. (Economics)
2 Years
M.A. (English)
2 Years
M.A. (Extension Education & Rural Development)
2 Years
M.A. (History)
2 Years
M.A. (Human Development)
2 Years
M.A. (Oriya)
2 Years
M.A. (Pali)
2 Years
M.A. (Political Science)
2 Years
M.A. (Prakrit)
2 Years
M.A. (Sanskrit)
2 Years
M.Phil. (Economics)
2 Years
M.Phil. (English)
2 Years
M.Phil. (History)
2 Years
M.Phil. (Mathematics)
2 Years
M.Phil. (Oriya/Odia)
1 Years
M.Phil. (Political Science)
2 Years
Post Graduate Diploma in Tourism and Indian Monuments (PGDTIM)
1 Years
Engineering Courses
M.Tech. (Electronics)
2 Years
Medical Courses
M.Pharm.
2 Years
Science Courses
M.Phil. (Botany)
1 Years
M.Phil. (Chemistry)
1 Years
M.Phil. (Physics)
2 Years
M.Phil. (Zoology)
1 Years
M.Sc. (Botany)
2 Years
M.Sc. (Chemistry)
2 Years
M.Sc. (Electronics)
2 Years
M.Sc. (Home Science)
2 Years
M.Sc. (Marine Science)
2 Years
M.Sc. (Mathematics)
2 Years
M.Sc. (Nutrition and Dietetics)
2 Years
M.Sc. (Oceanography)
2 Years
M.Sc. (Physics)
2 Years
M.Sc. (Zoology)
2 Years
M.Tech. (Computer Science)
2 Years
Ph.D. (Marine Science)
3 Years
Management Courses
M.B.A.
2 Years
Mass Communications Courses
Master of Mass Communication (M.M.C.)
2 Years
Commerce Courses
M.Com.
2 Years
M.Phil. (Commerce)
1 Years
Master of Finance and Control (MFC)
2 Years
Ph.D. (Commerce)
3 Years
Information Technology Courses
M.C.A.
3 Years
Law Courses
L.L.M.
2 Years
L.L.M. (Business Law)
2 Years
L.L.M. (Criminal Law)
3 Years
LL.D.
3 Years
Ph.D. (Law)
2 Years
List of colleges affiliated with Berhampur University

| S.No. | College Name |
| --- | --- |
| 1 | Biju Patnaik College of Education |
| 2 | Brahmapur Law College |
| 3 | DP Institute of Advanced Studies in Education |
| 4 | GA Mahavidyalaya |
| 5 | Jeevan Jyoti Mahavidyalaya |
| 6 | Kotpad College |
| 7 | Mahamayee Mahila Mahavidyalaya |
| 8 | Maharaja Krishna Chandra Gajapati Medical College and Hospital - MKCG |
| 9 | Meena Ketan Degree College |
| 10 | Muniguda College |
| 11 | NIAS College of Business Administration |
| 12 | Paralakhemundi Women's College |
| 13 | Presidency College |
| 14 | Rama Chandra Mardharaj Science College - RCM |
| 15 | Rushikulya Degree College |
| 16 | Sashi Bhusan Rath Government Autonomus Women's College |
| 17 | Sunabeda Women College |
| 18 | Tara Tarini College |
| 19 | Hill Top College |
| 20 | Aska Science College |
| 21 | Bellaguntha Women's College |
| 22 | Bharatpati Mahavidyalaya |
| 23 | Biju Patnaik Womens College |
| 24 | Binayak Acharya College |
| 25 | Chikiti Mahavidyalaya |
| 26 | Ganjam Law College |
| 27 | Government Science College |
| 28 | Kabi Samrat Upendra Bhanja College - KSUB |
| 29 | Khallikote College |
| 30 | Khemundi College |
| 31 | LN Mahavidyalaya |
| 32 | People's College |
| 33 | Sanjay Memorial Institute of Technology College of Information Sciences Library |
| 34 | Savitri Women's College |
| 35 | Tentulia Sasan Debasthan - TSD College |
| 36 | Udaya Pratap Science College |
| 37 | Government Autonomous College |
| 38 | Kalinga Mahavidyalaya |
| 39 | NSB College |
| 40 | DAV College of Teacher Education |
| 41 | Vikramdeb Autonomous College |
| 42 | Gunupur College |
| 43 | Rayagada Autonomous College |
| 44 | Rayagada Women's College |