Bidhan Chandra Krishi Viswavidyalaya Exam Result 2023
Onlineresultportal.com | Updated: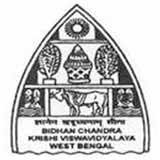 West Bengal's premium agricultural University - Bidhan Chandra Krishi Viswavidyalaya or commonly Bidhan Chandra Agricultural University is ranked in first position among State Agricultural Universities and it also holds 31st rank among top 100 Universities of India as stated by the Government of India. This University was established at Nadia district in Mohanpur in the year of 1974. This is the top Agricultural University in the country to provide theoretical and technical knowledge in the fields of Agriculture, Horticulture and Agricultural Engineering in levels of Bachelors, Masters, B.Tech and Doctorate courses. It also conducts agricultural research and extension programmes. These programmes are recognized by the UGC and ICAR.
Over 1700 students are studying in the 17 departments of Bidhan Chandra Krishi Viswavidyalaya which consists of Departments of Agronomy, Agricultural Chemistry &Soil Science, Agricultural Entomology, Agricultural Chemicals, Agricultural Biotechnology, Soil & Water Conservation, Agricultural Extension, Agricultural Statistics, Agricultural Economics, Genetics &Plant Breeding, Plant Physiology, Animal Science, Agricultural Biochemistry, Plant Pathology, Seed Science & Technology, Agricultural Meteorology & Physics, Horticulture and Agricultural Engineering. This is University is also famed for its research and education extension activities for developing the status of agriculture in the state by both scientists and farmers. Moreover, scholars and students studying in this University has the accessibility of facilities like Central library, Placement cell, hostels, Wi-Fi, sports room, health centre, etc.
Interested students can check the university website- www.bckv.edu.in for latest news and updated information about admission, courses & academic programmes, fee structure, forms and admit cards. Moreover, www.onlineresultportal.com is also helpful for getting important details of all Indian Universities from all states of India.

Details of Bidhan Chandra Krishi Viswavidyalaya
Full Name
Bidhan Chandra Krishi Viswavidyalaya (BCKV)
Affiliations
UGC
Contact No
(033) 25879772, 25878163
Website
http://www.bckv.edu.in/
Founded
1974
Email
bckvvc@gmail.com
Address
Krishi Viswavidyalaya, Mohanpur, Dist- Nadia, West Bengal, India, Pin-741252
City
Nadia
State
West Bengal
Country
India
List of courses offered by Bidhan Chandra Krishi Viswavidyalaya

Degree
Duration
Engineering Courses
Ph.D. (Food Technology)
3 Years
Science Courses
M.Sc. (Genetics)
2 Years
M.Sc. (Post-harvest Technology)
2 Years
Ph.D. (Animal Science)
3 Years
Ph.D. (Biotechnology)
3 Years
Ph.D. (Floriculture and Landscaping)
3 Years
Ph.D. (Post-harvest Technology)
3 Years
Agriculture Science and Technology Courses
B.Sc. (Agriculture)
4 Years
B.Sc. (Hons) (Horticulture)
3 Years
B.Sc. (Horticulture Science)
3 Years
M.Sc. (Agricultural Economics)
2 Years
M.Sc. (Agricultural Entomology)
2 Years
M.Sc. (Agricultural Extension Education)
2 Years
M.Sc. (Agricultural Statistics)
2 Years
M.Sc. (Agriculture Chemicals)
2 Years
M.Sc. (Agriculture Chemistry & Soil Science)
2 Years
M.Sc. (Agril. Biochemistry)
2 Years
M.Sc. (Agril. Meteorology & Physics)
2 Years
M.Sc. (Agronomy)
2 Years
M.Sc. (Floriculture and Landscaping)
2 Years
M.Sc. (Fruits & Orchard Management)
2 Years
M.Sc. (Genetics and Plant Breeding)
2 Years
M.Sc. (Plant Pathology)
2 Years
M.Sc. (Plant Physiology)
2 Years
M.Sc. (Seed Science & Technology)
2 Years
M.Sc. (Soil Conservation & Water Management)
2 Years
M.Sc. (Spices & Plantation Crops)
2 Years
M.Sc. (Vegetable Science)
2 Years
Ph.D. (Agricultural Entomology)
3 Years
Ph.D. (Agriculture Economics)
3 Years
Ph.D. (Agril. Biochemistry)
3 Years
Ph.D. (Agril.Chemicals)
3 Years
Ph.D. (Agril.Chemistry & Soil Science)
3 Years
Ph.D. (Agril. Meteorology & Physics)
3 Years
Ph.D. (Agril. Statistics)
3 Years
Ph.D. (Agronomy)
3 Years
Ph.D. (Agriculture - Extension Education)
3 Years
Ph.D. (Farm Machinery & Power)
3 Years
Ph.D. (Fruits & Orchard Management)
3 Years
Ph.D. (Genetics & Plant Breeding)
3 Years
Ph.D. (Plant Pathology)
3 Years
Ph.D. (Plant Physiology)
3 Years
Ph.D. (Seed Science & Technology)
3 Years
Ph.D. (Soil Conservation & Water Management)
3 Years
Ph.D. (Soil Science and Water Management)
3 Years
Ph.D. (Spices & Plantation Crops)
3 Years
Ph.D. (Vegetable Science)
3 Years
List of colleges affiliated with Bidhan Chandra Krishi Viswavidyalaya

City
College Name
0 College