Biju Patnaik University of Technology Exam Result 2023
Onlineresultportal.com | Updated: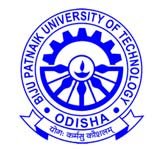 Biju Patnaik University of Technology came into existence in 2003 and since after that it has become the premium University to offer all types of technical education. The University is situated in Rourkela at Orissa District which offers Ph.D, Master Degree and Undergraduate Degrees in the areas of engineering, management, pharmacy, architecture, planning, etc. Here this University manages around 58000 students through its 158 affiliated and constituent colleges. Moreover its affiliation is provided by the University Grants Commission (UGC), All India Council for Technical Education (AICTE) and Council of Architecture. Admission is given to the students on the basis of entrance test conducted by the University.
The special ICT based training programs of the Biju Patnaik University of Technology also reaches to those students who cannot attend regular courses and this is one of the digital initiatives taken by the University. In the coming times, the university also aspires to adopt a model of PPIP (Public-private-Industry-partnership) to make the education more meaningful and applicable. The Unique student and industry friendly unique curriculum of the university introduced recently will help the students and industry to meet the expectations. Students are able to know more about Biju Patnaik University of Technology through its official website- www.bput.ac.in regarding admission, courses, syllabuses, examinations, results, fees structures and other important notifications. On the other hand, prominent educational websites like www.onlineresultportal.com is also quite helpful for the students to get information about various Indian Universities, admit cards, results and many education related information.
Biju Patnaik University BPUT Result 2023 at bput.ac.in
The Biju Patnaik University of Technology (BPUT), Odisha, uploads the provisional examination results of its various academic courses on its official web portal, https://www.bput.ac.in/. Students awaiting their BPUT exam results should access the official website to check their examination results following declaration.
Once the BPUT authorities declare the examination results, start by visiting the BPUT official portal. Next, tap on the "Examination" tab appearing on the main menu bar and click on the "Results" tab from the sub-menu.When done, the login page comes up on the screen and you have to then input the requisite details in the relevant boxes, including Exam Session, Date of Birth, and Registration Number. The system then showcases the BPUT exam results on the screen. Always keep a print copy of the BPUT exam result for future reference. Moreover, you are advised to check for any errors in your BPUT exam result and report any discrepancies to the stipulated examiners for corrections.
Additionally, remember to collect your BPUT exam result from your respective college on the scheduled dates.

Details of Biju Patnaik University of Technology
Full Name
Biju Patnaik University of Technology (BPUT)
Affiliations
UGC
Contact No
0661 248 2556
Website
www.bput.ac.in
Founded
2002
Email
bput@bput.ac.in
Address
Chhend Colony, Rourkela, Odisha 769015
State
Odisha
Country
India
List of courses offered by Biju Patnaik University of Technology

Degree
Duration
Arts Courses
M.Phil.
2 Years
Engineering Courses
B.Tech. (Applied Electronics and Instrumentation)
4 Years
B.Tech. (Automobile Engineering)
4 Years
B.Tech. (Biomedical Engineering)
4 Years
B.Tech. (Chemical Engineering)
4 Years
B.Tech. (Computer Science and Engineering)
4 Years
B.Tech. (Electrical and Electronics Engineering)
4 Years
B.Tech. (Electrical Engineering)
4 Years
B.Tech. (Electronics and Instrumentation Engineering)
4 Years
B.Tech. (Environmental Engineering)
4 Years
B.Tech. (Instrumentation & Control Engineering)
4 Years
B.Tech. (Marine Engineering)
4 Years
B.Tech. (Metallurgical Engineering)
4 Years
B.Tech. (Mineral Engineering)
4 Years
B.Tech. (Mining Engineering)
4 Years
B.Tech. (Plastic Technology)
4 Years
B.Tech. (Textile Technology)
4 Years
M.Tech. (Biotechnology)
2 Years
M.Tech. (CAD/ CAM)
2 Years
M.Tech. (Computer Engineering)
2 Years
M.Tech. (Electronics & Telecommunications Engineering)
2 Years
M.Tech. (Electronics and Communication Engineering)
2 Years
M.Tech. (Electronics and Instrumentation Engineering)
2 Years
M.Tech. (Environmental Engineering)
2 Years
M.Tech. (Industrial Electronics)
2 Years
M.Tech. (Information Technology)
2 Years
M.Tech. (Mechanical System Design & Dynamics)
2 Years
M.Tech. (Mechanical System Design)
2 Years
M.Tech. (Nanotechnology)
2 Years
M.Tech. (Optical & Wireless Communication Technologies - OWCT)
2 Years
M.Tech. (Polymer Nano Technology)
2 Years
M.Tech. (Power Electronics and Drives)
2 Years
M.Tech. (Power System Engineering)
2 Years
M.Tech. (Production & Industrial Engineering)
2 Years
M.Tech. (Production Engineering)
2 Years
M.Tech. (Structural Engineering)
2 Years
M.Tech. (Thermal Engineering)
2 Years
M.Tech. (VLSI Design & Embedded System)
2 Years
Medical Courses
B.Pharm
4 Years
M.Pharm.
2 Years
Ph.D. (Pharmacology)
3 Years
Science Courses
M.Sc.
2 Years
Ph.D. (Computer Science and Applications)
3 Years
Ph.D. (Computer Science)
3 Years
Management Courses
M.B.A.
2 Years
M.B.A. (Finance)
2 Years
M.B.A. (Human Resource Management)
2 Years
M.B.A. (Marketing)
2 Years
M.B.A. (Production Management I)
2 Years
M.B.A. (Systems Management)
2 Years
Ph.D. (Management Studies)
3 Years
Architecture Courses
B.Arch.
5 Years
M.Arch. (Computer Applications)
2 Years
Ph.D. (Architecture)
2 Years
Information Technology Courses
B.Tech. (Information Technology)
4 Years
M.C.A.
3 Years
M.Tech. (Computer Science and Engineering)
2 Years
M.Tech. (Embedded Systems)
2 Years
M.Tech. (Mechatronics)
2 Years
Fashion and Interior Designing Courses
B.Tech. (Fashion Technology)
4 Years
List of colleges affiliated with Biju Patnaik University of Technology

| S.No. | College Name |
| --- | --- |
| 1 | Adarsh College of Engineering |
| 2 | Academy of Business Administration - ABA |
| 3 | Balasore College of Engineering and Technology - BCET |
| 4 | Modern Engineering and Management Studies - MEMS |
| 5 | RJ School of Management Studies - RJSMS |
| 6 | Satyasai Engineering College |
| 7 | Srinix College of Engineering |
| 8 | Padmashree Kurtartha Acharya College of Engineering |
| 9 | The Pharmaceutical College |
| 10 | Vikash College of Engineering - VCE |
| 11 | Gandhi Institute of Industrial Technology - GIIT |
| 12 | Parala Maharaja Engineering College |
| 13 | Roland Institute of Technology |
| 14 | Sanjay Memorial Institute of Technology |
| 15 | Bhadrak Engineering School and Technology |
| 16 | Bhadrak Institute of Engineering and Technology - BIET |
| 17 | APEX Institute of Technology and Management |
| 18 | Aryan Institute of Engineering and Technology |
| 19 | Astha School of Management |
| 20 | Barrister Ranjit Mohanty International Institute of Technology - BRMIIT |
| 21 | Bhadrak Academy of Technology |
| 22 | Bhubaneswar Engineering College - BEC |
| 23 | Bhubaneswar Institute of Technology - BIT |
| 24 | BRM B-School |
| 25 | Capital Institute of Management and Science - CIMS |
| 26 | Central Institute of Plastics Engineering and Technology - CIPET |
| 27 | Central Institute of Plastics Engineering and Technology - CIPET Bhubaneswar |
| 28 | Centurion Institute of Technology - CIT |
| 29 | College of Engineering and Technology Bhubaneswar |
| 30 | CV Raman College of Engineering |
| 31 | CV Raman Computer Academy |
| 32 | CV Raman Computer Academy - CVRCA |
| 33 | Eastern Academy of Science and Technology - EAST |
| 34 | Einstein Academy of Technology and Management |
| 35 | Gandhi Engineering College |
| 36 | Gandhi Institute for Technological Advancement - GITA |
| 37 | Gandhi Institute for Technology - GIFT |
| 38 | Gandhi Institute of Engineering and Technology |
| 39 | Gandhi Institute of Technology and Management - GITAM |
| 40 | Global Institute of Management - GIM |
| 41 | Gurukul College of Engineering for Women |
| 42 | Gurukula College of Engineering for Women - GCEW |
| 43 | Gurukula Institute of Technology - GIT |
| 44 | HDF School of Management |
| 45 | Hi-Tech College of Engineering |
| 46 | Hi-Tech Institute of Technology - HIT |
| 47 | Indira Gandhi Institute of Pharmaceutical Sciences - IGIPS |
| 48 | Indus College of Engineering |
| 49 | Institute of Professional Studies and Research |
| 50 | Konark Institute of Science and Technology - KIST |
| 51 | Koustuv Business School - KBS |
| 52 | Koustuv Institute of Self Domain - KIDS |
| 53 | Koustuv Institute of Technology |
| 54 | Krupajal Computer Academy |
| 55 | Krupajal Engineering College - KEC |
| 56 | Krupajal Management Studies - KMS |
| 57 | Kruttika Institute of Technical Education |
| 58 | Madhusudan Institute of Cooperative Management |
| 59 | Maharaja Institute of Technology |
| 60 | Mordern Institute of Technology and Management - MITM |
| 61 | Nalanda Institute of Technology |
| 62 | Nigam Institute of Engineering and Technology - NIET |
| 63 | NIIS Institute of Business Administration |
| 64 | NM Institute of Engineering and Technology - NMIET |
| 65 | Orissa Engineering College - OEC |
| 66 | Oxford College of Engineering and Management - OCEM |
| 67 | Rajdhani College of Engineering and Management |
| 68 | Regional College of Management Autonomous - RCMA |
| 69 | Satyananda Institute of Management and Information Technology - SIMIT |
| 70 | Shibani Institute of Technical Education - SITE |
| 71 | Silicon Institute of Technology |
| 72 | Sophitorium Engineering College - SEC |
| 73 | Spintronic Technology and Advance Research Centre |
| 74 | Sri Jayadev College of Pharmaceutical Sciences |
| 75 | Srusti Academy of Management |
| 76 | Subas Institute of Technology |
| 77 | Suddhananda Engineering and Research Centre - SERC |
| 78 | Suddhananda School of Management and Computer Science - SSMC |
| 79 | Synergy Institute of Technology - SIT |
| 80 | The Techno School |
| 81 | Trident Academy of Creative Technology - TACT |
| 82 | United School of Business Management |
| 83 | Vedang Institute of Technology |
| 84 | Vivekanand Institute of Technology - VIT |
| 85 | Vivekananda Institute of Technology |
| 86 | Abit- Jrd Tata Institute of Management |
| 87 | Ajay Binay Institute of Technology |
| 88 | Barabati Institute of Management Studies - BIMS |
| 89 | Dhaneshwar Rath Institute of Engineering and Management Studies - DRIEMS |
| 90 | Dhaneswar Rath Institute of Engineering and Management Studies - DRIEMS |
| 91 | DRIEMS Business School - DBS |
| 92 | Institute of Management and Information Technology - IMIT |
| 93 | Institute of Professional Studies and Research - IPSR Campus 1 |
| 94 | Institute of Professional Studies and Research - IPSR Campus 2 |
| 95 | Piloo Mody College of Architecture - PMCA |
| 96 | Shanti Institute of Management Studies - SIMS |
| 97 | Indira Gandhi Institute of Technology - IGIT |
| 98 | Synergy Institute of Engineering and Technology |
| 99 | Gajapati Institute of Management |
| 100 | Jagannath Institute for Technology and Management |
| 101 | Aum Sai Institute of Technical Education |
| 102 | College of Pharmaceutical Sciences |
| 103 | Kalam Institute of Technology |
| 104 | Rahul Institute of Engineering and Technology - RIET |
| 105 | Royal College of Pharmacy and Health Sciences |
| 106 | Sanjay Memorial Institute of Technology P.G. Centre for Management Studies - SMIT |
| 107 | Vignan Institute of Technology and Management - VITAM |
| 108 | Gopal Krishna College of Engineering and Technology |
| 109 | Jeypore College of Pharmacy |
| 110 | Black Diamond College of Engineering and Technology |
| 111 | Government College of Engineering |
| 112 | Orissa School of Mining Engineering - OSME |
| 113 | Capital Engineering College |
| 114 | Eklavya College of Technology and Science |
| 115 | Gandhi Institute for Education and Technology - GIET |
| 116 | Indic Institute of Design and Research |
| 117 | Indotech College of Engineering |
| 118 | Inter Science Institute of Computer Application - ISICA |
| 119 | KMBB College of Engineering and Technology |
| 120 | Radhakrishna Institute of Engineering and Technology |
| 121 | TempleCity Institute of Technology and Engineering - TITE |
| 122 | VITS Engineering College |
| 123 | Samanta Chandrasekhar Institute of Technology and Management - SCITM |
| 124 | Seemanta Engineering College |
| 125 | Seemanta Institute of Pharmaceutical Sciences - SIPS |
| 126 | Ghanshyam Hemalata Institute of Technology and Management - GHTIM |
| 127 | Gandhi Institute of Advanced Computer and Research - GIACR |
| 128 | Gandhi Institute of Management Studies - GIMS |
| 129 | Gandhi Institute of Science and Technology - GIST |
| 130 | Gayatri Institute of Computer and Management Studies - GICMS |
| 131 | Gayatri Institute of Science and Technology |
| 132 | Majhighariani Institute of Technology and Science - MITS |
| 133 | Rayagada Institute of Technology and Management |
| 134 | Asian Workers Development Institute - AWDI |
| 135 | Kanak Manjari Institute of Pharmaceutical Sciences |
| 136 | Padmanava College of Engineering |
| 137 | Purushottam Institute of Engineering and Technology |
| 138 | Rourkela Institute of Management Studies |
| 139 | Rourkela Institute of Technology - RIT |
| 140 | Tapaswini Institute of Information Technology College |
| 141 | Gayatri College of Management - GCM |
| 142 | Gayatri College of Pharmacy |
| 143 | Sundargarh Engineering College |