Chaudhary Charan Singh Haryana Agricultural University Exam Result 2023
Onlineresultportal.com | Updated: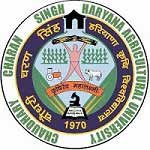 Chaudhary Charan Singh Haryana Agricultural University which is popularly known as HAU is one of the Asia's largest agricultural universities. It is a public funded university which is located in Hisar, Haryana is named after the seventh prime minister of India, Chaudhary Charan Singh. It is a leader in agricultural research and publishes the largest number of research papers among agricultural universities in India. Winner of prestigious Indian council of Agricultural Research's award for the best institutes in 1997, it has contributed significantly to Green and White Revolution in India in 1960s and 1970s.
The university offers various Bachelors, Masters and PG Diploma courses. Students can buy the prospectus from the office of Registrar, Fletcher Bhawan, CSS HAU, Hisar and Head Offices of all the districts, Headquarters of Haryana state including Kaul & Bawal and KVK's of the university. They can also download the prospectus of various courses from the official site of the university which is www.hau.ernet.in. The university has research facilities spread throughout the state of Haryana. Eight Krishi Vigyan Kendras , Regional Research Stations, A training Institute , six disease investigation labs etc are few among them to provide research facilities to the students.
Aspirants can visit the official website of the university to know more details about admission, examination, online downloading of application forms etc.
Choudhary Charan Singh Haryana Agriculture University Result on hau.ac.in
The Choudhary Charan Singh Haryana Agriculture University (CCS HAU), based in Hisar city of India's Haryana state, declares the exam results of its various affiliated academic programs on its official website, https://admissions.hau.ac.in/main.aspx. Any candidate who appears for the exams that are held by the CCS HAU should go to its official website to download their results.
Following the declaration of examination results by the CCS HAU, students must browse the home page of its official portal. They should start by browsing the home page for the "Notifications" section. Proceed by searching for the "CCS HAU" Result" link on the website home page. Subsequently, you have to select the course and semester. Following that, the system displays your results on the screen. Always keep a print copy of your results for later reference.
The CCS HAU offers a variety of undergraduate, postgraduate, doctoral, and MTech courses. Applicants can apply for courses such as BSc (Hons) Community Science, BSc (Hons) Agriculture, Master of Science (MSc) in Agriculture, and MSc Home Science – to name a few.
About Chaudhary Charan Singh Haryana Agricultural University

Full Name
CCS Haryana Agricultural University
Affiliations
UGC
Contact No
1-800-1803001
Website
http://hau.ac.in/
Founded
1991
Email
web@hau.ernet.in
Address
Hisar, Haryana, India
City
Hisar
State
Haryana
Country
India
List of courses offered by Chaudhary Charan Singh Haryana Agricultural University

Courses
Duration
Arts Courses
Ph.D. (Sociology)
3 Years
Science Courses
B.Sc. (Hons.) (Home Science)
3 Years
M.Sc. (Biochemistry)
2 Years
M.Sc. (Bioinformatics)
2 Years
M.Sc. (Bio Physics)
2 Years
M.Sc. (Biotechnology)
2 Years
M.Sc. (Botany)
2 Years
M.Sc. (Chemistry)
2 Years
M.Sc. (Clothing and Textiles)
2 Years
M.Sc. (Computer Science)
2 Years
M.Sc. (Environmental Science)
2 Years
M.Sc. (Environmental Science)
2 Years
M.Sc. (Extension Education)
2 Years
M.Sc. (Family Resource Management)
2 Years
M.Sc. (Food Nutrition)
2 Years
M.Sc. (Food Science and Technology)
2 Years
M.Sc. (Geography)
2 Years
M.Sc. (Geology)
2 Years
M.Sc. (Human Development & Family Studies)
2 Years
M.Sc. (Industrial Biotechnology)
2 Years
M.Sc. (Mathematics)
2 Years
M.Sc. (Microbiology)
2 Years
M.Sc. (Physics)
2 Years
M.Sc. (Polymer Science and Chemical Technology)
2 Years
M.Sc. (Statistics)
2 Years
M.Sc. (Toxicology)
2 Years
M.Sc. (Zoology)
2 Years
Ph.D. (Biochemistry)
3 Years
Ph.D. (Chemistry)
3 Years
Ph.D. (Entomology)
3 Years
Ph.D. (Family Resource Management)
3 Years
Ph.D. (Food Science and Technology)
3 Years
Ph.D. (Human Development and Family Studies)
2 Years
Ph.D. (Microbiology)
3 Years
Ph.D. (Molecular Biology and Biotechnology)
3 Years
Ph.D. (Zoology)
3 Years
Commerce Courses
Ph.D. (Statistics)
2 Years
Agriculture Science and Technology Courses
B.Sc. (Hons.) (Agriculture)
3 Years
B.Tech. (Agricultural Engineering)
4 Years
M.Phil. (Genetics & Plant Breeding)
2 Years
M.Sc. (Agricultural Economics)
2 Years
M.Sc. (Agril. Meteorology & Physics)
2 Years
M.Sc. (Agronomy)
2 Years
M.Sc. (Entomology)
2 Years
M.Sc. (Forestry)
2 Years
M.Sc. (Genetics and Plant Breeding)
2 Years
M.Sc. (Homological Algebra)
2 Years
M.Sc. (Horticulture)
2 Years
M.Sc. (Nematology)
2 Years
M.Sc. (Plant Pathology)
2 Years
M.Sc. (Plant Physiology)
2 Years
M.Sc. (Plant Protection)
2 Years
M.Sc. (Seed Science & Technology)
2 Years
M.Sc. (Soil Science)
2 Years
M.Sc. (Vegetable Science)
2 Years
Ph.D. (Agriculture Economics)
3 Years
Ph.D. (Agril. Meteorology & Physics)
3 Years
Ph.D. (Agronomy)
3 Years
Ph.D. (Extension Education)
3 Years
Ph.D. (Forestry)
3 Years
Ph.D. (Genetics & Plant Breeding)
3 Years
Ph.D. (Horticulture)
3 Years
Ph.D. (Nematology)
3 Years
Ph.D. (Plant Pathology)
3 Years
Ph.D. (Plant Physiology)
3 Years
Ph.D. (Seed Science & Technology)
3 Years
Ph.D. (Vegetable Science)
3 Years
Law Courses
L.L.M.
2 Years
List of colleges affiliated with Chaudhary Charan Singh Haryana Agricultural University

| S. No. | College Name |
| --- | --- |
| 1 | College of Agriculture (CoA). |
| 2 | College of Agricultural Engineering and Technology (CoAET |
| 3 | College of Basic Sciences & Humanities (CoBS) |
| 4 | Indira Chakravarty College of Home Science (CoHS) |