Central University of Jharkhand Exam Result 2023
Onlineresultportal.com | Updated: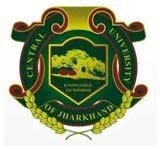 The Central University of Jharkhand situated in Brambe, a 25km ride from District Ranchi, in Jharkhand state, India. It came into effect on the 1st of March in the year 2009, under the Central Universities Act, 2009. The University has a present campus of sprawling 45 acres with vibrant green surroundings which perfectly blends with the hostel and college environment. The Government of Jharkhand has allotted a 510-acre huge land to build up the permanent campus at Cheri-Manatu, which is situated 10 km away from the city.
The University aims to groom overall personality of students be it an inclination academically or be it sports. The university offers special integrated courses for Science and Technology, Social Sciences, Performing arts and Humanities as well. It has also introduced post-graduate and PhD courses in varied streams. CUJ is imparting education to over 2000 students in different streams aiming to prepare them for challenges that pose in real life. Their placement cell ensures placement of students belonging to the integrated course such as M.A., M.Sc., and M.Tech etc.
The University is 100% anti-ragging campus ensuring the safety of the students with proper hostel facilities. The University provides all the needful amenities like library, sports, transport and IT planning. The vision of university is to create a world-class campus in every aspect be it research, sports, teaching, administration and extra-curricular activities. Students can visit the official website of the university www.cuj.ac.in and can also get all the valuable information from the education portal http://www.onlineresultportal.com.
Central University of Jharkhand Result at cuj.ac.in
The Central University of Jharkhand (CUJ), based in Ranchi in the Jharkhand state of India, makes accessible the exam results of its affiliated courses on its official portal, http://cuj.ac.in/. Candidates awaiting their examination results are advised to visit the CUJ official web portal to check their respective results.
Upon the CUJ examiners declaring the exam results, you should browse the home page of the official website and locate the "Exam" tab. The subsequent step is to tap the "Semester Examination and Result" tab from the drop-down menu of this tab. That done, the system will display a list of results. As your next step, you must click on the relevant result link tab, and then your exam results will appear on the screen. Remember to keep a print copy of your CUJ examination result for your records.
The CUJ has a host of departments that impart courses in their respective disciplines. At the CUJ, pupils can pursue programs in the fields of Geography, Geoinformatics, Anthropology & Tribal Studies, Chemistry, Statistics, and Physics – to list a few.
Details of Central University of Jharkhand
Full Name
Central University of Jharkhand
Affiliations
UGC
Contact No
06531 294 160
Website
www.cuj.ac.in
Founded
2009
Email
pio@cuj.ac.in
Address
Ratu-Lohardaga Road, Ranchi Dist, Brambe, Jharkhand 835205
State
Jharkhand
Country
India
List of courses offered by Central University of Jharkhand

Degree
Duration
Arts Courses
B.A. + M.A. (Cultural Studies)
5 Years
B.A. + M.A. (English Language)
5 Years
B.A. + M.A. (International Relations)
5 Years
B.P.A. (Music-Vocal)
4 Years
Engineering Courses
B.Tech. + M.Tech. (Energy Engineering)
5 Years
B.Tech. + M.Tech. (Nanotechnology)
5 Years
B.Tech. + M.Tech. (Water Engineering & Management)
5 Years
Science Courses
B.Sc. + M.Sc. (Applied Chemistry)
5 Years
B.Sc. + M.Sc. (Applied Physics)
5 Years
B.Sc. + M.Sc. (Environmental Science)
5 Years
B.Sc. + M.Sc. (Life Sciences)
5 Years
B.Sc. + M.Sc. ( Mathematics)
5 Years
M.Sc. (Geoinformatics)
2 Years
Diploma in Geoinformatics
1 Years
Certificate in Geoinformatics
6 Months
Management Courses
B.B.A. + M.B.A.
5 Years
Mass Communications Courses
B.A + M.A. (Mass Communication)
5 Years
Acting, Dance and Drama Courses
B.P.A. (Theatre)
4 Years
List of colleges affiliated with Central University of Jharkhand