About Central University of Kashmir
Onlineresultportal.com | Updated: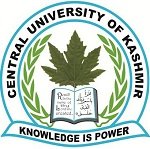 The Central University of Kashmir was previously known as the Central University of Jammu and Kashmir. It is one of the 13 newly created Central University formed in 2009 in different parts of India and is situated at Ganderbal district in Jammu and Kashmir. This premium Government University is education lifeline of the entire Kashmir valley.
This University provides undergraduate, postgraduate and doctorate courses in the schools of study: Business Studies, Education, Engineering &Technology, Languages, Legal Studies, Media Studies, Physical & Chemical Studies, Social Sciences, Environmental Sciences and Life Sciences. Apart from these, this University is also offering 5-year integrated programmes in Biotechnology, Law, Physics and Zoology. Moreover, few disciplines of postgraduate programmes are also included like Business Administration, Convergent Journalism, Economics, Education, English Language & Literature, Information Technology, Law, Mathematics, Politics, Tourism Management and Urdu Language & Literature.
The Central University of Kashmir believes on regular updating and revising the curriculum on the basis of current knowledge, global developments and appropriate new ideas, concepts and knowledge on various disciplines. The students studying in this institute are also getting the top rated facilities of library, hostels, internet, cafeteria, health club, hostel and transport services. Aspiring students can see the authorized website of the Central University of Kashmir – www.cukashmir.ac.in for getting details about admission, courses, fee structures, important notifications and updates. Moreover, students can also log in to the websites of other online educational destinations like www.onlineresultportal.com where they can check details about other Universities and institutes of India.

About Central University of Kashmir

Full Name
Central University of Kashmir
Affiliations
UGC
Contact No
0194-2315296,0194-2315290
Website
www.cukashmir.ac.in
Founded
2009
Email
contact@cukashmir.ac.in
Address
Srinagar, Jammu & Kashmir
City
Srinagar
State
Jammu & Kashmir
Country
India
List of courses offered by Central University of Kashmir

Courses
Duration
Arts Courses
M.A. (Economics)
2 Years
M.A. (Education)
2 Years
M.A. (English)
2 Years
M.A. (Mathematics)
2 Years
M.A. (Political Science)
2 Years
M.A. (Urdu)
2 Years
B.A. (Political Science)
3 Years
Law Courses
L.L.B.
5 Years
L.L.M.
2 Years
Science Courses
M.Sc. (Mathematics)
2 Years
Mass Communications Courses
M.A. (Convergent Journalism)
2 Years
Information Technology Courses
M.Sc. (Information Technology)
2 Years
Management Courses
M.B.A.
2 Years
Master of Tourism Management (M.T.M.)
2 Years
List of colleges affiliated with Central University of Kashmir

| S. No. | Constituent schools/th> |
| --- | --- |
| 1 | School of Business Studies |
| 2 | School of Education |
| 3 | School of Engineering & Technology |
| 4 | School of Languages |
| 5 | School of Legal Studies |
| 6 | School of Life Sciences |
| 7 | School of Media Studies |
| 8 | School of Physical & Chemical Sciences |
| 9 | School of Social Sciences |