Central University of Orissa Exam Result 2023
Onlineresultportal.com | Updated: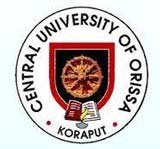 The prestigious Central University of Orissa is one of the best educational institutions of Orissa. It was established in the year 2009 at Koraput in the Indian State of Orissa by the Indian Government. This University covers all the territories of Orissa under its jurisdiction. The University is recognized by the University Grants Commission (UGC) and the National Assessment and Accreditation Council (NAAC). This University one of the newly created Universities which was set up in educationally weaker districts and Koraput district of Orissa is one of them. Since this region has no University, the Central University of Orissa has been established here to make way for easy access to quality higher education for the students residing in this region. Every year the Central University of Orissa conducts entrance tests for admission at its various courses.
The University is known to impart quality education by the well-experienced faculty members. This University comprises of faculties of Languages, Social Sciences, Education & Education Technology, Basic Sciences & Information Sciences, Commerce & Management, Biodiversity & Conservation of Natural Resources and Applied Sciences. These faculties teach all types of courses at undergraduate, postgraduate and doctoral levels. Some of the courses included here are: English Language & Literature, Oriya Language & Literature, Anthropology, Sociology, Journalism & Mass Communication, Biodiversity & Conservation of Natural Resources, Education, Economics, Mathematics and Statistics. Moreover, this University has also joined hands with Indian Space Research Organization (ISRO) by signing MOUs between them. Al information related to admission, courses, fees and other updated details can be obtained from the official website of the Central University of Orissa – www.cuo.ac.in. In addition to this, www.onlineresultportal.com is a popular educational website to share information about all Indian Universities, courses, admit cards and results of various examinations.
Central University of Orissa (CUO) Results 2023 at cuo.ac.in
The Central University of Odisha (CUO) makes available the provisional examination results of its various academic courses on its official portal, https://cuo.ac.in/index.asp. Candidates attempting the CUO exams should go to the official website to access their respective examination results post declaration.
When the CUO examiners declare the exam results, students are required to browse the home page of the official website. The next step includes tapping the "Academic" tab on the main menu bar and selecting the "Results" tab from the drop-down menu. Once done, the system exhibits a new pay displaying a list of results. As your subsequent step, you have to select the relevant CUO exam result link for the system to showcase your exam result on the screen. Students must ensure to keep a print copy of the CUO exam result for reference purposes. In addition to that, they have to collect their CUO exam result from their respectiveinstitute.

Details of Central University of Orissa
Full Name
Central University of Orissa
Affiliations
UGC
Contact No
06852 288 200
Website
www.cuo.ac.in
Founded
2009
Email
info@cuo.ac.in
Address
Central Silk Board Building, Landiguda, Koraput, Odisha 764021
State
Odisha
Country
India
List of courses offered by Central University of Orissa

Degree
Duration
Arts Courses
M.A. (Anthropology)
2 Years
M.A. (Economics)
2 Years
M.A. (English)
2 Years
B.Ed.
1 Years
M.A. (Linguistics)
2 Years
M.A. (Oriya)
2 Years
M.A. (Sociology)
2 Years
M.Phil. (Sociology)
2 Years
Ph.D. (Oriya)
3 Years
Ph.D. (Sociology)
3 Years
Mass Communications Courses
M.A. (Mass Communication & Journalism)
2 Years
M.Phil. (Journalism and Mass Communication)
2 Years
Ph.D. (Journalism and Mass Communication)
3 Years
Science Courses
B.Sc. + M.Sc. (Mathematics)
5 Years
M.Phil. (Anthropology)
2 Years
M.Sc. (Anthropology)
2 Years
Ph.D. (Anthropology)
3 Years
List of colleges affiliated with Central University of Orissa

Schools

Centre

School of Social Sciences

1. Centre for Sociology, Anthropology & Tribal Studies
2. Centre for Social Work
3. Centre for Philosophical Studies
4. Centre for Women's' Studies

School of Languages

1. Centre for Oriya, Hindi and Oriental Languages.
2. Centre for English and Foreign Languages.
3. Centre for Translation Studies

School of Basic Sciences & Information Sciences

1. Centre for Mathematics, Statistics & Computer Sciences.
2. Centre for Life Sciences
3. Centre for Physical Sciences
4. Centre for Mineralogy, Metallurgy & Material Sciences

School of Development Studies

1. Centre for Economics
2. Centre for Peace & Sustainable Development.

School of Education & Education Technology

1. Centre for Education Technology
2. Centre for Teacher Education
3. Centre for Journalism & Mass Communication

School of Health Sciences

1. Centre for Nursing & Allied Health Sciences
2. Centre for Public & Community Health

School of Biodiversity & Conservation of Natural Resources

1. Centre for Biodiversity & Conservation of Natural Resources
2. Centre for Marine Biotechnology & Aqua Culture
3. Centre for Ocean Studies

School of Legal Studies.

1. Centre for Legal Studies
2. Centre for Intellectual Property Rights
3. Centre for Human Rights

School of Management Studies

1. Centre for Business Management
2. Centre for Trade & Commerce