Central University of Punjab Bathind Exam Result 2023
Onlineresultportal.com | Updated: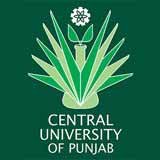 The Central University of Punjab since its establishment in 2009 has been fulfilling its mission as the center of providing higher education and its training and research facilities across various disciplines. Innovative teaching in learning and research and moreover cross-pollinating new ideas and technologies is the main mission of the Central University of Punjab. Located at Bathinda in the Indian State of Punjab, this University provides jurisdiction to the entire state. Its main campus covers 500 acres of land in Ghudda village where it consists of the University library, Computer Center, Central Instrumentation laboratory, separate hostels for boys and girls, air-conditioned lecture rooms and seminar halls and auditorium.
The University is recognized by the University Grants Commission (UGC) and is accredited "A" Grade by the National Assessment and Accreditation Council (NAAC). Moreover, the National Institutional Ranking Framework (NIRF) has ranked 65th out of 3565 institutions of India. These organizations and the Government of India have recognized teaching programmes of the Central University of Punjab. Here quality teaching is provided in forms of masters, doctoral and PG diploma programmes in schools of: Basic & Applied Science, Education, Engineering & Technology, Environment & Earth Science, Global Relations, Health Science, Languages, Literature & Culture, Legal Studies & Governance and Social Studies. Moreover, the University has also supported research projects in areas of Genomics, Cancer, Informatics, etc which are funded by the agencies like DST, UGC, Ministry of Earth Sciences, Alzheimer's Association, USA and many more on the list.
Interested students who want to take admission at the Central University of Punjab must appear and qualify for CUCET. Moreover, students can get more information at www.cup.ac.in regarding admission, courses, fees structures and other notifications. On the other hand, students can also get comprehensive information about all Indian Universities at www.onlineresultportal.com within few clicks without any hassles.

Details of Central University of Punjab
Full Name
Central University of Punjab(CPU)
Affiliations
UGC
Contact No
0164 286 4122
Website
www.cup.ac.in/
Founded
20 March 2009
Email
enqcucet2017@curaj.ac.in
Address
City Campus, Mansa Road, Bathinda, Punjab 151001
State
Punjab
Country
India
List of courses offered by Central University of Punjab

Degree
Duration
Arts Courses
M.A. (Comparative Literature)
2 Years
M.A. (International Studies)
2 Years
M.Phil. + Ph.D. (Comparative Literature)
5 Years
M.Phil. + Ph.D. (Development Economics)
5 Years
M.Phil. + Ph.D. (South and Central Asian Studies)
5 Years
Engineering Courses
Ph.D. (Computer Science and Engineering)
3 Years
Medical Courses
M.Pharm. (Pharmaceutical Chemistry)
2 Years
Science Courses
M.Phil. + Ph.D. (Biosciences)
5 Years
M.Phil. + Ph.D. (Environmental Science and Technology)
5 Years
M.Sc. (Biological Sciences)
2 Years
M.Sc. (Environmental Science & Technology)
2 Years
Commerce Courses
M.Phil. + Ph.D. (Developmental Economics)
5 Years
Information Technology Courses
M.Tech. (Computer Science & Technology)
2 Years
Law Courses
L.L.M.
2 Years
List of colleges affiliated with Central University of Punjab

City
College Name
0 College