Central University of Rajasthan Exam Result 2023
Onlineresultportal.com | Updated: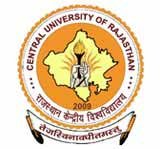 The Central University of Rajasthan is one of the best places in India to receive best higher education. Established in 2009 at Ajmer in the Indian State of Rajasthan, this public Central University is totally financially aided by the Government of India. The 518 acres campus of the Central University of Rajasthan consists of around 1700 students studying who has come from different states of India. Here quality education is provided to its students in levels of undergraduate, postgraduate and doctoral programmes. Moreover, the involvement of certain reputed organizations like the University Grants Commission (UGC) and the Association of Indian Universities (AIU) led to the recognition of this University all over India as certified institute of higher education. Even the National Assessment and Accreditation Council (NAAC) has given Grade "A" on the basis of the all-round features of this University.
This premium educational institute of Rajasthan offers academic and research programmes in Science, Technology, Humanities, Commerce, Management, Social Sciences and Public Policy. The University is also known for its incredible offering of 5-year integrated Masters of Science programmes in fields of Chemistry, Economics, Computer Science, Biochemistry, Biotechnology, Environmental Science, Mathematics, Statistics, Microbiology and Physics. In addition to this, various postgraduation programmes are also offered with specialization in Architecture, Business Management courses, Cyber Security, Pharmaceutical Chemistry, Culture & Media Studies and many more courses on the long academic list of the Central University of Rajasthan. Every many students are admitted to these academic programmes but admission is given only on the basis of Central Universities Common Entrance Test (CUCET) and GATE scores. Interested students can look for more information about admission procedure, admit cards, courses, fees structures and other notifications at www.curaj.ac.in. Moreover, www.onlineresultportal.com is also an useful website to provide information about all Indian Universities.
Central University of Rajasthan Result Out at www.curaj.ac.in
The Central University of Rajasthan (CUR) makes available the provisional examination results of its affiliated academic courses on its official website, https://www.curaj.ac.in/. Students that are awaiting their examination results of the CUR exams can check their respective results via the official portal once the results are declared.
After the declaration of results by the CUR authorities, your first step entails visiting the official web portal home page. Next, you have to search for the "Exams & Results" tab" and click on it. On the following page, under the "Results" heading, you then have to click on the relevant result link. Thereafter, your CUR examination results will be displayed on the screen and you are required to take a print copy of the same for your records. Also, remember to collect the CUR original marksheet from the respective college / institute.
Students have the option of applying for revaluation of their CUR exam papers if they are not satisfied with their results. However, the CUR authorities accept revaluation applications only within the given deadline.
Details of Central University of Rajasthan
Full Name
Central University of Rajasthan (CURAJ)
Affiliations
UGC
Contact No
01463 238 755
Website
http://www.curaj.ac.in/
Founded
2009
Email
info@curaj.ac.in
Address
Bandar Sindri, Ajmer, Rajasthan, India
State
Rajasthan
Country
India
List of courses offered by Central University of Rajasthan

S.N.
Cources
PG
1
M.Arch. (Sustainable Architecture)
2
MBA (specialization in Finance/ Marketing with special emphasis on Entrepreneurship and Business Analytics)
3
M.Com. (specialization in Accounting & Taxation/ HRM/ Finance/ Marketing)
4
M. Pharm. (Pharmaceutical Chemistry & Pharmaceutics)
5
M. Tech. CSE (specialization in Cyber Security)
6
M. Sc. (Tech) Mathematics (combination of Mathematics and Computer Science)
M. A.
1
Culture & Media Studies
2
Economics (specialization in Enviro-Economics)
3
English (Specialization in Creative Writing, Script Writing, Writing for Media and Film Appreciation)
4
Hindi (Specialization in Functional Hindi)
5
Public Policy, Law and Governance
6
Social Work
7
Statistics
M. Sc.
1
Atmospheric Science
2
Big data Analytics in association with Tata Consultancy Services
3
Biochemistry
4
Biotechnology
5
Chemistry (specialization in Green Chemistry)
6
Computer Science (specialization in Artificial Intelligence)
7
Environmental Science (specialization in Desert Studies)
8
Mathematics (combination of Mathematics and Computer Science)
9
Microbiology
10
Physics
11
Statistics (specialization in Actuarial Science)
List of colleges affiliated with Central University of Rajasthan

| City | College Name |
| --- | --- |
| 1 | School of Architecture |
| 2 | School of Chemical Sciences and Pharmacy |
| 3 | School of Commerce & Management |
| 4 | School of Engineering and Technology |
| 5 | School of Earth Sciences |
| 6 | School of Life Sciences |
| 7 | School of Humanities & Languages |
| 8 | School of Mathematics, Statistics & Computational Sciences |
| 9 | School of Social Sciences |
| 10 | School of Physical Sciences |