About Dravidian University, Chittoor
Onlineresultportal.com | Updated: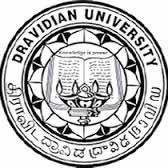 The Dravidian University was established with the objective of imparting education about Dravidian cultures, languages, and literature. In the year 1997, the Government of Andhra Pradesh along with the support by other governments of Kerala, Karnataka, and Tamil Nadu formed the Dravidian University. The location of the University is cited to be at Kuppam, Chittoor district, Andhra Pradesh, India.
Initially, the public University had only 2 departments. Over the years, the center has expanded and presently, contains 6 research centers and 20 academic departments.
In the Dravidian family of languages, there are 27 languages and they extend across India and Beluchistan. They all have made their contributions and are considered to an integral part of India's culture.
Dravidian University is credited with being the first to adopt the 5-year integrated Choice Based Credit System (CBCS) in Andhra Pradesh. Moreover, as part of CBCS, the students are given Additional Soft Skills Enhancement Training (ASSET). As part of the course curriculum, the students develop their Career Perspectives, Personality Development, Computer, Communication, and Analytical skills.
At Dravidian University, the students can enroll for courses in Arts, Management, Science, Information Technology, Commerce, and Yoga & Naturopathy. The University students can avail facilities such as library, internet center, counseling, fellowships, hostels, IT laboratory, and language laboratory – to name a few.
Aspiring students can browse through the University's official website http://www.dravidianuniversity.ac.in/index.php for getting information on admissions, exam notifications, examination results, and the different courses offered. Also, the students can visit the site https://www.onlineresultportal.com/ for accessing a comprehensive database of Indian Universities. They can know more about admission procedures, online applications, important updates, and other vital links on visiting the site.
Details of Dravidian University

Full Name
Dravidian University
Affiliations
UGC
Contact No
08570 - 278220, 9493277700
Website
http://www.dravidianuniversity.ac.in/
Founded
1997
Email
-
Address
Dravidian University, Srinivasa Vanam Kuppam-517 426, Chittoor Dist. ( A.P.)
City
Chittoor
State
Andhra Pradesh
Country
India
List of courses offered by Dravidian University

| Courses | Duration |
| --- | --- |
| B.A. (Economics) | 3 Years |
| B.A. (History) | 3 Years |
| B.A. (Philosophy) | 3 Years |
| B.A. (Political Science) | 3 Years |
| B.A. (Sanskrit) | 3 Years |
| B.A. (Telugu) | 3 Years |
| B.Ed. | 1 Years |
| B.P.Ed. | 3 Years |
| B.S.W. | 3 Years |
| Bachelor of Library and Information Science (B.Lib.I.Sc.) | 1 Years |
| M.A. | 2 Years |
| M.A. (Economics) | 2 Years |
| M.A. (English) | 2 Years |
| M.A. (Folklore & Tribal Studies) | 2 Years |
| M.A. (Hindi) | 2 Years |
| M.A. (History) | 2 Years |
| M.A. (Kannada) | 2 Years |
| M.A. (Linguistics) | 2 Years |
| M.A. (Malayalam) | 2 Years |
| M.A. (Philosophy) | 2 Years |
| M.A. (Political Science) | 2 Years |
| M.A. (Public Administration) | 2 Years |
| M.A. (Sanskrit) | 2 Years |
| M.A. (Social Work) | 2 Years |
| M.A. (Sociology) | 2 Years |
| M.A. (Tamil) | 2 Years |
| M.A. (Telugu) | 2 Years |
| M.A. (Translation) | 2 Years |
| M.Ed. | 2 Years |
| M.Lib.Sc. | 2 Years |
| M.Phil. (Library & Information Science) | 2 Years |
| M.Phil. (Physical Education) | 2 Years |
| M.S.W. | 2 Years |
| Ph.D. (Library & Information Science) | 3 Years |
| Ph.D. (Physical Education) | 3 Years |
| Diploma in Tamil | 3 Years |
| Diploma in Telugu | 3 Years |
| Post Graduation Diploma in Ancient Dravidian History and Archaeology | 1 Years |
| Post Graduate Diploma in Tourism | 2 Years |
| Certificate Course in Tamil | 1 Years |
| Certificate Course in Telugu | 1 Years |
| B.Sc. (Biochemistry) | 3 Years |
| B.Sc. (Biotechnology) | 3 Years |
| B.Sc. (Botany) | 3 Years |
| B.Sc. (Chemistry) | 3 Years |
| B.Sc. (Computer Science) | 3 Years |
| B.Sc. (Mathematics) | 3 Years |
| B.Sc. (Microbiology) | 3 Years |
| B.Sc. (Statistics) | 3 Years |
| B.Sc. (Zoology) | 3 Years |
| M.Phil. (Biotechnology) | 1 Years |
| M.Phil. (Computer Science) | 2 Years |
| M.Sc. (Biochemistry) | 2 Years |
| M.Sc. (Botany) | 2 Years |
| M.Sc. (Chemistry) | 2 Years |
| M.Sc. (Computer Science) | 2 Years |
| M.Sc. (Environmental Science) | 2 Years |
| M.Sc. (Herbal Science) | 2 Years |
| M.Sc. (Mathematics) | 2 Years |
| M.Sc. (Molecular Biology) | 2 Years |
| M.Sc. (Physics) | 2 Years |
| M.Sc. (Psychology) | 2 Years |
| M.Sc. (Statistics) | 2 Years |
| M.Sc. (Zoology) | 2 Years |
| Ph.D. (Biotechnology) | 3 Years |
| Ph.D. (Computer Science) | 3 Years |
| Bachelor of Business Management (B.B.M.) | 3 Years |
| M.B.A. | 2 Years |
| M.B.A. (Financial Management ) | 2 Years |
| M.B.A. (Human Resource Management) | 2 Years |
| M.B.A. (International Business) | 2 Years |
| M.B.A. (Marketing) | 2 Years |
| Post Graduate Diploma in Business Administration | 1 Years |
| B.Com. | 3 Years |
| M.Com. | 2 Years |
| M.C.A. | 3 Years |
| M.Sc. (Information Technology) | 2 Years |
| Post Graduate Diploma in Computer Applications (P.G.D.C.A.) | 1 Years |
List of colleges affiliated with Dravidian University