Fakir Mohan University Exam Result 2022
Onlineresultportal.com | Updated: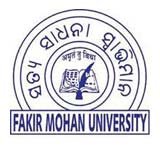 Fakir Mohan University is a Public University named after the great Odia writer Fakir Mohan Senapati. Established in 1999, the University is situated in Nuapadhi at Balasore in the Indian State of Orissa. The State Government of Orissa has founded this University and has given recognition. The University is also recognized by the University Grants Commission (UGC), Association of Indian Universities (AIU) and Association of Commonwealth Universities (ACU). Moreover, the National Assessment and Accreditation Council (NAAC) have awarded "B" Grade upon Fakir Mohan University. Around 60 colleges were affiliated by this University and more than 15000 students were gaining quality education here at graduate and postgraduate levels.
Fakir Mohan University has an excellent team of faculty members which are posted under the departments of Bio-Science & Bio-Technology, Business Management, Environmental Sciences, Information & Communication Technology, Population Studies, Applied Physics & Ballistics, Social Sciences, Law, Humanities, etc. Moreover, the distinctive character of this University is that it is the only University in India to offer a post-graduation course in Ballistics. When it comes to collaborations with the reputed organizations Fakir Mohan University is making this possible with a great success. Some of the reputed organizations and industries including Proof and Experimental Establishment (PXE), University of Rome Tor Vergata and other industries for research and consultancy. For more information about Fakir Mohan University it is advised to visit the official website- www.fmuniversity.nic.in to get details about admission, courses, fees structures, admit cards, online application forms, results and other notifications. Moreover, www.onlineresultportal.com is also an important educational website to offer accurate details about courses, Universities, admit cards and many education related details.
Details of Fakir Mohan University
Full Name
Fakir Mohan University
Affiliations
UGC
Contact No
06782 275 768
Website
www.fmuniversity.nic.in
Founded
3 July 1999
Email
registrarfmuniversity@gmail.com
Address
Rasalpur, Odisha 756020
State
Odisha
Country
India
List of courses offered by Fakir Mohan University

Degree
Duration
Arts Courses
M.A. (Economics)
2 Years
M.A. (English)
2 Years
M.A. (Political Science)
2 Years
M.A. (Population Studies)
2 Years
M.A. (Sociology)
2 Years
M.Phil. (Economics)
2 Years
M.Phil. (History)
2 Years
M.Phil. (Oriya/Odia)
1 Years
M.Phil. (Population Studies)
2 Years
M.Phil. (Sociology)
2 Years
M.Tech. (Biotechnology)
2 Years
M.Phil. (Environmental Sciences)
2 Years
M.Phil. (Physics)
2 Years
M.Sc. (Applied Physics and Ballistics)
2 Years
M.Sc. (Biotechnology)
2 Years
M.Sc. (Environmental Science)
2 Years
M.Tech. (Bioinformatics)
2 Years
M.Tech. (Computer Science)
2 Years
M.B.A.
2 Years
M.Com.
2 Years
Information Technology Courses
M.C.A.
3 Years
L.L.M.
2 Years
List of colleges affiliated with Fakir Mohan University

| S.No. | College Name |
| --- | --- |
| 1 | Balasore Law College |
| 2 | Dinakrushna College - DK College |
| 3 | Fakir Mohan Autonomous College |
| 4 | Khaira College |
| 5 | Rural Institute of Higher Studies |
| 6 | Baliapal College of Physical Education |
| 7 | Bhadrak Autonomous College |
| 8 | Bhadrak Law College |
| 9 | Panchayat Prahallad College - P.P. College |