Gujarat Agricultural University Exam Result 2023
Onlineresultportal.com | Updated: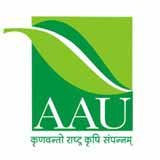 Earlier Gujarat Agricultural University had four campuses in the Indian State of Gujarat at Anand, Dantiwada, Junagarh and Navsari. But in 2004, due to some alteration these campuses have separated from each other and have changed to four individual State Universities and the original Gujarat Agricultural University no longer exists. Now these four Universities are known as:
• Anand Agricultural University
• Sardarkrushinagar Dantiwada Agricultural University
• Navsari Agricultural University
• Junagadh Agriculture University
These four Agricultural Universities are once collectively known as Gujarat Agricultural University. These Universities have the responsibility to develop the agricultural practices in and around areas of Anand, Dantiwada, Navsari and Junagadh. The main aim of these Universities is to implement research activities, advanced agricultural techniques for better crop yield and also educate the farmers about seeds, fertilizers and train the modern agricultural techniques to the farmers. Students who are interested to study in these Universities can opt for various undergraduate, postgraduate and diploma courses like Diary Technology, Agricultural Engineering, Food Processing Technology, Agricultural Information Technology, Renewable Energy and Environment Engineering, Veterinary Sciences and Animal Husbandry, Horticulture, Agriculture, Forestry, Home Science and Nutrition, Agricultural Biotechnology, Agricultural Microbiology, Biochemistry, Food Quality Assurance, Agriculture Business Management and many more related courses.
These four campuses of Gujarat Agricultural University collectively has attracted and admitted thousands of students every year. Interested students can check their respective website –Anand Agricultural University (www.aau.in), Sardarkrushinagar Dantiwada Agricultural University (www.sdau.edu.in), Navsari Agricultural University (www.nau.in ) and Junagadh Agricultural University (www.jau.in). Here they can check admission notification, admit cards, fees structures, courses and also directly apply from the University website. Moreover, students can also check www.onlineresultportal.com for details about Gujarat Agricultural Universities and also other Indian Agricultural Universities.
Sardarkrushinagar Dantiwada Agricultural University Exam Result on sdau.edu.in
The Sardarkrushinagar Dantiwada Agricultural University (SDAU) makes accessible the examination results of its affiliated academic programs on its official web link http://www.sdau.edu.in/#. Students who are awaiting the examination results after appearing for the SDAU course exams should visit its official website to check their results.
Once the SDAU authorities declare the exam results, you have to browse its official website to view your result. Start by locating the "Online Examination" tab on the home page of the SDAU official portal. Continue by tapping on this link, after which you are directed to the login page. Here, you are required to enter your login details for your exam result to be displayed on the screen. It is always advisable to keep a print copy of your exam result for your records.
The SDAU has a host of colleges that offer courses in their respective discipline. Among the SDAU schools are the College of Food Technology, the College of Horticulture, the College of Agribusiness Management, the College of Basic Science & Humanities – to name a few.
Details of Gujarat Agricultural University
Full Name
Gujarat Agricultural University
Affiliations
UGC
Contact No
(Office) +91-2692-261310
Fax: +91-2692-261310
Website
www.gsauca.in
Email
registrar@aau.in
Founded
2004
Address
Anand Agricultural University
City
Anand : 388110.
State
Gujarat
Country
India
List of courses offered by Gujarat Agricultural University

Degree
Duration
Engineering Courses
M.Tech. (Food Process Engineering)
2 Years
M.Tech. (Food Processing Technology)
2 Years
Science Courses
Ph.D. (Food and Dairy Technology)
3 Years
Agriculture Science and Technology Courses
B.Sc. (Agriculture)
4 Years
B.Sc. (Dairy Technology)
3 Years
B.Tech. (Agricultural Engineering)
4 Years
B.Tech. (Agriculture Information Technology)
4 Years
B.Tech. (Dairy Technology)
4 Years
B.Tech. (Food Technology)
4 Years
B.V.Sc. & A.H.
5 Years
M.B.A. (International Agribusiness)
2 Years
M.Sc. (Dairy Chemistry)
2 Years
M.Sc. (Dairy Engineering)
2 Years
M.Sc. (Dairy Microbiology)
2 Years
M.Sc. (Dairy Technology)
2 Years
M.Tech. (BioEnergy)
2 Years
Ph.D. (Dairy Chemistry)
3 Years
Ph.D. (Dairy Engineering)
3 Years
Ph.D. (Dairy Microbiology)
3 Years
List of colleges affiliated with Gujarat Agricultural University

| S.No. | College Name |
| --- | --- |
| 1 | B. A. College of Agriculture, Anand |
| 2 | Polytechnic in Agricultural Engineering, AAU, Dahod |
| 3 | Sheth M.C. College of Dairy Science, Anand |
| 4 | College of Veterinary Science & Animal Husbandry, Anand |
| 5 | College of Agricultural Information Technology, Anand |
| 6 | International Agribusiness Management Institute, Anand |
| 7 | College of Food Processing Technology & Bio Energy, Anand |
| 8 | College of Agricultural Engineering & Technology, Godhra |
| 9 | E-Courses for Post Graduate Studies |
| 10 | College of Agriculture, Vaso |
| 11 | Polytechnic in Food Science and Home Economics, AAU, Anand |
| 12 | Sheth M.C. Polytechnic in Agriculture, AAU, Anand |
| 13 | Sheth D.M. Polytechnic in Horticulture, AAU, Vadodara |
| 14 | Institute of Distance Education Anand ( IDEA) |
| 15 | Information Technology Center, Anand |
| 16 | College of Horticulture, Anand |
| 17 | College of Agriculture, Jabugam |
| 18 | Polytechnic in Agriculture, Vaso |