Guru Angad Dev Veterinary & Animal Science University Exam Result 2023
Onlineresultportal.com | Updated: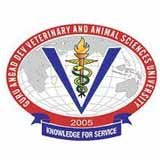 Guru Angad Dev Veterinary & Animal Sciences University was established by the State Government of Punjab at Ludhiana on 2005. It is a veterinary University which was established to serve the society by promoting and developing livestock production and livestock health. It also helps in prevention of livestock diseases through integrated teaching and expansion programmes. Moreover it also helps to uplift the life of the rural people of Punjab who are especially engaged in livestock rearing. This University of veterinary and animal sciences is recognized by the University Grants Commission (UGC) and National Assessment and Accreditation Council (NAAC).
The University offers undergraduate, postgraduate and doctoral courses in various courses which are headed by the faculties of Animal Breeding & Genetics, Animal Nutrition, Animal Reproduction, Gynecology & Obstetrics, Livestock Production & Management, Veterinary Anatomy & Histology, Veterinary & Animal Husbandry Extension, Veterinary Biochemistry, Veterinary Clinical Services, Veterinary Physiology, Veterinary Microbiology, Veterinary Epidemiology & Preventive Medicine, Veterinary Pharmacology & Toxicology, Veterinary Parasitology, Veterinary Medicine, Jurisprudence & Ethics, Veterinary Public Health, Livestock Products Technology, Veterinary Surgery and Radiology and Veterinary Pathology. Moreover, the scholars are also encouraged by this University to carry out various research programmes from ICAR, RKVY, etc.
Interested students can have a better perspective of Guru Angad Dev Veterinary & Animal Sciences University from its official website- www.gadvasu.in . Students and scholars can check this link to get information about admission, results, courses, fees structures and other important updates and notifications. Moreover, www.onlineresultportal.com is also a useful educational website to provide information about various colleges and Universities of India as well as provide accurate results of important examinations.
Details of Guru Angad Dev Veterinary & Animal Science University
Full Name
Guru Angad Dev Veterinary & Animal Science University
Affiliations
UGC
Contact No
0161 255 3394
Website
www.gadvasu.in
Founded
9 August 2005
Email
registrargadvasu@gmail.com
Address
20, Ludhiana Road, A Block, Aggar Nagar, Ludhiana, Punjab 141012
State
Punjab
Country
India
List of courses offered by Guru Angad Dev Veterinary & Animal Science University

Degree
Duration
Science Courses
B.F.Sc.
4 Years
B.V.Sc (Animal Nutrition)
3 Years
M.F.Sc.
2 Years
M.Sc. (Animal Biotechnology)
2 Years
M.Sc. (Animal Breeding & Genetics)
2 Years
M.V.Sc. (Animal Biotechnology)
2 Years
Ph.D.
2 Years
Ph.D. (Animal Breeding & Genetics)
3 Years
Ph.D. (Aquaculture)
3 Years
Diploma in Veterinary Science and Animal Health Technology
1 Years
Agriculture Science and Technology Courses
B.Tech. (Dairy Technology)
4 Years
B.V.Sc. & A.H.
5 Years
M.V.Sc.
2 Years
Ph.D. (Animal Biotechnology)
3 Years
List of colleges affiliated with Guru Angad Dev Veterinary & Animal Science University

City
College Name
Amritsar
1
Khalsa College of Veterinary and Animal Sciences
Ludhiana
1
College of Dairy Science & Technology
2
College of Fisheries