About Guru Nanak Dev University, Amritsar
Onlineresultportal.com | Updated: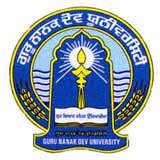 Guru Nanak Dev University was established at Amritsar, Punjab in 1969 to commemorate the 500th birth celebration of Shri Guru Nanak Dev Ji. This public University is recognized by the University Grants Commission (UGC) which has awarded this University with highest potential for excellence. Even the National Assessment and Accreditation Council (NAAC) have accredited the University with five star status by awarding "A" Grade. The main aim of this University is to impart training and research of quality education in areas of humanities, science and technology. In addition to that, this University also has the responsibility to impart studies and research on the life and teachings of Guru Nanak and also the promotion of Punjabi language among the society.
Around 20 thousand students were admitted by in various faculties at the University campus and its constituent colleges. Here students and scholars gain highest level of quality education in levels of under-graduation, post-graduation and doctoral. The experienced faculty members from the departments of: Arts & Social Sciences, Economics & Business, Education, Engineering & Technology, Life Sciences, Humanities & Religious Studies, Languages, Law, Physical Education, Physical Planning & Architecture, Sciences, Sports Medicine & Physiotherapy and Visual Art & Performing Arts. Moreover, these academic departments offer its various courses at also its 148 affiliated colleges and 71 Associate Institutes.
In addition to this, this University works upon prestigious projects which are worth crores of rupees from reputed organizations like DOT, CSIR, BARC and others. Moreover this University also has an excellent placement record. Interested students can get to know more about Guru Nanak Dev University at www.gndu.ac.in regarding admission, courses, fees structures and notifications. Moreover, www.onlineresultportal.com also provides information about Universities and colleges and results of various examinations.

Details of Guru Nanak Dev University
Full Name
Guru Nanak Dev University
Affiliations
UGC
Contact No
+91-183-2258802-09, +91-183-2450601-14
Website
www.gndu.ac.in
Founded
24 November 1969
Email
spsingh_gndu@yahoo.com
Address
Grand Trunk Road, Off NH1, Amritsar, Punjab 143001
State
Punjab
Country
India
List of courses offered by Guru Nanak Dev University

| Degree | Duration |
| --- | --- |
| B.A. (Hons.) (English) | 3 Years |
| B.A. (Hons) (Punjabi) | 3 Years |
| B.A. (Punjabi) | 3 Years |
| B.Ed. | 1 Years |
| B.F.A. | 3 Years |
| B.P.A. (Music-Vocal) | 4 Years |
| B.P.A. (Performing Arts) | 3 Years |
| B.P.Ed. | 3 Years |
| Bachelor of Library and Information Science (B.Lib.I.Sc.) | 1 Years |
| M.A. (Commercial Art) | 2 Years |
| M.A. (Criminology and Police Administration) | 2 Years |
| M.A. (Economics) | 2 Years |
| M.A. (English) | 2 Years |
| M.A. (Fine Arts) | 2 Years |
| M.A. (French) | 2 Years |
| M.A. (Geography) | 2 Years |
| M.A. (Hindi) | 2 Years |
| M.A. (History of Fine Arts) | 2 Years |
| M.A. (History) | 2 Years |
| M.A. (Hons) (Hindi) | 2 Years |
| M.A. (Hons) Psychology | 2 Years |
| M.A. (Hons.) (Philosophy) | 2 Years |
| M.A. (Hons.) (Sanskrit) | 2 Years |
| M.A. (Hons.) (Sociology) | 2 Years |
| M.A. (Hons.) Journalism & Mass Communication | 2 Years |
| M.A. (Hons.) Music (Instrumental) | 2 Years |
| M.A. (Hons.) Music (Vocal) | 2 Years |
| M.A. (Hons.) Religious Studies | 2 Years |
| Master in Social Sciences (Hons.) | 2 Years |
| M.A. (Music) | 2 Years |
| M.A. (Persian) | 2 Years |
| M.A. (Philosophy) | 2 Years |
| M.A. (Political Science) | 2 Years |
| M.A. (Psychology) | 2 Years |
| M.A. (Public Administration) | 2 Years |
| M.A. (Punjabi) | 2 Years |
| M.A. (Religious Studies) | 2 Years |
| M.A. (Russian Studies) | 2 Years |
| M.A. (Sanskrit) | 2 Years |
| M.A. (Sociology) | 2 Years |
| M.A. (Urdu) | 2 Years |
| M.B.E. (Master of Business Economics) | 2 Years |
| M.Ed. | 2 Years |
| M.Lib.Sc. | 2 Years |
| M.P.Ed. | 2 Years |
| M.Phil. (Economics) | 2 Years |
| M.Phil. (English) | 2 Years |
| M.Phil. (Hindi) | 2 Years |
| M.Phil. (History) | 2 Years |
| M.Phil. (Music - Instrumental) | 2 Years |
| M.Phil. (Music - Vocal) | 2 Years |
| M.Phil. (Philosophy) | 2 Years |
| M.Phil. (Political Science) | 2 Years |
| M.Phil. (Psychology) | 2 Years |
| M.Phil. (Punjabi) | 2 Years |
| M.Phil. (Religious Studies) | 18 Years |
| M.Phil. (Sanskrit) | 2 Years |
| M.Phil. (Sociology) | 2 Years |
| M.Phil. Music (Vocal & Inst.) | 1 Years |
| B.Tech. (Computer Science and Engineering) | 4 Years |
| B.Tech. (Electronics & Communication Engineering) | 4 Years |
| B.Tech.(Sugar & Alcohol Technology) | 4 Years |
| B.Tech.(Textile Chemistry) | 4 Years |
| B.Tech. + M.Tech. (Computer Science & Engineering) | 5 Years |
| M.Tech. (Communication Systems) | 2 Years |
| M.Tech. (Textile Chemistry) | 2 Years |
| Ph.D. (Food Technology) | 3 Years |
| B.P.T. | 4.5 Years |
| B.Pharm | 4 Years |
| M.D. (Sports Medicine) | 2 Years |
| M.P.T. (Cardiothoracic Physiotherapy) | 2 Years |
| M.P.T. (Sports-Physiotherapy) | 2 Years |
| M.Pharm. (Pharmaceutical Chemistry) | 2 Years |
| M.Pharm. (Pharmaceutics) | 2 Years |
| M.Pharm. (Pharmacognosy) | 2 Years |
| M.Pharm. (Pharmacology) | 2 Years |
| M.Sc. (Hons.) Human Genetics | 2 Years |
| B.Sc. (Biotechnology) | 3 Years |
| B.Sc. (Electronic Media) | 3 Years |
| B.Sc. (Electronics) | 3 Years |
| B.Sc. (Genetics) | 3 Years |
| B.Sc. (Home Science) | 3 Years |
| B.Sc. (Hons.) (Zoology) | 3 Years |
| B.Sc. (Hons.) (Botany) | 3 Years |
| B.Sc. (Hons.) (Chemistry) | 3 Years |
| B.Sc. (Physics) | 3 Years |
| Diploma in Environment Education | 1 Years |
| M.Phil. (Biochemistry) | 2 Years |
| M.Phil. (Botany) | 1 Years |
| M.Phil. (Environmental Sciences) | 2 Years |
| M.Phil. (Molecular Biology & Biochemistry) | 2 Years |
| M.Phil. (Physics) | 2 Years |
| M.Phil. (Zoology) | 1 Years |
| M.Sc. (Applied Physics) | 2 Years |
| M.Sc. (Bioinformatics) | 2 Years |
| M.Sc. (Biotechnology) | 2 Years |
| M.Sc. (Botany) | 2 Years |
| M.Sc. (Chemistry) | 2 Years |
| M.Sc. (Computer Science) | 2 Years |
| M.Sc. (Environmental Science) | 2 Years |
| M.Sc. (Fermentation & Microbial Technology) | 2 Years |
| M.Sc. (Food Processing Technology) | 2 Years |
| M.Sc. (Food Science and Nutrition) | 2 Years |
| M.Sc. (Food Technology) | 2 Years |
| M.Sc. (Hons.) (Botany) | 2 Years |
| M.Sc. (Hons) (Economics) | 2 Years |
| M.Sc. (Hons.) (Enviormental Science) | 2 Years |
| M.Sc. (Hons.) (Fermentation & Microbial Technology) | 2 Years |
| M.Sc. (Hons.) (Genetics) | 2 Years |
| M.Sc. (Hons.) (Microbiology) | 2 Years |
| M.Sc. (Hons.) (Molecular Biology & Biochemistry) | 2 Years |
| M.Sc. (Hons.) (Physics) | 2 Years |
| M.Sc. (Hons.) (Zoology) | 2 Years |
| M.Sc. (Industrial Chemistry) | 2 Years |
| M.Sc. (Mathematics) | 2 Years |
| M.Sc. (Microbiology) | 2 Years |
| M.Sc. (Molecular Biology & Biochemistry) | 2 Years |
| M.Sc. (Nano Sciences & Technology) | 2 Years |
| M.Sc. (Physics) | 2 Years |
| M.Sc. (Statistics) | 2 Years |
| M.Sc. (Zoology) | 2 Years |
| M.Sc. (Applied Chemistry (Pharmaceuticals)) | 2 Years |
| B.A. (Tourism and Hotel Management) | 3 Years |
| B.B.A. | 3 Years |
| B.CAM. | 3 Years |
| M.B.A. (Hons) (Financial Services) | 2 Years |
| M.B.A. (Hons) (Marketing and Retail Management) | 2 Years |
| M.B.A. (Integrated Course) | 5 Years |
| M.Sc. (Information Tech. and Management) | 2 Years |
| B.A. (Journalism and Mass Communication) | 3 Years |
| B.M.C (Bachelor of Multimedia Communication) | 3 Years |
| M.A. (Mass Communication & Journalism) | 2 Years |
| M. A. (Media Studies and Production) | 2 Years |
| M.Sc. (Electronic Media) | 2 Years |
| Ph.D. (Journalism and Mass Communication) | 3 Years |
| B.Com. | 3 Years |
| B.Com. (Hons.) | 3 Years |
| B.Com. (Professional) | 3 Years |
| M.Com. | 2 Years |
| B.Sc. (Hons.) (Agriculture) | 3 Years |
| B.Tech. (Food Technology) | 4 Years |
| M.Sc. (Hons) (Agriculture) | 2 Years |
| B.C.A. | 3 Years |
| B.C.A. + M.C.A. | 5 Years |
| B.Sc. (Information Technology) | 3 Years |
| M.C.A. | 3 Years |
| M.C.A. (Software Systems) | 3 Years |
| M.Sc. (Information Technology) | 2 Years |
| M.Sc. (Network Protocol Design) | 2 Years |
| M.Tech. (Computer Science and Engineering) | 2 Years |
| B.A. + L.L.B. | 5 Years |
| B.A. + L.L.B. (Hons) | 5 Years |
| L.L.B. | 3 Years |
| L.L.B. (Hons.) | 3 Years |
| L.L.M. | 2 Years |
| LL.M. (Hons.) | 2 Years |
| B.Des. (Fashion Design) | 4 Years |
| B.Des. (Interior Design) | 4 Years |
| B.Des. (Textile Design) | 4 Years |
| B.Sc. (Fashion Design) | 3 Years |
| M.Sc. (Fashion Designing) | 2 Years |
| B.Arch. | 5 Years |
| B.Tech. (Urban & Regional Planning) | 4 Years |
| M.Arch. (Urban Design) | 2 Years |
| M.Tech. (Urban Planning) | 2 Years |
List of colleges affiliated with Guru Nanak Dev University

City
College Name
Amritsar
1
Anand College of Education for Women
2
Baba Darbara Singh College for Girls
3
BBK DAV College for Women
4
DAV College
5
DAV College of Education for Women
6
Government College
7
Guru Aamar Das School of Nursing
8
Guru Gobind Singh Khalsa College
9
Hindu College
10
Khalsa College
11
Khalsa College Chawinda Devi
12
Khalsa College for Women
13
Khalsa College of Education
14
Khalsa College of Education Ranjit Avenue
15
Khalsa College of Physical Education
16
Mohan Lal Memorial Institute of Education
17
Sewa Devi S.D. College of Education
18
Sewa Devi SD College - SDSD
19
Shaheed Bhagat Singh College of Education - S.B.S
20
Shaheed Darshan Singh Pheruman Memorial College for Women - SDSPM
21
Shahzada Nand College
22
Sidana Institute of Education
23
SR Government College for Women
24
Sri Guru Angad Dev College - SGADC
25
Sri Guru Angad Dev College of Education - SGAD
26
Sri Guru Teg Bahadur College of Education
27
Trai Shatabdi Guru Gobind Singh Khalsa College
Batala
1
Gurunanak College
2
Hindu Kanya Mahavidyalaya
3
Lilly Swords Mathodist College of Education
4
RR Bawa DAV College for Girls
5
S.S.M. College
6
SL Bawa DAV College
Delhi
1
Apeejay Institute of Design
Gurdaspur
1
Akarshan College of Education
2
Baba Banda Singh Bahadur College of Education - BBSBCE
3
Baba Mehar Singh Memorial College - BMSM
4
Baba Mehar Singh Memorial College of Education - BMSM
5
Baring Union Christian College
6
Chacha Satyapal Tuli Memorial College of Education
7
Cheema College of Education
8
Golden College of Education
9
Government College
10
Government G.N. College
11
Govt. Degree College
12
Gurukul Degree College
13
J.D.S. College of Education
14
Pandit Mohan Lal S.D. College for Girls
15
Pandit Mohan Lal S.D. College for Women
16
S.R.S. Pathania Memorial College
17
Sant Baba Hazara Singh College of Education
18
Shanti Devi Arya Mahila College
19
Shivalik College of Education
20
Sikh National College
21
SSS College of Education
22
Swami Swatantranand Memorial College - SSMC
23
Tagore College of Education for Women
24
V.M.S. College
25
V.M.S. College of Education
26
V.M.S. College of Law
27
Vishwa Mitar Shekhri College of Law
Jalandhar
1
Apeejay College of Fine Arts
2
Banarsi Dass Arya Girls College
3
CT College of Education
4
DAV College
5
DIPS College for Women
6
Doaba College
7
DRV DAV Centenary College
8
GGS Government College
9
Government Arts and Sports College
10
Government College of Education
11
Guru Nanak Dev University College
12
Guru Nanak Khalsa College - GNKC
13
Guru Nanak Khalsa Girls College
14
Guru Nanak National College
15
Hans Raj Mahila Maha Vidyalaya
16
Innocent Hearts College of Education
17
Innocent Hearts College of Hotel Management
18
Kanya Maha Vidyalaya - KMV
19
KCL Institute of Laws
20
Lovely Institute of Law
21
Lyallpur Khalsa College
22
Lyallpur Khalsa College for Women
23
M.K. College of Education
24
Montgomery Guru Nanak College of Education - MGN
25
Paradise College of Education
26
PCM S.D. College for Women
27
PTM Arya College
28
Punjab Police Academy
29
Sant Baba Bhag Singh Institute of Education - SBBS
30
St. Soldier College of Education
31
St. Soldier Degree College
32
St. Soldier Degree College - Co-Education
33
St. Soldier Degree College - Girls
34
St. Soldier Girls College
35
St. Soldier Law College
36
Trinity College
Kapurthala
1
DIPS College for Women
2
DIPS College of Education
3
GNBL Ramgarhia College for Women
4
GRD College for Women
5
Guru Nanak College
6
Guru Nanak College of Education for Women
7
Guru Nanak Khalsa College
8
Guru Nanak Nav Bharat College
9
Guru Nanak Prem Karamsar College
10
Hindu Kanya College
11
Kamla Nehru College for Women
12
Kamla Nehru College of Education for Women
13
Lord Krishna College of Education
14
Lovely Institute of Education
15
Master Gurbanta Singh Memorial Janta College
16
Mohan Lal Uppal DAV College - MLU
17
Nawab Jassa Singh Ahluwalia Government College - NJSA
18
Om Parkash Memorial Institute of Education
19
Ramgarhia College of Education
20
S.D. College for Women
21
S.P.S.K. Khalsa College Begowal
22
Sant Baba Dalip Singh Memorial Khalsa College - SBDSM
Ludhiana
1
Mata Ganga Khalsa College for Girls
Nawan Shehar
1
Amardeep Singh Shergill Memorial College - ASSM
2
B.L.M. Girls College
3
DAN College of Education for Women
4
Guru Nanak College for Women
5
Kirpal Sagar College of Education
6
Radha Krishan Arya College
7
Sai College of Education
8
Sikh National College
New Delhi
1
Guru Arjan Dev Institute of Management and Information Technology
2
Guru Hargobind Institute of Management and Information Technology
3
Trinity Institute of Management and Technology
Pathankot
1
Aman Bhalla College of Education
2
Angels College of Education
3
Army Institute of Higher Education
4
Pathankot College of Education
5
S.M.D.R.S.D. College of Education
6
S.R.P.A. Adrash Bhartiya College
7
Sri Sai College of Education
Tarn Taran
1
Baba Budha College
2
Majha College for Women
3
Sri Guru Arjun Dev Government College - SGADGC