Hemwati Nandan Bahuguna Garhwal University Pauri Result 2023
Onlineresultportal.com | Updated: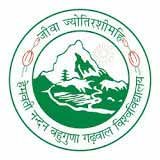 Hemwati Nandan Bahuguna Garhwal University, formerly known as Garhwal University is a Public University is located in Srinagar town in the Pauri Garhwal district of Uttarakhand state in North India. This University is named after the famous politician of the region- Hemwati Nandan Bahuguna. Established in 23 November 1973, this University has been involved since last four decades in the development of higher education in the remote Garhwal Mountains. This University has been recently upgraded as "A Central University" in 2009 under the condition of Central Universities Act and is recognized by the University Grants Commission and National Assessment and Accreditation council. This University is also an affiliating University providing affiliation to over 184 colleges and educational institutes and educating to almost 150000 students annually in various districts in the State of Uttarakhand.
This University is regarded to be one of the largest Universities of India with 3 campuses at: Birla Campus, Srinagar Garhwal with its extension at Chauras Campus, B. Gopal Reddy (BGR) Campus, Pauri and Swami Ram Teerth (SRT) Campus, Badshahithaul, Tehri. In all the 3 campuses of Hemwati Nandan Bahuguna Garhwal University, undgraduate, postgraduate and research programmes are being taught in various disciplines by the eminent and dynamic faculty members. Quality learning is given to the students in fields of Arts, Agriculture, Ayurveda, Banking, Commerce, Science, Earth Science, Life Science, Engineering, Education, Law, Accounting, Management, Medicine, Paramedical and Tourism. Aspiring students can check the University website- www.hnbgu.ac.in for admission details and its criteria, courses, fees structures and other important updates and notifications. Moreover, www.onlineresultportal.com is also helpful for the students for checking details about other Indian Universities along with results of various examinations.
Details of Hemwati Nandan Bahuguna Garhwal University
Full Name
Hemwati Nandan Bahuguna Garhwal University
Affiliations
UGC
Contact No
(01346) 252143, 252167, 2750012, 252521
Website
http://www.hnbgu.ac.in/
Founded
1973
Email
registrar.hnbgu@gmail.com ; registrar@hnbgu.ac.in
Address
Srinagar, Pauri Garhwal, Uttarakhand, India
City
Pauri Garhwal
State
Uttarakhand
Country
India
List of courses offered by Hemwati Nandan Bahuguna Garhwal University

| Degree | Duration |
| --- | --- |
| B.A. (Ancient Indian History Culture & Archaeology) | 3 Years |
| B.A. (Anthropology) | 3 Years |
| B.A. (Defence & Strategic Studies) | 3 Years |
| B.A. (Economics) | 3 Years |
| B.A. (English) | 3 Years |
| B.A. (Geography) | 3 Years |
| B.A. (Hindi) | 3 Years |
| B.A. (History) | 3 Years |
| B.A. (Home Science) | 3 Years |
| B.A. (Mathematics) | 3 Years |
| B.A. (Music Vocal) | 3 Years |
| B.A. (Philosophy) | 3 Years |
| B.A. (Political Science) | 3 Years |
| B.A. (Psychology) | 3 Years |
| B.A. (Sanskrit) | 3 Years |
| B.A. (Sociology) | 3 Years |
| B.Ed. | 1 Years |
| B.F.A. | 3 Years |
| B.P.Ed. | 3 Years |
| Bachelor of Library and Information Science (B.Lib.I.Sc.) | 1 Years |
| M.A. (Ancient Indian History and Archaeology) | 2 Years |
| M.A. (Defence and Strategic Studies) | 2 Years |
| M.A. (Economics) | 2 Years |
| M.A. (English) | 2 Years |
| M.A. (Geography) | 2 Years |
| M.A. (Hindi) | 2 Years |
| M.A. (History) | 2 Years |
| M.A. (Home Science) | 2 Years |
| M.A. (Mathematics) | 2 Years |
| M.A. (Philosophy) | 2 Years |
| M.A. (Political Science) | 2 Years |
| M.A. (Psychology) | 2 Years |
| M.A. (Sanskrit) | 2 Years |
| M.A. (Sociology) | 2 Years |
| M.A. (Statistics) | 2 Years |
| M.Ed. | 2 Years |
| Post Graduate Diploma in Rural Technology | 1 Years |
| B.Tech. (Computer Science and Engineering) | 4 Years |
| M.Sc. (Rural Technology) | 3 Years |
| B.Pharm. | 4 Years |
| M.Pharm. | 2 Years |
| M.Sc. (Pharmaceutical Chemistry) | 2 Years |
| B.Sc. (Anthropology) | 3 Years |
| B.Sc. (Botany) | 3 Years |
| B.Sc. (Chemistry) | 3 Years |
| B.Sc. (Economics) | 3 Years |
| B.Sc. (Environmental Science) | 3 Years |
| B.Sc. (Geography) | 3 Years |
| B.Sc. (Geology) | 3 Years |
| B.Sc. (Mathematics) | 3 Years |
| B.Sc. (Physics) | 3 Years |
| B.Sc. (Statistics) | 3 Years |
| B.Sc. (Zoology) | 3 Years |
| B.Sc. + M.Sc. (Biotechnology) | 5 Years |
| B.V.Sc. | 4.5 Years |
| M.Phil. (Environmental Plant Biology) | 1 Years |
| M.Phil. (Environmental Sciences) | 2 Years |
| M.Sc. (Biotechnology) | 2 Years |
| M.Sc. (Botany) | 2 Years |
| M.Sc. (Environmental Science) | 2 Years |
| M.Sc. (Geography) | 2 Years |
| M.Sc. (Integrated Biotechnology) | 2 Years |
| M.Sc. (Mathematics) | 2 Years |
| M.Sc. (Microbiology) | 2 Years |
| M.Sc. (Statistics) | 2 Years |
| M.Sc. (Zoology) | 2 Years |
| Ph.D. | 2 Years |
| B.B.A. | 3 Years |
| B.H.M.C.T. | 3 Years |
| B.Sc. (Hospitality Studies) | 3 Years |
| B.Sc. (Hotel Management) | 3 Years |
| M.B.A. (Finance) | 2 Years |
| M.B.A. (Human Resource Management) | 2 Years |
| M.B.A. (Information Technology) | 2 Years |
| M.B.A. (International Business) | 2 Years |
| M.B.A. (Marketing) | 2 Years |
| M.B.A. (Tourism Administration) | 2 Years |
| Master in International Business (M.I.B.) | 2 Years |
| Ph.D. (Hospitality) | 2 Years |
| Ph.D. (Tourism Management) | 3 Years |
| Post Graduate Diploma in Business Administration | 1 Years |
| Post Graduate Diploma in Tourism and Hospitality Management | 1 Years |
| B.A. (Hons) (Mass Communication and Journalism) | 3 Years |
| M.A. (Mass Communication) | 2 Years |
| PGDJMC - Post Graduate Diploma in Journalism and Mass Communication | 1 Years |
| B.Com. | 3 Years |
| M.Com. (Finance) | 2 Years |
| M.Com. (Human Resource Development) | 2 Years |
| M.Com. (Marketing) | 2 Years |
| B.Sc. (Horticulture Science) | 3 Years |
| B.Sc. (Forestry) | 4 Years |
| M.Sc. (Agriculture) Seed Technology | 2 Years |
| M.Sc. (Forestry) | 2 Years |
| M.Sc. (Horticulture) | 2 Years |
| Ph.D. (Forestry) | 3 Years |
| Ph.D. (Horticulture) | 3 Years |
| Ph.D. (Seed Science & Technology) | 3 Years |
| M.C.A. | 3 Years |
| L.L.B. | 3 Years |
| L.L.M. | 2 Years |
| M.A. (Theatre) | 2 Years |
List of colleges affiliated with Hemwati Nandan Bahuguna Garhwal University

City
College Name
Chamoli
1
Government Degree College
2
Government Degree College
3
Government Degree College
Dehradoon
1
Doon Valley College of Education
2
Survey of India Research Centre
Dehradun
1
Alpine Institute of Aeronautics
2
Alpine Institute of Management and Technology - AIMT
3
Baba Farid Institute of Hotel Management - BFIHM
4
Baba Farid Institute of Technology - BFIT
5
Beehive College of Advance Studies
6
Chandrawati Tiwari Girls Degree College
7
Combined P.G. Institute of Medical Science and Research
8
Dayanand Anglo Vedic PG College
9
Dayanand Brijendra Swaroop P.G. College - DBS
10
Dayanand Women's Training College
11
Dev Bhoomi Institute of Applied Sciences - DBIAS
12
Dolphin (P.G.) Institute of Bio-Medical and Natural Sciences
13
Doon Cambridge Institute of Paramedical and Allied Science
14
Doon Institute of Education
15
Doon Institute of Teachers Training
16
Doon Post Graduate College of Agriculture, Science and Technology
17
Doon Post Graduate Paramedical College and Hospital
18
Dronacharya Institute of Teacher Education College
19
G.R.D. Girls Degree College
20
Gayatri College of Biomedical Sciences - GCBS
21
Government Degree College
22
Himalayan Institute of Technology
23
Himalayiya Ayurvedic Medical College and Hospital - HAMCH
24
Institute for Education Leadership - IEL
25
Kukreja Institute of Teacher's Education
26
Libra College of Law
27
Mahadevi Kanya Pathshala Post Graduate College
28
Narayan Swami Hospital and Dental College - NSHDC
29
Nimbus Academy of Management - NAM
30
Pestle Weed College of Information Technology
31
Sai Institute of Paramedical and Allied Science - SIPAS
32
Shaheed Durga Mall Government Post Graduate College - SDMPG
33
Shaheed Durgamal Government Degree College
34
Shakuntala Devi Educational Institute
35
Shri Guru Ram Rai Institute of Medical and Health Sciences
36
Shri Guru Ram Rai P.G. College
37
Siddhartha Institute of Management and Technology - SIMT
38
Siddhartha Institute of Paramedical Sciences
39
Sri Guru Ram Rai Institute of Technology and Science
40
Tanishk College of Education
41
Trinity College of Education
42
Unison School of Law
43
Uttaranchal (P.G.) College of Bio-Medical Sciences and Hospital
44
Uttaranchal Ayurvedic College
45
Uttaranchal College of Education - UCE
46
Uttaranchal College of Science and Technology (UCST)
47
Uttaranchal Dental and Medical Research Institute
48
Wadia Institute of Himalayan Geology - WIHG
Garhwal
1
Centre for Mountain Tourism and Hospitality Studies - CMTHS
2
Dr. P.D.B.H. Government P.G. College
3
Dr. S.N.N. Government Degree College
4
Government Degree College
5
Institute of Hotel Management Studies - IHMS
6
Malini Valley College of Education
7
S.P. Memorial B.Ed. College
8
S.P. Memorial College of Advance Studies
9
S.R.T. Const. College
10
The Government Post Graduate College
Haridwar
1
B.S.M. Law College
2
Charat Niketan Vishwa Bharati Shiksha Mahavidyalaya
3
Gurukul Mahavidyalaya Prashikshan Vibhaag
4
Hardwar Educational College
5
Kunti Naman Institute of Pharma Technology and Science
6
Modern Institute of Technology - MIT
7
Omkarananda Institute of Management and Technology - CIMT
8
Pt. L.M.S. Government Post Graduate College
9
Roorkee Degree College
10
S.M.J.N. College
11
Seema Dental College and Hospital - SDCH
12
Shri Shravannath Math Jwaharlal Nehru P.G. College - SMJN
13
Sita Devi Memorial Institute of Education and Technology
14
State Ayurvedic College and Hospital
15
Susana Methodist Girls B.Ed.College
Massori
1
Municipal Post Graduate College
Roorkee
1
B.R.D. College
2
Bishamber Sahai B.Ed and B.P.Ed Institute
3
Bishamber Sahai Law Instititue
4
BSM PG College
5
College of Education
6
Kanahiya Lal DAV P.G. College
7
Roorkee College of Pharmacy
Rudraprayag
1
AP Bahuguna Government Post Graduate College
Uttarkashi
1
Ram Chandra Uniyal Government Post Graduate College