Indira Kala Sangeet Vishwavidyalaya Exam Result 2022
Onlineresultportal.com | Updated: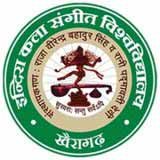 Indira Kala Sangeet University is Asia's first Musical University which was established as a Public University in Khairagarh in Rajnandgaon district in the Indian state of Chattisgarh. The establishment of this Public University is associated with the royal family of Khairagarh princely estate. The idea behind establishement of Indira Kala Sangeet University goes like this that the rulers of Khairagarh – Raja Birendra Bahadur Singh and Rani Padmavati Devi's beloved daughter Princess Indira who died at a very young age was very fond of music. Thus, the King and Queen of Khairagarh established this Music University in 1956 in the memory of their daughter – Princess Indira. Since, after its establishment the name of this Public University – Indira Kala Sangeet University was named after the deceased Princess Indira of Khairagarh.
Aspiring musicians, artists and dancers from all over parts of India comes to this University to gain the knowledge of ultimate "Sadhna". This University is approved by UGC and is accredited "A" grade by the NAAC team. This University also provides affiliation to over 29 colleges. Indira Kala Sangeet University is divided into the following departments:
Department of Music
Department of Dance
Department of Visual Arts
Department of Folk Music
Department of Arts
This Musical Institute boasts of a great collection of over 40,000 books and a good number audiotapes and CDs of renowned musicians and dancers. This University also has video slides of Paintings of renowned artists. This University also possesses the collection of works by famous contemporary painters of India, folk and tribal artists of varied regions. Moreover, it also has a good collection of musical instruments.
Finally, you can even gain the detailed information of this University through its certified website – www.iksw.com where you can get the course and fees structure information and as well as download the admission forms. You can also check www.onlineresultportal.com for these information and also look for information about other Music Universities of India.
Details of Indira Kala Sangeet University

Full Name
Indira Kala Sangeet Vishwavidyalaya
Affiliations
UGC
Contact No
078202 34232
Website
http://www.iksv.ac.in/
Founded
1956
Email
‎reg@iksvv.com
Address
Khairagarh, Rajnandgaon, Chhattisgarh 491881
City
Rajnandgaon
State
Chhattisgarh
Country
India
List of courses offered by Indira Kala Sangeet University

| Courses | Duration |
| --- | --- |
| B.P.A. | 8 Semester |
| B.F.A. | 8 Semester |
| B.Voc. | 6 Semester |
List of colleges affiliated with Indira Kala Sangeet University

| S. No. | College Name |
| --- | --- |
| 1 | Acharya Bhatkhande Sangeet Mahavidyalaya, Vitthal Nagar (B), Prakash Nagar (West) LATUR |
| 2 | Akriti Institute of Fine Arts, 2nd Floor, Hotel Krishna Complex, Nepier Town, JABALPUR |
| 3 | Bangal Fine Arts, P. O. Chandpara Bazar NORTH 24 PARGANAS - 743 245 (W.B.) |
| 4 | Bhatkhande Sangeet Mahavidyalaya, Tikrapara, R. S. BILASPUR |
| 5 | New Garia (Rail Math), P. O. Panchsayar, Kolkata |
| 6 | Institute of Fine Arts, Amra Akhari Crossing, Kurahuan, Bypass Road, VARANASI (U.P.) |
| 7 | Kamaladevi Sangeet Mahavidyalaya, Gurukul Campus, Kalibari Road, RAIPUR |
| 8 | Kalamandir College of Music & dance, Kattumadum Complex Peravoor KANNUR |
| 9 | Lasya College of Music and Dance, Pilthara P. O. KANNUR - 670 501 (Kerla) |
| 10 | Nagarpalika Sharda Sangeet Mahavidyalaya, Veerstambh Chowk, KAWARDHA - 491 995 (C.G.) |
| 11 | Natyaveda College of Performing Arts, T. C. 10/1705, Kuthirakkad Lane, Vattiyoorkavu P. O. THIRUVANANTHAPURAM - 13 (Kerla) |
| 12 | Navodit Kala Sangeet Mahavidyalaya, MIG-34, Housing Board Colony, Shivaji Nagar, Tili SAGAR - 470 002 (M.P.) |
| 13 | Navsadhana Kala Kendra, Shivpur P. O., Tarna VARANASI- 221 003 (U.P.) |
| 14 | Nutan Kala Niketan, Subhash Chowk, BALAGHAT 481 001 (M.P.) |
| 15 | Rajendra Kala Sangeet Mahavidyalaya Ward # 32, Saraswati Nagar BALAGHAT 481 001 (M.P.) |
| 16 | Sayna Sangeet Mahavidyalaya Opp. Madhav Nagar Gate (Housing Board) KATNI– 483 501 [M. P.] |
| 17 | Shri Ram Sangeet Mahavidyalaya Pt. Vishnu Krishna Joshi Marg, Burha Para RAIPUR- 492 001 [C. G.] |
| 18 | Tecnia Institute Of Fine Arts & Design BD-1, Pitampura, Delhi-110034 |
| 19 | V. N. Bhatkhande Sangeet Mahavidyalaya B-32/A, Ashok Nagar Ghaziabad - 201 001 [U. P.] |
| 20 | Sangeet Niketan G-365, Preet Vihar Colony, NEW DELHI- 110092 |