Jawaharlal Nehru Architecture and Fine Arts University Exam Result 2023
Onlineresultportal.com | Updated: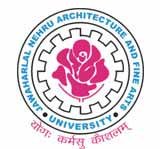 The Jawaharlal Nehru Architecture and Fine Arts University is architecture and Fine Arts University located in Hyderabad in the Indian State of Telangana. This is one of the foremost and distinguished University of Arts and Architecture 69 years of glorious academic service in field of education especially in Arts and Architecture. Established in the former Nizam State in 1940, this institute of excellence is recognized by the University Grants Commission and National Assessment and Accreditation Council. Moreover, it is also an active member of the Association of Indian Universities and the Ministry of Human Resource Development. Thus University is regarded to be the best college of Fine Arts since it has been continuously providing service by motivating and encouraging creative interaction amongst photographers, painters, commercial arts & animators and sculptors.
The Jawaharlal Nehru Architecture and Fine Arts University offers several undergraduate, postgraduate and PhD research programs, with an importance of two different colleges: School Of Planning & Architecture, and Fine Arts. These schools offer courses like Architecture, Facilities & Service Planning, Interior Designing, Planning, Painting, Applied Arts, Photography, Animation, Sculpture, etc. Moreover, there are 13 colleges and institutes of Technology and Architecture affiliated by the Jawaharlal Nehru Architecture and Fine Arts University. These colleges are situated in twin towns of Hyderabad- Secundarabad, Agiripally, Anantharam and Visakhapatnam. The students who are keen to study in this esteem University can search the University website- www.jnafau.ac.in foe details regarding admission, courses, fees structures, departments and other important notifications. Moreover, www.onlineresultportal.com is also involved in providing the students about details of various Indian Universities, admit cards and results of important examinations.
Details of Jawaharlal Nehru Architecture and Fine Arts University
Full Name
Jawaharlal Nehru Architecture and Fine Arts University
Affiliations
UGC
Contact No
040 2332 1226
Website
www.jnafau.ac.in
Founded
1940
Email
registrar@jnafau.ac.in
Address
Masab Tank, Hyderabad, Telangana 500028
State
Telangana
Country
India
List of courses offered by Jawaharlal Nehru Architecture and Fine Arts University

| Degree | Duration |
| --- | --- |
| B.F.A. (Applied Arts) | 4 Years |
| B.F.A. (Painting) | 3 Years |
| B.F.A. (Photography) | 3 Years |
| B.F.A. (Sculpture) | 4 Years |
| M.F.A. (Applied Arts) | 2 Years |
| M.F.A. (Painting Applied Art Sculpture) | 2 Years |
| M.F.A. (Painting) | 2 Years |
| B.Tech. (Digital Techniques for Design and Planning) | 4 Years |
| M.F.A. (Photography) | 2 Years |
| B.Design. | 4 Years |
| Post Graduate Diploma in Interior Designing & Decoration | 1 Years |
| B.F.A. (Animation) | 4 Years |
| B.Arch. | 5 Years |
| B.Tech. (Facilities and Services Planning) | 4 Years |
| B.Tech. (Planning) | 4 Years |
| M.Arch. (Construction Management) | 2 Years |
| M.Arch. (Interior Design) | 2 Years |
| M.Tech. (Conservation Planning) | 2 Years |
| M.Tech. (Planning) | 2 Years |
| M.Tech. (Property Development) | 2 Years |
| Ph.D. (Architecture) | 2 Years |
| Ph.D. (Building Construction Management) | 2 Years |
| Ph.D. (Environmental Design) | 2 Years |
| Ph.D. (Housing) | 2 Years |
| Ph.D. (Interior Design) | 2 Years |
| Ph.D. (Urban Planning) | 2 Years |
List of colleges affiliated with Jawaharlal Nehru Architecture and Fine Arts University

City
College Name
Hyderabad
1
Annapurna International School of Film and Media - AISFM
2
Deccan School of Planning and Architecture
3
Digiquest Academy
4
JBR Architecture College
5
Lumbini School of Architecture and Town Planning
6
Masterji College of Architecture
7
Sri Venkateswara College of Architecture
8
Vaishnavi School of Architecture and Planning (VSAP)
Krishna
1
S.A.R. College of Architecture
Secunderabad
1
CSI Institute of Technology - CSIIT
Vishakhapatnam
1
Varaha College of Architecture and Planning
Warangal
1
Masterji College of Architecture