Karnataka Folklore University Exam Result 2023
Onlineresultportal.com | Updated: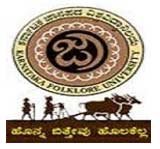 Karnataka Folklore University which is also known as Karnataka Janapada Vishwavidyalaya is a public university which was established with a special objective of providing a greater platform to the folklore studies in the state. It is exclusively dedicated to the study and research of folklore. Established in the year 2011, the University is located at the Gotagodi in the idyllic and picturesque surroundings of Sahyadri range. The campus is located in the Shiggavi Taluk, Haveri district of the state. It fulfils the long left desire of the folklorists of the state and gives them a better opportunities for research and learning of folklore.
The university is the first university in the world that offers studies on folklore. The degrees offered by it include MA, MSc in folklore, communication, ancient science, MBA in rural business and Management, MPhil and PhD. The university offers admission to the deserving candidates and check their eligibility. For postgraduate programs it conducts the entrance examination and students who cleared it on merit basis got enrolled in various courses. To know more about the university, the admission procedure, the facilities it offered, entrance examination dates etc students can visit its official website http://www.janapadauni.in.
They can also visit the education portal of www.onlineresultportal.com to check more online details about the university, its important notification dates, online downloading of the application form, admit card etc.
Kannada Folklore University Result at janapadauniversity.ac.in
Kannada Folklore University (also referred to as Karnataka JaanapadaVishwavidyalaya), located in Gotagudi in the Haveri district of the Indian state of Karnataka, makes available the exam results of its affiliated courses on its official portal, https://www.janapadauniversity.ac.in/English/. After appearing for the KFU course exams, candidates awaiting their exam results are required to visit its official website to view their results.
Upon the KFU authorities declaring the exam results, you should go to the home page of its official website. The next step is to search for the "Notifications" section for the relevant result link and click on it. Continue by adhering to the system instructions; thereafter, you can view your examination result on the screen. Note, maintaining a print copy of your KFU exam result is mandatory.
The KFU has various faculties providing courses in their respective domains. Among the KFU faculties are Verbal Folklore, Humanities, Social Sciences, Subaltern Studies, Folk Arts Tradition, and Traditional Science & Technology

Details of Karnataka Folklore University
Name
Karnataka Folklore University
Affiliations
UGC
Contact No
0836 225 5180
Website
www.janapadauni.in
Founded
2011
Email
kajavivi@gmail.com
Address
Karnataka Folklore University Gotagodi, Shiggavi Taluk, Haveri District - 581 197.
State
Karnataka
Country
India
List of courses offered by Karnataka Folklore University

Degree
Duration
Arts Courses
B.A. (Music Vocal)
3 Years
B.F.A.
3 Years
M.A. (History)
2 Years
M.A. (Kannada)
2 Years
M.A. (Sociology)
2 Years
M.A. + Ph.D. (Kannada literature and Folklore)
4 Years
Diploma in Music
3 Years
Diploma in Sculpture
2 Years
Post Graduate Diploma in Kriyatmaka Kannada (Functional Kannada)
2 Years
Post Graduate Diploma in Bashanthara Adhyayayayana (Translation Studies)
2 Years
Post Graduate Diploma in Dalita Adhyayana (Dalit Studies)
2 Years
Post Graduate Diploma in Dravida Adhyayana (Dravidian Studies)
1 Years
Post Graduate Diploma in Karnataka Adhyayana (Karnataka Studies)
1 Years
Post Graduate Diploma in Women's Studies
1 Years
Certificate Course in Tamil
1 Years
Certificate Course in Telugu
1 Years
Mass Communications Courses
M.A. (Mass Communication & Journalism)
2 Years
List of colleges affiliated with Karnataka Folklore University

City
College Name
Mangalore
1
Karnataka Theological Research Institute - KATHRI