Karnataka State Open University Exam Result 2023
Onlineresultportal.com | Updated: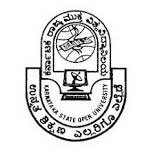 Karnataka State Open University (KSOU) is one of the premier open universities in India imparting education through distance learning. It was originally started as the Institute of Correspondence Course and Continuing Education, a wing of University of Mysore. It was formally established on 1st June 1996. It is situated at the North-Western end of the Manasagangotri campus, Mysore the main objective of the university is introducing and promoting the system of open university and distance learning in the state and coordinating and determining the standard of such a system in the state.
Starting off with a humble beginning in 1996 the university now commands a staggering strength of over 40,000 students from all across the country. It functions through 13 departments which are managed by well-qualified 57 faculty members and has initiated several ambitious programs for the benefit of students like the launch of Web Virtual Classroom- based MBA programs with partner institutes. KSOU offers a wide range of courses leading to degrees from the graduate level to the doctoral level. It also offers various diploma and certificate courses to the students to brighten their chances of employment. The university has also taken the initiative by offering various multi-level, inter-linked programs in information technology along with several specialized programs in collaboration with Indira Gandhi National Open University (IGNOU) New Delhi.
To know more about the university students can visit the official website of the university www.ksoumysore.edu.in. They can also collect valuable information from the education portal www.onlineresultportal.com which offers updated information regarding courses, online downloading of the application form, admit card, important notification dates etc.

Details of Karnataka State Open University
Full Name
Karnataka State Open University
Affiliations
UGC
Contact No
0821 251 9952
Website
www.ksoumysore.edu.in
Founded
1 June 1996
Email
vcksou@gmail.com
Address
Mukhtagangotri, Mysuru, Karnataka 570006
State
Karnataka
Country
India
List of courses offered by Karnataka State Open University

Degree
Duration
Arts Courses
B.A.
3 Years
B.Ed.
1 Years
Bachelor of Library and Information Science (B.Lib.I.Sc.)
1 Years
M.A. (Applied English)
2 Years
M.A. (Economics)
2 Years
M.A. (English)
2 Years
M.A. (Hindi)
2 Years
M.A. (History)
2 Years
M.A. (Kannada)
2 Years
M.A. (Political Science)
2 Years
M.A. (Psychology)
2 Years
M.A. (Sanskrit)
2 Years
M.A. (Sociology)
2 Years
M.A. (Urdu)
2 Years
M.Ed.
2 Years
M.Lib.Sc.
2 Years
Diploma in Disability Management
1 Years
Diploma in Functional English
1 Years
Diploma in Life Skills Education
1 Years
Diploma in Montessori Education
1 Years
Diploma in Rural Development
1 Years
Post Graduate Diploma in Higher Education
2 Years
Post Graduate Diploma in English
1 Years
Post PUC Diploma in Kannada
1 Years
Post Graduate Diploma in Creative Teaching
1 Years
Certificate Course in Administrative Kannada
1 Years
Certified Course in Teaching of English
2 Years
Medical Courses
Diploma in Dietetics and Nutrition
3 Years
Diploma in Dietetics, Health and Nutrition
3 Years
Science Courses
M.Sc. (Computer Science)
2 Years
Post Graduate Diploma in Forensic Science
1 Years
Certificate in Environmental Studies (CES)
6 Months
Management Courses
M.B.A.
2 Years
M.B.A. (Executive)
2 Years
Diploma in Management
1 Years
Post Graduate Diploma in Business Management
2 Years
Post Graduate Diploma in Financial Management
1 Years
Post Graduate Diploma in Human Resource Management
1 Years
Post Graduate Diploma in Marketing Management
2 Years
Mass Communications Courses
MJMC (Journalism & Mas Communication)
2 Years
Diploma in Journalism
1 Years
PGDJMC - Post Graduate Diploma in Journalism and Mass Communication
1 Years
Commerce Courses
B.Com.
3 Years
M.Com.
2 Years
Diploma in Statistical Process Control & Operations Research
1 Years
Information Technology Courses
Diploma in Information Technology
12 Months
Law Courses
L.L.M.
2 Years
List of colleges affiliated with Karnataka State Open University

City
College Name
Alappuzha
Mahathma Gandhi Education Foundation
Bangalore
Academy for Creative Teaching - ACT
Academy of Animation and Gaming - AAG Bangalore
Adarsh Academy of Information Technology - AAIT
ANITECH College of Technology and Management
Imperial College of Business Studies - ICBS
Noble School of Business - NSB
Sanford College of Information Technology - SCIT
Sharada Vikas Institute of Technology and Management Studies
Toonskool Advanced Animation Academy
VSM Institute of Aerospace Engineering and Technology - Jakkur Campus
Calicut
Aesthetic College of Interior Designing
Chandrapur
Jawahar Educations Pvt Ltd
Chennai
Bharath Post Graduate College
Coimbatore
Adoro Institute of Multimedia - AIM
Dehradun
Institute of Professional Studies - IOPS
Delhi
Global School of Animation and Games
Dharwad
SJM institute of Fashion Technology
Faridabad
Advance Institute of Business Management - AIBM
Gurgaon
Academy of Animation and Gaming - AAG Gurgaon
Hyderabad
Sun Institute of Technical Education and Information Technology - SITE
Jamnagar
Brilliant Education
Kochi
Mastermind Institute of Management, IT and Engineering - MIMIE
Lucknow
Elegant Infotech
Mangalore
Father Muller College of Distance Education
Mohali
SBET Institute of Management and Technology
Mumbai
B.D. Somani Institute of Art and Fashion Technology
Balaji Institute of Management and Technical Studies
Thakur Toonskool Animation Academy
Nagpur
ABS Institute of Education and Management
Jawahar Educations Pvt Ltd
New Delhi
Academy of Animation and Gaming - AAG New Delhi
Gyan Vikas Institute of IT and Management
Shyam Institute of Management and Technology - SIMT
Noida
Gyandevi Institute of Management and Technology
Pune
Rajiv Gandhi Institute of Distance Education - RIDE
South Goa
Sri Sri Institute of Management Studies - SSIMS
Thane
Acton Business School - ABS
Vadodara
Aptitude Academy
Valsad
Brilliant Education
Warangal
Jaya Vaishnavi College