About Karnataka State Rural Development and Panchayat Raj University, Gadag
Onlineresultportal.com | Updated: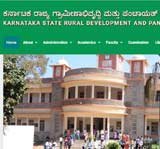 Karnataka State Rural Development and Panchayat Raj University is located in the Gadag district of the state. It was envisioned by the pr-active Hon'ble RDPR minister Sri H. K. Patil and was established in 2016 by the Government of Karnataka under the Karnataka State Rural Development and Panchayat Raj University Act 2016. The main mission of the university is teaching, training, research and sustainable development of the rural areas and the Panchayat Raj Institutions of the state.
It offers various Post Graduate, PG Diploma and Diploma courses to the students related to rural development and management. The regional office of the university is located at Grameenabhivruddhi Bhavan, Ground Floor, Ananda Rao Circle, Bengaluru. The university is well equipped with all the modern facilities for students and has an in-built independent library with state-of-art facilities for the students. The steps are being taken to add e-resource as well for the benefit of the students. The course and curriculum offered to the students is to educate the students with more practical skills that help in the sustainable development in the rural areas that reduces the poverty and create better opportunities for employment for them.
For more information about the university students can visit the official website of the university http://ksrdpru.in/ or they can browse the online education portal of www.onlineresultportal.com to get all the necessary and valuable information about the university, download the application form, check the result , check about the courses etc.

Details of Karnataka State Rural Development and Panchayat Raj University
Full Name
Karnataka State Rural Development and Panchayat Raj University
Affiliations
UGC
Contact No
083722 30338
Website
www.ksrdpru.in
Founded
2016
Email
vc@ksrdpru.in
Address
Raitha Bhavana, General Cariyappa Circle, Gadag, Karnataka 582101
State
Karnataka
Country
India
List of courses offered by Karnataka State Rural Development and Panchayat Raj University

| Degree | Duration |
| --- | --- |
| M.B.A. | 2 Years |
| M.A. in Rural Development and Panchayat Raj / Rural Development and Co-operative Management | 2 Years |
| M.Sc. in Geoinformatics | 2 Years |
| M.S.W. in Rural Reconstruction | 2 Years |
| M.Com. in Entrepreneurship. / Co-Operative Management | 2 Years |
List of colleges affiliated with Karnataka State Rural Development and Panchayat Raj University

| City | College Name |
| --- | --- |
| 1 | School of Agri-business Management and Management of Rural Development |
| 2 | School of Rural Development and Panchayat Raj |
| 3 | School of Environmental Science and Public Health and Sanitation Management |
| 4 | The School of Social Science and Rural Reconstruction |
| 5 | School of Skill and Entrepreneurship Development |