Kazi Nazrul University Exam Result 2023
Onlineresultportal.com | Updated: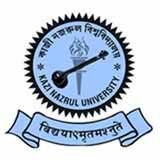 Kazi Nazrul University is a Public University situated at Asansol, West Bengal in 2012. This University has been named after the great poet Kazi Nazrul Islam. This University has been founded with a mission to function efficiently and providing best teaching, training, research and guidance in various branches of higher learning and courses. This University offers and promotes advanced knowledge to meet the growing needs of the society. This University is well focused on the on the general education like Humanities, General Science & Commerce for building careers of the students. This Public University is also recognized by the University Grants Commission and is also accredited by the National Assessment and Accreditation Council and IQAC.
Kazi Nazrul University is also an affiliating University providing affiliation to over 35 colleges in Durgapur, Asansol and Raniganj and also colleges belonging from Burdwan district and Birbhum districts. This University offers undergraduate and postgraduate courses in various disciplines and quality education is imparted by the faculties of Applied Psychology, Bengali, Commerce, Education, English, Geography, Hindi, History, Law, Mathematics, Philosophy, Physics, Political Science, Urdu, Chemistry, Geology, Zoology, Biology, Animal Science and Financial Accounting.
Moreover research courses like M.Phil and Ph.D are also offered by Kazi Nazrul University. This University also consists of remarkable infrastructures and world-class facilities. Aspiring students can check the University website- www.knu.ac.in for admission details, courses, fee structures, updated information and other notifications. In addition to this www.onlineresultportal.com is also helpful for the students to seek information about other Universities of India state wise.

Details of Kazi Nazrul University
Full Name
Kazi Nazrul University
Affiliations
UGC
Contact No
096350 23779
Website
http://www.knu.ac.in/
Founded
2012
Email
regknuasn@gmail.com
Address
Nazrul Road, Kalla Bypass More, P.O.Kalla C.H., P.S. Asansol (North), Burdwan, Pin-713340
City
Burdwan
State
West Bengal
Country
India
List of courses offered by Kazi Nazrul University

Degree
Duration
Arts Courses
B.A.
3 Years
B.A. (Hons.) (Economics)
3 Years
B.Ed. (Special Education)
1 Years
B.L.I.Sc. (Hons.)
3 Years
Bachelor of Library and Information Science (B.Lib.I.Sc.)
1 Years
M.A. (Bengali)
2 Years
M.A. (Education)
2 Years
M.A. (English)
2 Years
M.A. (Geography)
2 Years
M.A. (History)
2 Years
M.A. (Mathematics)
2 Years
M.A. (Political Science)
2 Years
M.A. (Social Work)
2 Years
M.Lib.Sc.
2 Years
Certificate Course in Communicative English
3 Months
Science Courses
B.Sc. (Botany)
3 Years
B.Sc. (Chemistry)
3 Years
B.Sc. (Geography)
3 Years
B.Sc. (Hons.) (Botany)
3 Years
B.Sc. (Hons.) (Geography)
3 Years
B.Sc. (Hons) (Mathematics)
3 Years
B.Sc. (Hons) (Physics)
3 Years
B.Sc. (Mathematics)
3 Years
B.Sc. (Physics)
3 Years
B.Sc. (Zoology)
3 Years
M.Sc. (Geography)
2 Years
M.Sc. (Mathematics)
2 Years
M.Sc. (Zoology)
2 Years
Ph.D. (Computer Science)
3 Years
Ph.D. (Mathematics)
3 Years
Management Courses
M.B.A.
2 Years
Ph.D. (Management Studies)
3 Years
Commerce Courses
B.Com.
3 Years
M.Com.
2 Years
Information Technology Courses
M.C.A.
3 Years
Law Courses
Certified Course in Human Rights
2 Years
List of colleges affiliated with Kazi Nazrul University

College Name
Degree College(Govt.)
Durgapur Govt. College
Degree College(Govt. Sponsored/Aided)
Asansol Girl's College
B.B. College
B.C. College
Deshabandhu Mahavidyalaya
Durgapur Women's College
Kazi Nazrul Islam Mahavidyalaya
Khandra College
Kulti College
Mankar College
Michael Madhusudan Memorial College
Pandaveswar College
Raniganj Girls' College
T.D.B College
Degree College/Institute(Private Non-Govt. Non-Aided)
Durgapur College of Commerce & science
Private Non-aided Institute(Self-financed)
DSMS College of Tourism and Management
Durgapur Institute of Management
Durgapur Institute of Science & Technology
Durgapur Institute of Technology & Management
Raniganj Institute of computer and Information Sciences
Raniganj Institute of Information Technology
Private Non-aided Law College
Durgapur Institute of Legal Studies
Law College Durgapur
St.Xaviers College