University of Kerala Exam Result 2023
Onlineresultportal.com | Updated: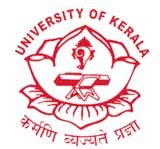 University of Kerala is one of the 16 prestigious universities in India which was founded as the University of Travancore in 1937. During its journey of seven years, the university has seen tremendous growth and now has three campuses located in three different parts of the state at Thiruvananthapuram, Ernakulam, and Kozhikode. It has now 150 colleges affiliated to it. The major role of the university is prescribing the courses, conducting examination and issuing certificates. Of all the colleges affiliated to it there are 60 Arts and Science colleges, 2 Law colleges, 17 Engineering colleges, 4 Ayurveda Colleges, 2 Homeopathy Colleges, 9 MBA/MCA Colleges, 37 Teacher Training colleges etc. The total number of students studying in various courses across different colleges is around 84,000.
The university offers Choice-based and semester system for its entire postgraduate courses and is the process of doing it for the undergraduate courses as well. The Semesters of the university falls during the month of August- January and February- July. It also has a number of study centers in some specialised areas which make it unique like Nano Technology, Bioinformatics, Women's Study, Learning Difficulty, Sree Narayan Studies, Gandhian Studies etc. It is ranked 47 in India overall by the National Institutional Ranking Framework (NIRF) in 2018 and 30 among universities. To know more about the university students can visit its official website https://www.keralauniversity.ac.in/.
Aspirants can also check with www.onlineresultportal.com an education portal that offers them comprehensive information about valuable information regarding various courses, notification dates, online downloading of application forms, results of all the universes across the country.
University of Kerala Result at keralauniversity.ac.in
The University of Kerala (UoK), located in Thiruvananthapuram in India's Kerala state, makes available the examination results of its affiliated courses on its official website, https://www.keralauniversity.ac.in/home. Candidates awaiting their examination results are advised to visit its official website to download their exam results.
Upon the UoK authorities declaring the exam results, your first step should be to go to the home page of its official portal. Here, you must locate the "Examination" section and then select the "Results" link. The system will then direct you to a new page exhibiting a list of results. Follow by searching for the relevant result link and tapping the "Download" option pertaining to it. Your examination results will then be viewable on the screen. Make sure to check all details in your exam result. And if you notice any errors, you should contact the UoK examiners for the necessary corrections. You must also ensure to maintain a print copy of your UoK examination result for reference purposes.
Latest Updates:

Result Announcement

Date
15-02-2021
21-11-2020
21-11-2020

Details of University of Kerala

Full name
University of Kerala
Affiliations
UGC
Contact No
0471 230 5994
Website
www.keralauniversity.ac.in
Founded
1937
Email
registrar@keralauniversity.ac.in
Address
Senate House Campus, Palayam, Thiruvananthapuram, Kerala 695034
State
Kerala
Country
India
List of courses offered by University of Kerala

Degree
Duration
B.A.
3 Years
B.Ed.
1 Years
B.F.A.
3 Years
B.F.A. (Applied Arts)
4 Years
B.F.A. (Painting)
3 Years
B.F.A. (Sculpture)
4 Years
B.P.Ed.
3 Years
Bachelor of Library and Information Science (B.Lib.I.Sc.)
1 Years
M.A.
2 Years
M.Ed.
2 Years
M.Lib.Sc.
2 Years
M.Phil.
2 Years
M.Phil. (Arabic)
2 Years
Ph.D. (Arabic)
3 Years
B.Tech. (Applied Electronics and Instrumentation)
4 Years
B.Tech. (Automobile Engineering)
4 Years
B.Tech. (Biotechnology and Biochemical Engineering)
4 Years
B.Tech. (Chemical Engineering)
4 Years
B.Tech. (Civil Engineering)
4 Years
B.Tech. (Computer Science and Engineering)
4 Years
B.Tech. (Electrical and Electronics Engineering)
4 Years
B.Tech. (Electronics & Communication Engineering)
4 Years
B.Tech. (Industrial Engineering)
4 Years
B.Tech. (Mechanical Engineering)
4 Years
B.Tech. (Production Engineering)
4 Years
M.Tech. (Optics and Optoelectronics)
2 Years
B.A.S.L.P (Bachelor in Audiology and Speech- Language Pathology)
3 Years
B.Sc. (Industrial Microbiology)
3 Years
B.Sc.
3 Years
B.Sc. (Biochemistry)
3 Years
B.Sc. (Biotechnology)
3 Years
B.Sc. (Botany)
3 Years
B.Sc. (Chemistry)
3 Years
B.Sc. (Computer Applications)
3 Years
B.Sc. (Computer Science)
3 Years
B.Sc. (Economics)
3 Years
B.Sc. (Electronics)
3 Years
B.Sc. (Environmental Science & water Management)
3 Years
B.Sc. (Geography)
3 Years
B.Sc. (Geology)
3 Years
B.Sc. (Home Science)
3 Years
B.Sc. (Hotel Management and Catering Technology)
3 Years
B.Sc. (Industrial Chemistry)
3 Years
B.Sc. (Instrumentation)
2 Years
B.Sc. (Mathematics)
3 Years
B.Sc. (Physics)
3 Years
B.Sc. (Polymer Chemistry)
3 Years
B.Sc. (Statistics)
3 Years
B.Sc. (Zoology)
3 Years
M.Phil. (Aquatic Biology & Fisheries)
3 Years
M.Phil. (Botany)
1 Years
M.Phil. (Chemistry)
1 Years
M.Phil. (Environmental Sciences)
2 Years
M.Phil. (Geology)
2 Years
M.Sc. (Analytical Chemistry)
2 Years
M.Sc. (Applied Chemistry)
2 Years
M.Sc. (Aquatic Biology and Fisheries)
2 Years
M.Sc. (Biochemistry)
2 Years
M.Sc. (Botany)
2 Years
M.Sc. (Chemistry)
2 Years
M.Sc. (Computer Science)
2 Years
M.Sc. (Environmental Science)
2 Years
M.Sc. (Extension Education)
2 Years
M.Sc. (Food Nutrition)
2 Years
M.Sc. (Geography)
2 Years
M.Sc. (Geology)
2 Years
M.Sc. (Home Science)
2 Years
M.Sc. (Marine Biology/ Aquatic Biology and Fisheries)
2 Years
M.Sc. (Mathematics)
2 Years
M.Sc. (Physics)
2 Years
M.Sc. (Polymer Chemistry)
2 Years
M.Sc. (Statistics)
2 Years
M.Sc. (Zoology)
2 Years
M.Tech. (Computer Science)
2 Years
Ph.D. (Aquatic Biology & Fisheries)
3 Years
B.B.A.
3 Years
M.B.A.
2 Years
M.T.A. (Tourism Administration)
2 Years
B.A. (Mass Communication and Video Production)
3 Years
M.J.M.C.
2 Years
B.Com.
3 Years
B.Com. (Computer Applications)
3 Years
B.Com. (Hotel Management and Catering)
3 Years
B.Com. (Tax Procedure and practice)
3 Years
B.Com. (Tourism & Travel Management)
3 Years
M.Com.
2 Years
M.Sc. (Genetics and Plant Breeding)
2 Years
B.C.A.
3 Years
B.Tech. (Information Technology)
4 Years
M.C.A.
3 Years
Fashion and Interior Designing Courses
B.Des. (Communication Design)
3 Years
B.Sc. (Fashion Technology)
3 Years
Architecture Courses
B.Arch.
5 Years
List of colleges affiliated with University of Kerala

City
College Name
Alappuzha
1
Bishop Moore College
2
Buddha College of Teacher Education
3
Christian College
4
KR Gouri Amma College of Engineering for Women
5
KVM College of Nursing
6
Milad-E-Sherif Memorial College - MSM
7
Naipunnya School of Management
8
NSS College
9
Peet Memorial Training College
10
Sanatana Dharma College - S.D.College
11
Snehacharya Institute of Management and Technology
12
Sobha College of Teacher Education
13
Sree Ayyappa College
14
Sree Narayana College
15
Sree Narayana Guru Memorial Arts and Science College - SNGM
16
Sree Narayana Guru Memorial Catering College - SNGMC
17
Sree Narayana Guru Memorial Teacher Education College
18
Sri Vellappally Natesan College of Engineering
19
St. Joseph's College for Woman
20
St. Thomas College of Engineering and Technology
21
T.K. Madhava Memorial College
Kochi
1
Cochin Medical College and Hospital
2
Sree Buddha College of Engineering
Kollam
1
Azeezia Dental College
2
Azeezia Medical College
3
Badhiriya B.Ed. Training College
4
Baselios Marthoma Mathews II College of Teacher Education
5
Fathima Memorial Training College
6
Fatima Mata National College
7
Haneefa Kunju Memorial College of Education
8
Jamia Training College
9
Karmela Rani Training College
10
Mannam Memorial NSS College
11
Mar Baselios Institute of Technology
12
Mar Thoma College of Science and Technology
13
Member Sree Narayana Pillai Institute of Management and Technology
14
Mercy College of Nursing
15
Mercy School of Nursing
16
MES Institute of Technology and Management
17
Millath College of Teacher Education
18
Mount Tabor Training College
19
NSS College
20
Pinnacle School of Engineering and Technology - PSET
21
Raja Ravi Varma College of Fine Arts
22
Rama Vilasom Training College
23
Shahul Hameed Memorial Engineering College / S.H.M. Engineering College
24
Sree Narayana College
25
Sree Narayana College for Women
26
Sree Narayana Guru College of Legal Studies
27
Sree Narayana Institute of Technology
28
Sri Vidyadhiraja Model College
29
Sri Vidyadhiraja Model College of Teacher Education
30
St. Gregorios College
31
St. John's College
32
St. Stephen's College
33
T.K.M. Institute of Management
34
Thangal Kunju Musaliar College of Arts and Science - TKM
35
Thangal Kunju Musaliar College of Engineering
36
Travancore Engineering College
37
UKF College of Engineering and Technology
38
Upasana College of Nursing
39
Valiyam Memorial College for Teacher Education
40
Vellapalli Natesan Shashtiabdapoorthi Smaraka College of Nursing
41
Vijaya College of Nursing
42
Younus College of Engineering and Technology
Kottayam
1
Baselios Mathew II College of Engineering
2
Jameela Beevi Memorial Center for Teacher Education - JBMCTE
Kozhikode
1
Rahmaniyya Arabic College
Malappuram
1
JTI Teacher Training Institute
Palakkad
1
KTN College of Pharmacy
Pathanamthitta
1
Archana College of Nursing
2
University of Kerala College of Teacher Education - KUCTE
3
KVVS Institute of Technology
4
Muslim Association College of Engineering - MACE
5
NSS College
6
NSS Training College
7
Pushpagiri Institute of Medical Sciences and Research Centre
8
St. Cyril's College
Thiruvananthapuram
1
AJ College of Science and Technology
2
All Saint's College
3
Allama Iqbal Institute of Management
4
CHMM College for Advanced Studies
5
Christian College
6
CSI College of Education
7
CSI College of Nursing
8
Emmanuel College
9
Ezhuthachan College of Pharmaceutical Sciences
10
Government Arts College
11
Government College
12
Government College for Women
13
Government College for Women
14
Government College of Engineering
15
Government Engineering College
16
Government Homoeopathic Medical College
17
Government Law College Thiruvananthapuram
18
Government Medical College, Thiruvananthapuram - Trivandrum Medical College
19
Institute of Management in Kerala
20
Iqbal College
21
Iqbal Training College
22
John Cox Memorial CSI Institute of Technology
23
K.I.M.S. College of Nursing
24
Kaviyattu College of Education
25
Kerala Law Academy - KLA
26
KNM Government Arts and Science College
27
KNMKNMS Training College
28
KTCT College of Teacher Education
29
Kunjukrishnan Nadar Memorial Government Arts and Science College - KNM
30
Lakshmibai National College of Physical Education - LNCPE
31
LBS Institute of Technology for Women
32
Lourdes Matha College of Science and Technology
33
Lourdes Matha Institute of Hotel Management and Catering Technology - LMIHMCT
34
Loyola College of Social Sciences
35
Mannaniya College of Arts and Science
36
Mar Baselios College of Engineering and Technology - MBCET
37
Mar Baslelios College of Engineering and Technology
38
Mar Dioscorus College of Pharmacy
39
Mar Gregorios College of Law - MGCL
40
Mar Ivanios College
41
Marian Engineering College
42
Mary Matha College of Engineering and Technology
43
Mohandas College of Engineering and Technology
44
Muslim Association College of Engineering
45
National College of Arts and Science
46
National Institute of Speech and Hearing
47
National Training College for Women
48
New B.Ed College
49
New M.Ed. College
50
NSS College for Women
51
Pankajakasthuri Ayurveda Medical College
52
Pattom Thanu Pillai Memorial Teacher Training Institute
53
Pushpageeth College of Teacher Education
54
Rajadhani Institute of Engineering and Technology
55
Regional Institute of Engineering - RIE
56
Santhigiri Siddha Medical College
57
Saraswathy College of Nursing
58
Shree Vidyadhiraja Homoeopathic Medical College and Hospital
59
Sree Chitra Thirunal College of Engineering - SCTCE
60
Sree Krishna College of Pharmacy & Research Centre
61
Sree Narayana Guru Kripa B.Ed College
62
Sree Narayana Teacher Training College
63
Sree Swathi Thirunal College of Music
64
Sree Uthradom Thiurnal Academy of Medical Sciences - SUT
65
Sri Sankara Dental College
66
St Xaviers College
67
St. Thomas Institute for Science and Technology - STIST
68
Trinity College of Engineering - TCE
69
University College
70
Victory College of Teacher Education
71
VTM NSS College
72
Xavier Institute of Management (XIM)
Thrissur
1
Little Flower College
Trivandrum
1
BNV College of Teacher Education
2
Christ College
3
Christ Nagar College of Education
4
College of Engineering Trivandrum
5
Emmanuel College of B.Ed. Training
6
ER and DCI Institute of Technology
7
Mahatma Gandhi College
8
Mar Theophilus Training College
9
P.A. Aziz College of Engineering and Technology
10
Shine College
11
St. Jacob's Training College
12
Valia Koonambaikulathamma College of Engineering and Technology - VKCET