About Krantiguru Shyamji Krishna Verma Kachchh University, Bhuj
Onlineresultportal.com | Updated: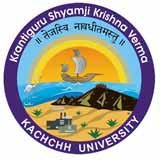 Krantiguru Shyamji Krishna Verma Kachchh University is the separate regional University established by the Government of Gujarat entirely for the people of the Kachchh region of Gujarat. This University is formed to endorse higher education in the regional and rural areas of Kachchh. This University was established at Bhuj in 2003. This University is christened after well-known leader and freedom fighter Shyamji Krishna Verma of Kachchh, Gujarat.
Krantiguru Shyamji Krishna Verma Kachchh University is affiliated by the University Grants Commission and it provides affiliation to over 44 colleges with more than 20,000 students and almost 250 remarkable teachers teaching in the departments of Chemistry, Earth & Environment Science, Computer Science, Archeology, English, Education, Gujarati, Sanskrit, Commerce& Management, Economics, Social Work, Public Administration, Law, Pharmacy and Engineering & Technology. Every year hundreds of students take admission to these courses and smart professionals are shaped after the completion of these courses. This University is having the world class facilities like administrative blocks, faculty blocks, luxurious hostels, guest house, computer building, library, wi-fi, sports facilities and advanced infrastructure.
Aspiring students can have a look at the authorized website of Krantiguru Shyamji Krishna Verma Kachchh University – www.kskvku.digitaluniversity.ac . Through this website, they can apply online, download the application form and admit card, check the details of their preferred courses, fees structures, admission procedures and other important notifications. In addition to that, www.onlineresultportal.com is also an educational websites which provides information about Universities and results of various examinations.
Details of Krantiguru Shyamji Krishna Verma Kachchh University
Full name
Krantiguru Shyamji Krishna Verma Kachchh University
Affiliations
UGC
Contact No
02832 235 001
Website
www.kskvku.digitaluniversity.ac
Email
registrar.kskvku@gmail.com
Founded
2003
Address
Near Changleshwar Mahadev Temple, Mundra Road, Kachchh Dist., Bhuj, Gujarat 370001
City
Kachchh
State
Gujarat
Country
India
List of courses offered by Krantiguru Shyamji Krishna Verma Kachchh University

Degree
Duration
Arts Courses
B.A.
3 Years
B.Ed.
1 Years
B.Ed. (Special Education)
1 Years
B.P.Ed.
3 Years
B.S.W.
3 Years
M.A.
2 Years
M.A. (Public Administration)
2 Years
M.Ed.
2 Years
M.Phil.
2 Years
M.S.W.
2 Years
Master of Performing Arts (M.P.A.)
2 Years
Medical Courses
B.Pharm
4 Years
B.Sc. (Nursing)
4 Years
M.B.B.S.
5½ Years
Diploma in Pharmacy (D.Pharma)
2 Years
Science Courses
B.Sc.
3 Years
M.Sc.
2 Years
M.Sc.(Computer Application & Information Technology)
2 Years
Ph.D.
2 Years
Management Courses
B.B.A.
3 Years
B.B.A. + M.B.A.
5 Years
M.B.A.
2 Years
M.B.A. (International Business)
2 Years
Post Graduate Diploma in Human Resource Management
1 Years
Mass Communications Courses
Bachelor of Journalism
3 Years
Commerce Courses
B.Com.
3 Years
M.Com.
2 Years
Information Technology Courses
B.C.A.
3 Years
Post Graduate Diploma in Computer Applications (P.G.D.C.A.)
1 Years
Law Courses
L.L.B.
3 Years
List of colleges affiliated with Krantiguru Shyamji Krishna Verma Kachchh University

City
College Name
Kolkata
Sanchalit Swami Ghanshyam Jivandasji Institute of Management and Information Technology
Kutch
Anjar Education Society Sanchalit P.G.D.H.R.M. College
Baba Naharsingh Indraprastha Mahavidyaly
College of Special Education
D.N.V. International Education Academy
Dada Dukhayal College of Education
Dr. H.R. Gajwani College of Education
G.M.D.C. Arts and Commerce College
Government Science College
Gujarat Adani Institute of Medical Sciences
Jamiat-Ulama-I-Hind Pharmacy College
Kachchh Lohana Kedavni Mandal Sanchlit Sheth Shoorji Vallabhadas Arts and Commerce College
Khetani Commerce College
M.D. B.Ed. College of Education
M.D. College of Education
Rashtriya Swabhiman Trust Sanchalit Baba Naharsingh Indraprastha Mahavidyalya
Rashtriya Swabhiman Trust Sanchalit College of Special Education
S.D. Shethiya College of Education
S.R.K. Institute
Sanchalit College of Management and Information Technology
Sanchalit Muktajivan Swamibapa Mahila Arts and Commerce College
Sanskar Institute of Management & Information Techonogy
Sheth R.D.Education Trust Sanchalit Arts & Commerce College
Sheth S.V. Arts and Commerce College
Shree J.B. Thacker Commerce College - Bhuj
Shree Muktajeevan Swamibapa Girls Arts and Commerce College
Shree Vani Vinayak Arts and Commerce College
Shri Late Anirudhh Jayantilal Parsotam Bhanusali Arts and Commerce College
Shri Narayan Computer College
Shri R.R. Lalan College of Arts and Science
Shri Rajabhai P. Patel Commerce College
Shri Ramji Ravji Lalan College
Shri Sahjanand Girls Institute
Shri Swaminarayan Vijay B.P.Ed Collage
Shri Z.N. Patel Cheritable Trust Sanchalit Master of Social Work
Smt. Chandanben Hathibhai Shah Arts and Commerce College
Smt. H.B. Palan College of Arts and Commerce
Smt.V.D. Thacker College of Education
Swami Gansyamjivandasji M.B.A.College
Tolani College of Arts and Science
Tolani Institute of Commerce
Tolani Institute of Law
Tolani Institute of Management Studies (TIMS)
Tolani Institute of Pharmacy
Veerayatan Institute of Business Management and Computer Application (VIMCA)
Veeraytan Institute of Pharmacy