Kuvempu University Exam Result 2023
Onlineresultportal.com | Updated: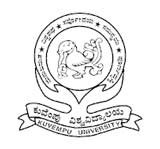 Kuvempu Univerity is an affiliating university established in 1987. It is named after the great Kannada writer Shri Kuvempu, the Jnanpith awardees and one of the most significant figures of modern India. The university is recognized by the UGC under 2(f) and 12(b). It offers undergraduate, graduate as well as post-graduate degree programs in a wide range of disciplines.
The headquarters of the university is located at Jnana Sahyadri campus, Shimoga that sprawls across an area of 230 acres. At present, it has 99 affiliated colleges which include 3 constituent colleges, 30 Government aided colleges, 65 unaided colleges and one college under the direct control of university which spread across two districts offering both undergraduate and post- graduate programs to the aspirants. The university has 18 colleges that offer B.Ed programs 35 colleges have been assessed and accredited by NAAC and 47 are admitted to 2(f) and 12(b).
To provide the quality education to each and every student the university the Directorate of Distance Education of the University is offering diploma, undergraduate as well as post graduate courses to the students in various disciplines. The university also organizes employment counselling sessions and also offer coaching to clear various competitive exams. To know more details about the university students can visit its official site http://www.kuvempu.ac.in/. They can also check with updated information at www.onlineresultportal.com to know more online information about the university, its courses, facilities, examination dates, downloading of application forms etc.
Kuvempu University Result 2023
Kuvempu University (KU), based in the Shivamogga district of the Indian state of Karnataka, makes accessible the exam results of its affiliated academic programs on its official web link, http://www.kuvempu.ac.in/eng/index.php. Students who are awaiting their KU examination results are advised to go to its official portal for accessing their results. Moreover, they are required to browse the KU official web portal periodically to know about the result declaration dates.
After the KU examiners declare the examination result, you should browse the home page of its official website. Begin by locating and then tapping the "Examination" link. The system is then directed to a new page, where you must look for the "Examination Result" section and tap the relevant result link. Subsequently, the system displays the login page, and then you have to enter your login credentials. Thereafter, the system exhibits your KU examination result on the screen. It is normal practice to maintain a print copy of your KU exam result for your records.
Details of Kuvempu University

Full name
Kuvempu University
Affiliations
UGC
Contact No
08282-256221
Website
http://www.kuvempu.ac.in/
Founded
1987
Email
reg.admn@kuvempu.ac.in
Address
Jnanasahyadri, Shankaraghatta, Road leading to Kuvempu University, Shimoga, Karnataka 577451
City
Shimoga
State
Karnataka
Country
India
List of courses offered by Kuvempu University

| Courses | Duration |
| --- | --- |
| B.A. | 3 Years |
| B.P.Ed. | 3 Years |
| Bachelor of Library and Information Science (B.Lib.I.Sc.) | 1 Years |
| M.A. (Cultural Studies) | 2 Years |
| M.A. (Economics) | 2 Years |
| M.A. (Education) | 2 Years |
| M.A. (English) | 2 Years |
| M.A. (Hindi) | 2 Years |
| M.A. (History and Archaeology) | 2 Years |
| M.A. (Kannada) | 2 Years |
| M.A. (Political Science) | 2 Years |
| M.A. (Sanskrit) | 2 Years |
| M.A. (Social Work) | 2 Years |
| M.A. (Sociology) | 2 Years |
| M.A. (Urdu) | 2 Years |
| M.Ed. | 2 Years |
| M.Lib.Sc. | 2 Years |
| M.P.Ed. | 2 Years |
| M.Phil. | 2 Years |
| M.Phil. (Economics) | 2 Years |
| M.Phil. (English) | 2 Years |
| M.Phil. (Hindi) | 2 Years |
| M.Phil. (History and Archaeology) | 2 Years |
| M.Phil. (Kannada) | 2 Years |
| M.Phil. (Library & Information Science) | 2 Years |
| M.Phil. (Mathematics) | 2 Years |
| M.Phil. (Political Science) | 2 Years |
| M.Phil. (Sanskrit) | 2 Years |
| M.Phil. (Social Work) | 2 Years |
| M.Phil. (Sociology) | 2 Years |
| M.Phil. (Urdu) | 2 Years |
| Ph.D. (Economics) | 3 Years |
| Ph.D. (English) | 3 Years |
| Ph.D. (Hindi) | 3 Years |
| Ph.D. (History and Archaeology) | 3 Years |
| Ph.D. (Kannada) | 3 Years |
| Ph.D. (Library & Information Science) | 3 Years |
| Ph.D. (Political Science) | 3 Years |
| Ph.D. (Sanskrit) | 3 Years |
| Ph.D. (Social Work) | 2 Years |
| Ph.D. (Sociology) | 3 Years |
| Ph.D. (Urdu) | 3 Years |
| Diploma in Panchayat Raj | 1 Years |
| Post Graduate Diploma in Archaeology | 1 Years |
| Certificate in Indian Constitution and Panchayati Raj | 6 Months |
| M.Tech. (Nano Science and Technology) | 2 Years |
| Ph.D. (Clinical Psychology) | 3 Years |
| M.Phil. (Applied Botany) | 1 Years |
| M.Phil. (Biochemistry) | 2 Years |
| M.Phil. (Bioinformatics) | 1 Years |
| M.Phil. (Chemistry) | 1 Years |
| M.Phil. (Clinical Psychology) | 2 Years |
| M.Phil. (Computer Science) | 2 Years |
| M.Phil. (Earth Science & Resource Management & Remote Sensing and GIS Applications) | 1 Years |
| M.Phil. (Electronics) | 2 Years |
| M.Phil. (Environmental Sciences) | 2 Years |
| M.Phil. (Industrial Chemistry) | 2 Years |
| M.Phil. (Microbiology) | 2 Years |
| M.Phil. (Physics) | 2 Years |
| M.Sc. (Applied Botany) | 2 Years |
| M.Sc. (Applied Chemistry) | 2 Years |
| M.Sc. (Applied Zoology) | 2 Years |
| M.Sc. (Biochemistry) | 2 Years |
| M.Sc. (Bioinformatics) | 2 Years |
| M.Sc. (Biotechnology) | 2 Years |
| M.Sc. (Botany) | 2 Years |
| M.Sc. (Chemistry) | 2 Years |
| M.Sc. (Clinical Psychology) | 2 Years |
| M.Sc. (Computer Science) | 2 Years |
| M.Sc. (Earth Science & Resource Management) | 2 Years |
| M.Sc. (Electronics) | 2 Years |
| M.Sc. (Environmental Science) | 2 Years |
| M.Sc. (Industrial Chemistry) | 2 Years |
| M.Sc. (Inorganic Chemistry) | 2 Years |
| M.Sc. (Mathematics) | 2 Years |
| M.Sc. (Maths & Computer Applications) | 2 Years |
| M.Sc. (Microbiology) | 2 Years |
| M.Sc. (Organic Chemistry) | 2 Years |
| M.Sc. (Physics) | 2 Years |
| M.Sc. (Remote Sensing and GIS) | 2 Years |
| M.Sc. (Zoology) | 2 Years |
| M.Tech. (Industrial Mathematics) | 3 Years |
| Ph.D. | 2 Years |
| Ph.D. (Applied Botany) | 3 Years |
| Ph.D. (Biochemistry) | 3 Years |
| Ph.D. (Bioinformatics) | 3 Years |
| Ph.D. (Chemistry) | 3 Years |
| Ph.D. (Earth Science & Resource Management & Remote Sensing & GIS Applications) | 3 Years |
| Ph.D. (Electronic Science) | 3 Years |
| Ph.D. (Environmental Science) | 3 Years |
| Ph.D. (Industrial Chemistry) | 3 Years |
| Ph.D. (Mathematics) | 3 Years |
| Ph.D. (Microbiology) | 3 Years |
| Ph.D. (Physics) | 3 Years |
| Post Graduate Diploma in Analytical Techniques | 2 Years |
| Post Graduate Diploma in Geo-spatial Information Science | 1 Years |
| Post Graduate Diploma in Industrial Chemical Quality Control | 1 Years |
| Post Graduate Diploma in Photogrammetry & Remote Sensing | 1 Years |
| B.B.M. | 3 Years |
| M.B.A. | 2 Years |
| M.T.A. (Tourism Administration) | 2 Years |
| Post Graduate Diploma in Business Administration | 1 Years |
| Post Graduate Diploma in Human Resource Management | 1 Years |
| Post Graduate Diploma in Marketing Management | 2 Years |
| M.A. (Mass Communication & Journalism) | 2 Years |
| M.Phil. (Journalism and Mass Communication) | 2 Years |
| Ph.D. (Journalism and Mass Communication) | 3 Years |
| B.Com. | 3 Years |
| M.Com. | 2 Years |
| M.Phil. (Commerce) | 1 Years |
| Master in Banking, Finance and Insurance | 2 Years |
| Ph.D. (Commerce) | 3 Years |
| Post Graduate Diploma in Financial Markets & Insurance | 2 Years |
| Post Graduate Diploma in Sports Management (PGDSM) | 1 Years |
| M.Sc. (Wildlife Sciences) | 2 Years |
| B.Sc. (Information Technology) | 3 Years |
| M.C.A. | 3 Years |
| M.Sc. (Information Technology) | 2 Years |
| L.L.M. | 2 Years |
| B.Sc. (Apparel and Fashion Technology) | 3 Years |
| B.Sc. (Interior Design) | 3 Years |
List of colleges affiliated with Kuvempu University

| S. No. | College Name |
| --- | --- |
| 1 | Acharya Tulsi National College of Commerce |
| 2 | Al-Mahmood B.Ed. College |
| 3 | Al-Mahmood Women's First Grade College |
| 4 | B.G.S. College of Education Sringeri |
| 5 | C. Bheemasena Rao National College of Law |
| 6 | D.S.B.G. Government First Grade College |
| 7 | D.V.S. Arts and Science College |
| 8 | D.V.S. Evening College |
| 9 | Dr. Ambedkar BBM College |
| 10 | Edurite College of Administration & Management Studies |
| 11 | General Kariyappa Rastriya Daihika Shikshana Mahavidyalaya |
| 12 | Government First Grade College Ajjampura |
| 13 | Government First Grade College Anavatti |
| 14 | Government First Grade College Bhadravathi |
| 15 | Government First Grade College Birur |
| 16 | Government First Grade College Kadur |
| 17 | Government First Grade College Koppa |
| 18 | Government First Grade College Narasimharajapura |
| 19 | Government First Grade College Panchanahalli |
| 20 | Government First Grade College Ripponpete |
| 21 | Government First Grade College Shikaripura |
| 22 | Government First Grade College Shimoga |
| 23 | Government First Grade College Shiralakoppa |
| 24 | Government First Grade College Soraba |
| 25 | Government First Grade College Sringeri |
| 26 | Government First Grade College Tarikere |
| 27 | Government First Grade College Thirthahalli |
| 28 | Government First Grade College Yagati |
| 29 | Hebbur Mahavidyalaya Bhadravathi |
| 30 | Hoysala College of Management Shimoga |
| 31 | IDSG Government College |
| 32 | JD Institute of Fashion Technology |
| 33 | Jnana Jyothi Town Mahila Degree College |
| 34 | Jnanabharati College of Education |
| 35 | Kadamba Arts and Commerce College |
| 36 | Kamala Nehru Memorial National College for Women |
| 37 | Kodachadri Government First Grade College |
| 38 | Kumudvathi College of Education |
| 39 | LB and SBS College |
| 40 | M. K. Sreenivasa Shetty Law College |
| 41 | MDF Primary Teacher Training Institute |
| 42 | MES ML Manjaiah Setty Narasimha Setty College of Education |
| 43 | MESMSPS Women's College |
| 44 | Mountain View College of Management Sciences |
| 45 | Mythri College of Education |
| 46 | National College of Education Shimoga |
| 47 | PJNM Arts College |
| 48 | Rajeev Gandhi College of Education Bhadravathi |
| 49 | RL Law College |
| 50 | S. J. M. Law College |
| 51 | S.R. Nagappa Shresti Memorial National College of Applied Sciences |
| 52 | Sagar Gangotri Arts and Commerce College (BBM) |
| 53 | Sagar Gangotri College of Education |
| 54 | Sagar Gangotri College of Law |
| 55 | Saraswati Law College |
| 56 | Sharavathi First Grade College |
| 57 | Sir M V Govt Arts and Commerce College |
| 58 | Sir MV Government Science College |
| 59 | SJM First Grade College of Arts and Commerce |
| 60 | Smt. Indira Gandhi Government First Grade College for Women |
| 61 | Sri Jagadguru Chandrashekhara Bharathi Memorial College |
| 62 | Sri Kalleswara Swamy First Grade College |
| 63 | Sri Maruthi First Grade College |
| 64 | Sri Tungabhadra College of Education |
| 65 | Sri Veerabhadreshwara Institute of Education BEd College |
| 66 | STJ Women First Grade Arts, Commerce and Home Science College |
| 67 | Tunga Mahavidyalaya |
| 68 | UBDT College of Engineering |
| 69 | Vagdevi College of Education Thirthahalli |
| 70 | Zubaida Women's Arts College |