About Nanaji Deshmukh Veterinary Science University, Jabalpur
Onlineresultportal.com | Updated: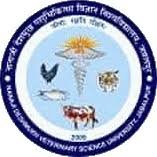 The Madhya Pradesh Pashu Chikitsa Vigyan Vishwavidyala is also known as the Nanaji Deshmukh Veterinary Science University is a prestigious veterinary science University established in 2009 at Jabalpur. This is a non-profit public University officially recognized and accredited by the University Grants Commission (UGC). The University imparts higher education in levels of undergraduate, postgraduate and doctoral courses in various branches of veterinary, fisheries and allied sciences. Moreover, it also promotes advanced learning in these sectors and also promotes extension services to the rural people who are working for the livestock and fisheries. This prestigious University offers various degree/diplomas in Veterinary Science, Animal Husbandry, Fishery Science, Animal Biotechnology, Wildlife Forensic & Health and off-beat courses. The intake capacity of students in these courses were very limited and admission is decided on basis of state level entrance examination conducted by the Madhya Pradesh board for bachelors and diploma courses and for the masters courses the University conducts All India Entrance Examination. These courses were also taught at all the affiliated colleges which are under Madhya Pradesh Pashu Chikitsa Vigyan Vishwavidyala.
The University is also famed for executing collaboration with other organizations for joined research projects. In this regards MOUs has signed between the University and organizations like Jeju National University (Korea), National Dairy Research Institution (Karnal), Ayurvet Limited (New Delhi) and other reputed organizations. Interested students can get more information about this reputed educational institute at its certified website- www.ndvsu.org regarding admission, fees structures and various courses. Moreover, www.onlineresultportal.com is also important for the students to provide accurate details about various Universities, examinations, admit cards and results.

Details of Nanaji Deshmukh Veterinary Science University
Full name
Nanaji Deshmukh Veterinary Science University
Affiliations
UGC
Contact No
076126 20783
Website
http://www.ndvsu.org/
Founded
2009
Email
registrarndvsujbp@gmail.com
Address
Indira Gandhi Marg, Panagar, South Civil Lines, Jabalpur, Madhya Pradesh 482001
City
Jabalpur
State
Madhya Pradesh
Country
India
List of courses offered by Nanaji Deshmukh Veterinary Science University

| Degree | Duration |
| --- | --- |
| B.A. | 3 Years |
| B.Ed. | 1 Years |
| Bachelor of Library and Information Science (B.Lib.I.Sc.) | 1 Years |
| M.A. (Ancient Indian History and Archaeology) | 2 Years |
| M.A. (Economics) | 2 Years |
| M.A. (Education) | 2 Years |
| M.A. (English) | 2 Years |
| M.A. (Geography) | 2 Years |
| M.A. (Hindi) | 2 Years |
| M.A. (History) | 2 Years |
| M.A. (Political Science) | 2 Years |
| M.A. (Sanskrit) | 2 Years |
| M.A. (Social Work) | 2 Years |
| M.A. (Sociology) | 2 Years |
| M.B.E. (Master of Business Economics) | 2 Years |
| M.Ed. | 2 Years |
| M.Lib.Sc. | 2 Years |
| M.S.W. | 2 Years |
| Diploma in Education Technology | 1 Years |
| Diploma in Elementary Education (D.El.Ed.) | 2 Years |
| Diploma in Oracle Associate | 1 Years |
| Post Graduate Diploma in Tourism & Hotel Management | 2 Years |
| Post Graduate Diploma in Heritage Management | 3 Years |
| PG Diploma in Tourism | 2 Years |
| Certificate in Rural Development (CRD) | 1 Years |
| B.Sc. (Biochemistry) | 3 Years |
| B.Sc. (Mathematics) | 3 Years |
| M.Sc. (Botany) | 2 Years |
| M.Sc. (Chemistry) | 2 Years |
| M.Sc. (Computer Science) | 2 Years |
| M.Sc. (Mathematics) | 2 Years |
| M.Sc. (Physics) | 2 Years |
| M.Sc. (Zoology) | 2 Years |
| Diploma in Health Education & Nutrition | 1 Years |
| Diploma in Nutrition and Food Technology | 18 Months |
| Diploma in Vedic Maths | 1 Years |
| Post Graduate Diploma in Bioinformatics (PGDBI) | 1 Years |
| Post Graduate Diploma in Chemoinformatics (PGDC) | 1 Years |
| Post Graduate Diploma in Dietetics | 1 Months |
| Post Graduate Diploma In Dietetics And Therapeutics Nutrition | 1 Years |
| Post Graduate Diploma in Physiotherapy and Nutrition (PGDPN) | 1 Years |
| Certificate in Environmental Studies (CES) | 6 Months |
| B.B.A. | 3 Years |
| M.B.A. | 2 Years |
| M.B.A. (Business Economics) | 2 Years |
| M.B.A. (International Business) | 2 Years |
| M.B.A. (Materials Management) | 3 Years |
| M.I.B. | 2 Years |
| Diploma in Business Administration | 1 Years |
| Diploma in Business Management | 1 Years |
| Diploma in Management | 1 Years |
| Post Graduate Diploma in Hospital and Health Management | 1 Years |
| PG Diploma in Disaster Management | 2 Years |
| Post Graduate Diploma in Hotel Hospitality Administration | 1 Years |
| Post Graduate Diploma in Management (PGDM) | 2 Years |
| Certificate Course in House Keeping | 1 Years |
| B.J.M.C. (Electronic Media) | 3 Years |
| Bachelor of Journalism and Mass Communication (B.J.M.C.) | 3 Years |
| M.J.M.C. | 2 Years |
| B.Com. | 3 Years |
| M.Com. | 2 Years |
| M.Com. (Management Accounting & Financial Strategies) | 2 Years |
| M.Com. (Management) | 2 Years |
| PGSCS - Post Graduate Diploma in Company Secretaryship | 1 Years |
| Certificate Course in Tourism Marketing | 2 Years |
| Post Graduate Diploma in Remote Sensing and Geographical Information System (GIS) | 2 Years |
| Certificate Course in Food and Beverage Operations | 6 Months |
| B.C.A. | 3 Years |
| B.Sc. (Information Technology) | 3 Years |
| M.C.A. | 3 Years |
| M.Sc. (Information Technology) | 2 Years |
| Diploma Course in Multimedia and Web Designing | 2 Years |
| Diploma in Computer Application (DCA) | 1 Years |
| Diploma in Cyber Security | 1 Years |
| Diploma in Web Technologies | 1 Years |
| Post Graduate Diploma in Computer Applications (P.G.D.C.A.) | 1 Years |
| Certificate Course in Computer Application | 6 Months |
| L.L.M. | 2 Years |
| Certified Course in Human Rights | 2 Years |
| Certificate Course in Basic Front Office | 1 Years |
| Certificate in English & Communication Skills | 1 Years |
| B.Sc. (Fashion Design and Technology) | 3 Years |
| B.Sc. (Fashion Design) | 3 Years |
| Diploma in Fashion Design | 1 Years |
| Diploma in Fashion Design & Technology | 2 Years |
| Certificate Course in Fashion Design | 1 Years |
| Certificate Course in Fares & Ticketing | 6 Months |
| Diploma in Web and Multimedia Technology (DWMT) | 1 Years |
| Post Graduate Diploma in Yoga | 2 Years |
| Post Graduate Diploma in Yoga Therapy | 18 Months |
List of colleges affiliated with Nanaji Deshmukh Veterinary Science University

| City | College Name |
| --- | --- |
| 1 | Maharana Pratap College Of Density And Research, Gwalior |
| 2 | College of Dental Science & Hospital (CDSH), Indore |