Madurai Kamaraj University Madurai Exam Result 2023
Onlineresultportal.com | Updated: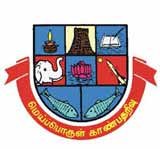 Madurai Kamraj University is a State University in India situated in the city of Madurai in the Southern state of Tamil Nadu. Since its establishment in 1966 this University is on its persistent journey for the past 50 years overcoming several hurdles and stood through the test of time and accreditation towards reaching the position of superiority. It is also governed and founded by the Government of Tamil Nadu and the University Grants Commission (UGC). Currently Madurai Kamraj University also offers various courses in distance mode of education headed by the Directorate of Distance Education (DDE). Till date, it covers four districts of Madurai, Virudhunagar, Dindugal and Theni for its regular academic programme.
Currently, this University's academic world consists of total of 77 renowned Departments with 20 Schools of study. In addition to this, it has 21 academic centres and 21 quasi academic supportive units. Moreover, there are also 24 autonomous colleges, 14 aided colleges, 33 self financing colleges, 18 approved institutions, 4 evening colleges, 6 constituent colleges and one University College which provides to the higher education needs of large number of students from rural and urban areas of Tamil Nadu. Here they provide undergraduate, postgraduate, M.Phil, diploma and certificate courses in areas of Biological Science, English & Foreign Languages, Biotechnology, Chemistry, Physics, Business Studies, Earth & Atmospheric Sciences, Social Sciences, Information Technology and many more on the academic list of Madurai Kamraj University.
Here more than 2500 students and research scholars are currently on the role. Students who hope for admission here can check out www.mkuniversity.org for more details regarding admission, courses, facilities and notifications. Moreover, www.onlineresultportal.com also provides detailed information of Universities and Colleges of India.

Details of Madurai Kamaraj University
Full name
Madurai Kamaraj University
Affiliations
UGC, NAAC
Contact No
0452 245 8471
Website
http://mkuniversity.ac.in/
Founded
1965
Email
mkuregistrar@rediffmail.com.
Address
Madurai Kamaraj University, Palkalai Nagar, Madurai-625 021
State
Tamil Nadu
Country
India
List of courses offered by Madurai Kamaraj University

Degree
Duration
Arts Courses
B.A. (English Literature)
3 Years
B.A. (History)
3 Years
B.A. (Hons.) (Economics)
3 Years
B.A. (Political Science)
3 Years
B.A. (Sociology)
3 Years
B.A. (Tamil)
3 Years
Bachelor of Library and Information Science (B.Lib.I.Sc.)
1 Years
M.A. (Comparative Dravidian Literature)
2 Years
M.A. (English Literature and American Studies)
2 Years
M.A. (English)
2 Years
M.A. (Folk Music)
2 Years
M.A. (French)
2 Years
M.A. (History of Fine Arts)
2 Years
M.A. (Kannada)
2 Years
M.A. (Linguistics)
2 Years
M.A. (Malayalam)
2 Years
M.A. (Philosophy)
2 Years
M.A. (Political Science)
2 Years
M.A. (Public Administration)
2 Years
M.A. (Saiva Siddhanta Philosophy)
2 Years
M.A. (Sanskrit)
2 Years
M.A. (Sociology)
2 Years
M.Ed.
2 Years
M.Lib.Sc.
2 Years
M.Phil. (Education)
1 Years
M.Phil. (French / German / Hispanic / Italian Studies)
2 Years
M.Phil. (Gandhian Studies)
2 Years
M.Phil. (Geography)
2 Years
M.Phil. (History)
2 Years
M.Phil. (Linguistics)
2 Years
M.Phil. (Malayalam)
2 Years
M.Phil. (Mathematics)
2 Years
M.Phil. (Sanskrit)
2 Years
M.Phil. (Sociology)
2 Years
M.Phil. (Tamil)
2 Years
M.Phil. (Telugu)
2 Years
Science Courses
M.Phil. (Chemistry)
1 Years
M.Phil. (Environmental Sciences)
2 Years
M.Phil. (Physics)
2 Years
M.Sc. (Biotechnology)
2 Years
M.Sc. (Computer Science)
2 Years
M.Sc. (Genomics)
2 Years
M.Sc. (Geography)
2 Years
M.Sc. (Geoinformatics)
2 Years
M.Sc. (Microbiology)
2 Years
M.Sc. (Remote Sensing and GIS)
2 Years
Post Graduate Diploma in Biostatics
1 Years
Management Courses
B.B.A.
3 Years
B.T.H.M (Bachelor of Tourism & Hotel Management)
3 Years
M.B.A.
2 Years
Mass Communications Courses
M.A. (Mass Communication & Journalism)
2 Years
M.Phil. (Journalism and Mass Communication)
2 Years
Commerce Courses
B.Com.
3 Years
B.Com. (Computer Applications)
3 Years
M.Com.
2 Years
M.Phil. (Commerce)
1 Years
Professional Courses Courses
Diploma in Entrepreneurship Development (DED)
1 Years
Information Technology Courses
B.C.A.
3 Years
M.C.A.
3 Years
List of colleges affiliated with Madurai Kamaraj University

City
College Name
Coimbatore
1
Surabi Catering and Fashion Designing College
Darjeeling
1
IIAS School of Management
Dindigul
1
Arulmigu Palaniandavar College of Arts and Culture
2
GTN Arts College
3
Lakshmi College of Education
4
Pannai International Institute of Hotel Management and Catering Technology
5
Pannaikadu Veerammal Paramasivam College
6
Sakthi Institute of Teacher Education and Research
7
Sri Amman College of Education
Hyderabad
1
S.M.K.S. College
Kanyakumari
1
Muslim Arts College
Kodaikanal
1
Kodaikanal Christian College
Krishnankovil
1
Arulmigu Kalasalingam College of Arts and Science
Madurai
1
Ambika College of Arts and Science
2
Annai Fathima College of Arts and Science
3
Annai Fathima Institute of Hotel Catering Administration
4
Arul Anandar College - Autonomous
5
CSI College of Arts and Science for Women
6
Devasahayam Annathaayammal Women's Arts and Science College
7
EMG Yadava Women's College
8
Fatima College - Autonomous
9
Institute of Cooperative Management - ICM
10
K.L.N. B.Ed College
11
K.S.M. College of Education for Women
12
Kapi College of Education
13
Kapi Women's College of Education
14
Lady Doak College
15
Lions Aravind Institute of Community Ophthalmology - LAICO
16
Madura College
17
Madurai Institute of Social Sciences
18
Mangayarkarasi Arts and Science College for Women
19
Mannar Thirumalai Naicker College
20
Muqyyath Sha Sirguro Wakf Board College
21
N.M.S. Sermathai Vasan College for Women
22
Nadar Mahajana Sangam S.Vellaichamy Nadar College
23
P.K.N. College of Arts and Science
24
Parasakthi College of Education
25
PMT College of Airline and Management
26
R.L. Institute of Management Studies
27
Royal College of Education
28
S.B.T. College of Special Education
29
S.P. College of Science and Arts
30
Saraswathi Narayanan College
31
Senthamil College
32
Sourashtra College
33
Sri Aurobindo Mira College of Education
34
Sri Malolan College of Arts and Science - SMCAS
35
Sri Meenakshi Government Arts College for Women
36
Sri Nagalakshmi Ammal Arts and Science College
37
Sri Sathguru Sangeetha Vidyalayam
38
St. Charles College of Education
39
St. Stephens College of Education for Women
40
Subbalakshmi Lakshmipathy College of Science
41
The American College
42
Thiagarajar College
43
Thiagarajar College of Education
44
Thiagarajar School of Management (TSM)
45
Thiruvalluvar College of Education for Women
46
Vickram Teacher Training College
47
Vivekananda College Madurai
48
Yadava College - Autonomous
49
Yadava College of Education
Mumbai
1
Divine Image College
Namakkal
1
Selvamm Arts and Science College - Autonomous
Ramanathapuram
1
Vickram College of Teacher Education - VCTE
Salem
1
Kamarajar B.Ed College
Sivaganga
1
Ayya Nadar Janaki Ammal College - Autonomous
2
Dr. Zakir Hussain College
3
Roseline College of Education
4
Sri Kaliswari College - Autonomous
5
Standard Fireworks Rajaratnam College for Women
Theni
1
Cardamom Planters' Association College
2
Hajee Karutha Rowther Howdia College
3
Mary Matha College
4
Theni College of Arts and Science
Thoothukudi
1
G. Venkataswamy Naidu College
Virudhunagar
1
A.K.D. Dharmaraja's Women's College
2
AKC College of Arts and Science
3
Devanga Arts College - Autonomous
4
K.M.B.Ed. College
5
Rajapalayam Raju's College
6
Saiva Bhanu Kshatriya College - SBK College
7
Sri Sundareswari College of Education
8
Sri. R. Ponnusamy Naidu College of Education for Women
9
Sri. S.Ramasamy Naidu Memorial College
10
The Standard Fireworks Rajaratnam College for Women
11
V.V. Vanniaperumal College for Women - Autonomous
12
Virudhunagar Hindu Nadar's Senthikumara Nadar College - Autonomous
13
Virudhunagar Hindu Nadars Senthikumara Nadar College - VHNSN
14
VPMM Arts and Science College for Women