Maharaja Ganga Singh University Exam Result 2023
Onlineresultportal.com | Updated: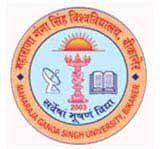 Formerly known as the University of Bikaner, The Maharaja Ganga Singh University is a Public University established in 2003 at Bikaner in the Indian State of Rajasthan. The University is the important landmark of tertiary education in Rajasthan and is also involved in quality teaching and research of issues revolving around the local areas and also a better understanding of them. Moreover, this University is bestowed with accreditation and recognition from the University Grants Commission (UGC), Association of Indian Universities (AIU) and Bar Council of India (BCI). Furthermore, there is also an accreditation of "B" Grade from the National Assessment and Accreditation Council (NAAC).
Maharaja Ganga Singh University is responsible for grooming best individuals with a complete understanding of all levels of perspectives. Moreover, it also has a mission to develop education, society, economy, culture and environment by quality academic programmes like bachelors, masters, professional and doctoral. There are various departments at the faculty of Science, Arts, Social Sciences, Law, Education and Commerce & Management. Apart from academic activities, this seat of higher learning is responsible for research and development matters carrying out in the districts of Bikaner, Churu, Sriganganagar and Hanumangarh. The University also provides affiliation to colleges and institutions of these districts. Aspiring students based upon merit were taking admission every year at Maharaja Ganga Singh University. Students can get the latest admission forms, admission list and admission notifications at www.mgsubikaner.ac.in along with course information and other updated information. Moreover, students also get to know more about other Universities through www.onlineresultportal.com also.
Maharaja Ganga Singh University Result Out at www.mgsubikaner.ac.in
The Maharaja Ganga Singh University (MGSU) makes available the provisional exam results of its affiliated programs on its official portal,https://www.mgsubikaner.ac.in/. Following the declaration of results, candidates who are awaiting their MGSU exam results can check the same on the official website.
After the MGSU examiners declare the examination results, you must first visit the home page of the official web portal. Now, locate the "Examination" tab on the Main Menu bar and select "Results" from the drop-down menu. On the following page, tap on the "Results Exam" link for the login page to appear on the screen. Go on to enter the mandatory details such as "Exam Year", "Result Type", "Course Name", and "Class for Result" in the relevant boxes and then click on the "Proceed for Result" tab. That done, you can view the MGSU examination result on the screen. Make sure to keep a print copy of the MGSU exam result for record purposes.

Details of Maharaja Ganga Singh University
Full name
Maharaja Ganga Singh University
Affiliations
UGC
Contact No
0151 221 2042
Website
http://mgsubikaner.ac.in/
Founded
2003
Email
registrar@mgsubikaner.ac.in
Address
National Highway 15, Jaisalmer Road, Near Nall Road, Bikaner, Rajasthan
State
Rajasthan
Country
India
Courses List

| Faculty | Course |
| --- | --- |
| Arts | Hindi, English, Sanskrit, Rajasthani, Urdu, Punjabi, Music, Philosophy, Drawing & Painting And Fine Arts, Physical Education. |
| Science | Physics, Chemistry, Botany, Zoology, Mathematics, Geology, Biotechnology, Microbiology, Computer Science, Information Technology, Defence And Strategic Studies, Pharmaceutical Chemistry, Biochemistry And Food & Nutrition, Environmental Science. |
| Social Science | Public Administration, Political Science, Economics, Home Science, Psychology, Sociology, History, Geography, Garments Production & Export Management, And J.V.J.V. |
| Commerce | Accountancy & Business Statistics, Economic Administration & Financial Management, Business Administration. |
| Law | LL.B., LL.M. Diploma Courses. |
| Education | B.Ed., B.P.Ed., M.Ed. |
Affiliated College List

S.N.
College Name
Bikaner
1
B.J.S. Rampuria Jain College
2
B.J.S. Rampuria Jain Law College
3
Binani Kanya Mahavidyalya
4
Damani College
5
Dungar College
6
Government Law College
7
Gyan Vidhi Mahavidyalya
8
Elite PG College
9
I.A.S.E.
10
Keen College
11
M.N. Institute of Applied Science
12
M.S. College for Women
13
N.S.P. (PG) College
14
Pandit Deen Dayal Upadhyay T.T. College
15
Pink Model T.T. College,
16
Rajasthan Mahila T. T. College
17
Rastra Udai T.T. College,
18
Seth Rawat Mal Bothra Girls College
19
Shri Dwarka Physical T. T. College, Naal
20
Shri Jain Girls College
21
Shri Jain P. G. College
22
Engineering College
23
Govt. College of Engineering & Technology
24
T. M. College of Bio-Science
25
University Law College
26
Rajasthan T.T. College Jaipur-Jodhpur Bypass Road
27
M.N. Institute of Teacher's Training
28
Maa Karni B.Ed. College, Naal
29
Jain Adarsh B.Ed. College
30
Swami Vivekanand T.T. College
31
Jagdamba College
32
S.D. College
33
S.K.S. Chandi College
34
Shri S. R. College
35
Shri S. R. Shikshan Sansthan
36
M. L. B. Govt. College
37
Shri Jain Adarsh Kanya College
38
Shri Dungargarh Mahavidyalaya
39
Sesomu Girls College0
40
Adersh B.Ed. College, Bigga
41
Adesh College
42
Murli Singh Yadav Memorial T.T. College
Churu
1
Smt. Parmeshwari Devi Mahila College
2
SSC Balaram Arya Girls College
3
Churu Balika Mahavidyalaya
4
Govt. Lohia College
5
Indian T.T. College
6
Modern Teachers Training College
7
Career T.T. College, Plot No. 2829, Bissu Road
8
Ideal Shiksha Sansthan, Hissar Road
9
Ch. B.Ed. College
10
Mohta College
11
S. J. A. (Tola) Smriti Mahavidyalaya
12
C.R. Memorial T.T. College, Taranagar Road
13
Yukta Bindal College
14
Government College
15
India Mahila T.T. College
16
Smt. Kesri Devi Lohia Govt. Girls College
17
Swami Commerce College
18
Lords International T.T. College, Sadulpur
19
Chaudhary B.Ed. College
20
Smt. Rama Devi T.T. College, Sadupur
21
Rajasthan T.T. College, Sankhantal Road
22
Lehri T.T. College, 237 Hisar Road
23
Asha Devi College of Education
24
Rajasthan College
25
Abhilasha T.T. College
26
Jasveer Memorial College
27
Jasveer Memorial T.T. College
28
Kalpana Chawala Kanya Mahavidhyalya
29
Shubhash Chandra Bose T.T. College
30
Kothari T.T. College,
31
Kothari Girls College,
32
Malaram T.T. College
33
K.K.C. College, www.kkccolleges.com
34
S. B. D. Govt. College
35
Shri Mahaveer T.T. College,
36
Smt. K. D. G. D. Mittal Kanya Mahavidyalaya
37
Shri Bhartiya Adarsh Vidhya Peeth T.T. College
38
Shri Hari Shikshan Prashikshan Mahavidhyalay
39
Swami Sevanand T.T. College
40
Saraswati Shikshak Prashikshan Mahavidhyalay, Behind Police Station
41
Vishwa Bharti Teachers Training College
42
S.B.N. Degree College
43
Renaissance Degree College
44
Sant Nekiram T.T. College
45
G. H. S. Govt. College
46
S. D. S. Girls College
47
Parmanand Trilokchand T.T. College
48
Vivekanand Vidhya Ashram T.T. College, Katar Choti
49
Adarsh Mahila Mahavidhyalya
50
Chaudhary M.S. Memorial T.T. College
51
Choudhary M.S. Memorial College
52
Saraswati Girls College
53
Sh. Amichand Memorial T.T. College
54
Sh. Nehru Girls College
55
Adarsh Mahila B.Ed. Mahavidhyalya
56
Dev T.T. College
57
Shri Nehru T.T. College
58
Tagore College
59
Sarswati Vidhya Mandir
Hanumangarh
1
Eklavya Vidyapeeth College
2
Bhadra Century College
3
Ch. Parma Ram Godara T.T. College
4
M. R. S. Srikrishan Parnam Kanya Mahavidyalaya
5
Maharaja Agarsen College
6
Sardar Vallabh Bhai Patel T.T. College
7
Sardar Vallabh Bhai Patel Mahavidyalaya
8
Shyam T.T. College
9
Sh. Shyam Shikshak Prashikshan Mahavidhyalaya
10
Vivekanand College
11
Arya College of Education
12
Vivekanand T.T. College,
13
Bal Gangadhar Tilak Shiksha Sansthan
14
B.R. Choudhary College
15
B.R. Choudhary Girls College
16
D.A.V. Girls College
17
B.R. Choudhary T.T. College
18
Indian Instit. of Manag. and Technolgy Girls College
19
Karuna Mahila T.T. College,
20
N. M. (P.G.) College
21
N. M. Law College
22
Sanskar International T.T. College
23
Shri Guru Nanak Khalsa College
24
Shri Guru Nanak Khalsa T.T. College
25
Times Mahila Shiksha Mahavidhiyalaya
26
Vyapar Mandal Girls College
27
Doon Girls College
28
Ch. Maniram College of B.Ed.
29
Baby Happy T.T. College
30
Saraswati Mahila Shikshak Prashikshan College
31
M.S.D. College of Education
32
S.D. Degree College
33
Bal Vikas Adarsh Mahavidyalaya
34
Dharohar College
35
Gargi Kanya Mahavidyalaya
36
M.D. College, Phephana
37
N.D.B. Govt. College
38
Nohar Degree College,
39
Rohit Girls College, Thalarka
40
Mohan Lal Sahewal Smriti Institution 4 B.K.K., Bhujarka
41
Sanskar T.T. College
42
I.G.M. College
43
Keshav College
44
Shripati Kanya Mahavidhyalya
45
Gyan Jyoti Girls College
46
Geeta Jyoti T.T. College, 36 M.O.D. Kachiya Post- Kothwali
47
Indira Gandhi Memorial B.Ed. College
48
Chaudhary. T.T. College
49
Dr. Rajendra Prasad Shah Shiksha College
50
Indian College
51
Saraswati Vidya Niketan Girls College
52
Vedic Kanya Mahavidyalaya
53
Chaudhary P.R. T.T. College
54
Indira Priydarshini T.T. College, Chak-8, Nohar Road
55
Guru Jambheshwar Adarsh B.Ed. College, Uttaradh Bass
56
M.D. B.Ed. College, Pallu
57
D.R. Mahila T.T. College
58
G.V. Home Science College
59
Gramotthan Vidyapeeth T. T. College
60
ManavMangal College of Education
61
Meera Kanya P.G. Mahavidyalaya
62
Swami Keshwanand G.V. College
63
Kaswan Kanya College
64
Adrash Gramin College, Mirza wali Meer
65
Baba Mast Nath Institute of Education Training & Research
Sriganganagar
1
M. M. D. Bedi Girls College
2
Mata Mohani Devi Bedi T.T. College
3
S.G.N. Khalsa College
4
Sharda College of Arts and Science
5
Shri S.R. B.Ed. College, Patroda
6
Saraswati Girls College,
7
Paramanand Degree College
8
Parmanand Degree For B.Ed. College
9
S. G. N. Kanya College
10
Choudhary K. R. Kanya College
11
Choudhary Manfoola Ram Kanya College
12
Geeta Co-Education T.T. College
13
H.K.M. P.G. College
14
National Kanya Mahavidyalaya (For Part II & III Only)
15
Sarvesh College /New Mandi
16
S.K. College, New Mandi
17
Shri Trimurti Degree College
18
Patel Co-Education T.T. College, Chak 3 S.T.R., 24 A.S.C. New Mandi
19
Shri Shiv Co-Education T.T. College, Chak 3 S.T.R., New Mandi
20
M.G. Memorial College
21
Maa Saraswati Girls College
22
S.G.N. Khalsa Girls College
23
Maharaja Ganga Singh College
24
Bhagwati Girls College
25
G.S. G.D. Kanya Mahavidyalaya
26
G.S.G.D. Girls Shikshan Prashikshan College
27
Sant Shri Prannath Parnami B.Ed. College
28
Sri Sant Prannath P.G. College
29
Guru Hargovind Sahib Shiksha Mahavidhyalaya, 12 B.B.
30
Guru Hargobind Sahib College, C.C. Head,
31
Harnamdas Lekhraj Institute of Education, Chak 24, B.B.,
32
Maa Saraswati T.T. College, 30 B.B., 4 J.J., Via-Gajsinghpur
33
Surendra Kaur Memorial T.T. College
34
M.D. (P.G.) Girls College
35
S.B.S. College
36
Shakuntalam college (chak 22 PS)
37
M.D.M. Co-Education B.Ed. College, 12 T.K.
38
D.A.V. T.T. College,
39
Seth Dharmchand Insttute of Teachers Training
40
M.J. Kumeria College
41
Shri Swami Vivekanand Co-Education College
42
J.B. Degree College
43
J.B. Teachers Training Institute 23 P.T.P.
44
Khalsa Girls College
45
Mahila (PG) Mahavidyalaya
46
Subhash Chandra Boss Mahavidyalya
47
Govt. Girls College
48
Murtidevi Memorial B.Ed. College, Chak 4 SDS
49
Bharti T.T. College, Nathwala
50
Choudhary B. R. G. Govt. (Girls) College
51
Dadhimati Mahila T. T. College
52
Dr. B.R. Ambedkar Govt. P. G. (Boys) College
53
Dr. Radhakrishnan Girls College
54
M.B.M. B.Ed. College
55
M.D. B.Ed. College
56
M.D. Law College
57
Maharishi Dayanand (PG) College
58
Mata Gujri Khalsa T.T. College
59
S.G.N. Khalsa (P.G.) College
60
S.G.N. Khalsa Law College
61
Sanatan Dharm Mahila B.Ed. College, Ravindra Path
62
Saraswati Shikshan Sadan (B.Ed.) College
63
Saraswati Shikshan Sadan Mahavidyalaya
64
Seth G. L. Bihani S. D. P.G. College
65
Seth G. L. Bihani S.D. Law College
66
Seth Sushil Kumar Bihani S. D. T.T. College
67
Shiva College of Education 10 S.D.P., Lalgarh Jatan
68
Shri Ganganagar Shikshan Prashikshan College
69
Sri Atam Vallabh Jain Girls College
70
Sri Guru Nanak Girls College
71
Shah Satnam Mahila College
72
Gyan Jyoti College
73
Guru Govind Singh Khalsa Girls College
74
Dada Pamma Ram (PG) Kanya Mahavidyalaya
75
Shri Vinayak College, 32 G.B.
76
Gurukul Institute of PG Studies & Research, Lalpura Paliwala
77
Mata Jeetoji Girls College
78
Suratgarh T.T. College
79
Suratgarh P.G. College
80
Tagore Mahila T.T. College
81
Tagore P.G. College
82
Meera Girls College
83
Ch. Motaram Meel Memorial Girls College
84
Ch. Motaram Meel Memorial College of Education