About Mahatma Gandhi University Kerala, Kottayam
Onlineresultportal.com | Updated: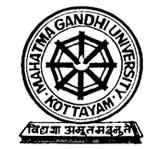 The Mahatma Gandhi University (MGU), which was earlier known as Gandhiji University, is based in Kerala's Kottayam district in Kerala and is a public university. The date that marks the institution's establishment is recorded to be 2nd October 1983. MGU has been named after the leader of the nation 'Mahatma Gandhi' and his birthday is celebrated on 2nd October across the country.
MGU is counted amongst the major universities in Kerala. Also, the educational center was established to cater to the academic requirements of the residents from Central Kerala. The main campus of the University is located at Priyadarshini Hills at Athirampuzha that is near Kottayam. The University has 2 satellite campuses in Kottayam as well.
The University has the approval of the University Grants Commission (UGC). Also, National Assessment and Accreditation Council have bestowed the University with the 'A' grade by virtue of the center's emphasis on providing quality education.
The University's jurisdiction covers the revenue districts of Ernakulam, Kottayam, Idukki and some areas of Alapuzzha and Pathanamthitta. Also, MGU has affiliations with over 300 colleges. The applicants have approximately 300 academic courses that they can apply for at the educational center. A wide variety of Undergraduate, postgraduate, and doctorate courses are conducted through the University. The University offers courses in disciplines such as Agriculture, Commerce, Management, Science, Medical, Engineering, Law, Naturopathy, Law, and Information Technology. The courses lead to Bachelor's, Master's and Doctoral degrees. For a detailed overview of the University's offered courses, the official website of MGU www.mgu.ac.in can be browsed.
Also, the applicants looking to access a database of India's universities can visit the www.onlineresultportal.com.

Details of Mahatma Gandhi University

Full name
Mahatma Gandhi University
Affiliations
UGC
Contact No
91-481-2731007
Website
www.mgu.ac.in
Founded
1985
Email
registrar@mgu.ac.in
Address
Priyadarsini Hills P.O., Kottayam - 686 560
State
Kerala
Country
India
List of courses offered by Mahatma Gandhi University

| Degree | Duration |
| --- | --- |
| B.A. | 3 Years |
| M.A. | 2 Years |
| M.Phil. | 2 Years |
| B.Sc. | 3 Years |
| Ph.D. | 2 Years |
| B.B.A. | 3 Years |
| M.B.A. | 2 Years |
| Diploma in Mass Communication, Advertisement and Journalism (DMCAJ) | 0 Years |
| B.Com. | 3 Years |
| M.Com. | 2 Years |
| B.C.A. | 3 Years |
| B.Sc. (Information Technology) | 3 Years |
| M.C.A. | 3 Years |
| M.Sc. (Information Technology) | 2 Years |
| Advanced Diploma in Computer Application | 1 Years |
| Diploma in Computer Application (DCA) | 1 Years |
| Diploma in Information Technology | 12 Months |
| P.G.D.C.A. | 1 Years |
List of colleges affiliated with Mahatma Gandhi University

| City | College Name |
| --- | --- |
| 1 | St.Thomas College ,Konni |
| 2 | Alphonsa College, Pala |
| 3 | Al Ameen College, Edathala |
| 4 | Bharata Mata College, Thrikkakkara |
| 5 | Baker College for Women, Kottayam |
| 6 | Baselios College, kottayam |
| 7 | Bishop Abraham Memorial College, Thurithicadu |
| 8 | Bishop Kurialacherry College for Women |
| 9 | BPC College, Piravom |
| 10 | bishop vayalil memorial holycross college cherpunkal,pala |
| 11 | Catholicate College, Pathanamthitta |
| 12 | Cochin College, Cochin |
| 13 | College of Applied Science (IHRD),Mallappally |
| 14 | College of Applied Science (IHRD), Kanjirappally |
| 15 | College of Applied Science (IHRD), Kattappana |
| 16 | College of Applied Science (IHRD), Kuttikkanam peeremade |
| 17 | DC School of Management and Technology, Vagamon |
| 18 | Deva Matha College, Kuravilangad |
| 19 | De Paul Institute of Technology, Angamaly |
| 20 | Ettumanoorappan College, Ettumanoor |
| 21 | Girideepam Institute of Advanced Learning, Kottayam |
| 22 | Government College, Nattakam, Kottayam |
| 23 | Government College, Kattapana |
| 24 | Government College, Manimalakunnu, Koothattukulam |
| 25 | Government College, Tripunithura |
| 26 | Henry Baker College, Melukavu |
| 27 | Holy Cross College of Management & Technology, Puttady, Idukki |
| 28 | Jawaharlal Nehru Institute of Arts & Science (JNIAS),Balagram, Idukki |
| 29 | JPM College of Arts & Science, Labbakkada, Idukki |
| 30 | Kuriakose Elias College, Mannanam |
| 31 | Kuriakose Gregorios College,Pampady |
| 32 | KMM College of Arts and Science, Thrikkakara |
| 33 | Nirmala College, Muvattupuzha |
| 34 | Newman College, Thodupuzha |
| 35 | MES college, Erattupetta |
| 36 | MES College, Nedumkandam |
| 37 | Mannam Memorial N.S.S. College, Konni |
| 38 | Mar Augusthinose College, Ramapuram |
| 39 | Mar Athanasius college , Kothamangalam |
| 40 | Mar Kuriakose College, Puthuvely |
| 41 | Mar Thoma College, Thiruvalla |
| 42 | Mar Thoma College for Advanced Studies |
| 43 | Marian College Kuttikkanam, Idukki |
| 44 | MES college, Marampally, Aluva |
| 45 | MES College, Erumely |
| 46 | MES College, Edathala |
| 47 | NSS College, Changanassery |
| 48 | NSS College, Rajakumari |
| 49 | Nirmala College, Muvattupuzha |
| 50 | Pavanatma College, Murrickacherry |
| 51 | PGM College, Kangazha |
| 52 | Parumala Mar Gregorios College, Thiruvalla |
| 53 | RLV College of Music and Fine Arts, Tripunithura |
| 54 | Rajagiri College of Social Science, Kalamassery |
| 55 | Rajagiri College of Management and Applied Sciences |
| 56 | SAS SNDP YOGAM College, Konni |
| 57 | Santhigiri college of Computer Sciences, Vazhithala. |
| 58 | Santhigiri Institute of Management, Vazhithala. |
| 59 | SNM College, Maliankara, Moothakunnam |
| 60 | Saint Ephrem Ecumenical Research Institute |
| 61 | Saintgits College of Applied Sciences, Pathamuttom |
| 62 | Siena College of Professional Studies, Edacochin |
| 63 | Sree Vidyadhi Raja N S S College |
| 64 | St Johns College, Prakkanam |
| 65 | St. Dominic's College, Kanjirapally |
| 66 | St. Johns Institute of Technology, Pathanamthitta |
| 67 | St. Mary's College, Manarcaud, Kottayam |
| 68 | St. Peter's College, Kolenchery |
| 69 | St. Stephen's College, Uzhavoor. |
| 70 | St. Thomas College, Palai |
| 71 | St. Thomas College, Puthencruz |
| 72 | St. Xavier's College for Women, Aluva |
| 73 | St. George's College, Aruvithura |
| 74 | St. Thomas College, Kozhencheri |
| 75 | Union Christian College, Aluva |
| 76 | Maharaja's College, Ernakulam |
| 77 | Yeldo Mar Baselios College |
| 78 | Marthoma College of Management and Technology, Perumbavoor |
| 79 | Swami Saswatheekananda College, Poothotta |