Mahatma Phule Krishi Vidyapeeth Exam Result 2023 Declared
Onlineresultportal.com | Updated: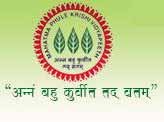 The Mahatma Phule Krishi Vidyapeeth (MPKV), Rahuri is a premier Agricultural university which was established on 29th March 1968 and became functional in October 1969. It offers its services to the farmers through education, research and extension education. The University is named after the great social reformer "Mahatma Jyotiba Phule". It offers Post graduate education at Central Campus, Rahuri and Collge of Agriculture, Pune, Kolhapur and Dhule, Ph.D program is conducted at Rahuri and M.Tech in Agriculture Engineering at Rahuri.
The university is well equipped with quality and modern laboratories along with special infrastructure for international students. The Faculty of Lower Agricultural Education offers Diploma courses to the aspirants in Agriculture through 9 constituent and 85 affiliated Agricultural Schools which are under MPKV. The university is recipient of Institution of Excellence Award in 2008 by Government of India and a special grant of Rs. 100 crore. The university is also bestowed with the Sardar Patel Best Institution Award by the ICAR, New Delhi for excellence in the field of education, research and extension education.
Mahatma Phule Krishi Vidyapeeth Result 2023 Details
University Name
Mahatma Phule Krishi Vidyapeeth (MPKV)
Location of University
Rahuri, Maharashtra
University Type
Government
Affiliations
UGC
Academic Session
2022-23
Name of the Exam
UG and PG Exams
Exam Mode
Offline
Mode of Results
Online
Result Status
Available Now
Exam Date
2023
Result Type
Semester/ Annual
Recently Declared Result
B.Tech, M.Sc, MBA, M.Tech Result
Official Website
mpkv.ac.in
At present the university consists of 27 research stations in 5 agro-climatic zones including 4 state level crop specialists, 4 zonal agricultural research stations and 17 strategic verification research centers to conduct research. A state level Biotechnology center has also been established at main campus of the university and has started M.Sc degree program in the subject of Agricultural Biotechnology with the intake capacity of 8 students. The irrigated area under the MPKV jurisdiction is 12 lakh hectares and it accounts to almost 50% area of the state.
The Mahatma Phule Krishi Vidyapeeth Result at mpkv.ac.in
The Mahatma PhuleKrishiVidyapeeth (MPKV), traced to Rahuri in Ahmednagar in India's Maharashtra state, makes accessible the exam results of its affiliated programs on its official web link, https://mpkv.ac.in/. Candidates appearing for the MPKV exams can check their examination results on its official web portal after result declaration.
When the MPKV authorities declare the exam results, you should go to the home page of its official portal. As your next step, you must locate the "News / Recent Happenings" tab and click the relevant MPKV exam result link from the given list. Subsequently, you must enter your login details when the MPKV login page appears on the screen. Your MPKV exam results will then appear on the screen. Remember to keep a print copy of your MPKV exam result for your records. Also, check all details in your MPKV exam result for any errors and notify the concerned authorities about the same.
Mahatma Phule Krishi Vidyapeeth
Full name
Mahatma Phule Krishi Vidyapeeth
Motto
"अन्नं बहु कुर्वीत तद् व्रतम्"
Affiliations
UGC
Contact No
02426 243 861
Website
http://mpkv.ac.in/
Founded
1968
Email
registrar.mpkv@nic.in
Address
Ahmednagar, Rahuri, Maharashtra 413722
State
Maharashtra
Country
India
List of courses offered by Mahatma Phule Krishi Vidyapeeth

| Sr.No | Course Name |
| --- | --- |
| 1 | B.Sc. (Agriculture) |
| 2 | B.Sc. (Horticulture) |
| 3 | B.Tech. (Food Technology) |
| 4 | B.Sc. (Agriculture Bio-Techchnology) |
| 5 | B.Tech. (Agriculture Engineering) |
| 6 | B.B.A. (Agri.) |
| 7 | B.Sc. (Animal Husbandry) |
| 1 | Agriculture M.Sc. (Agri.) |
| 2 | Horticulture M.Sc. (Hort.) |
| 3 | Agricultural Biotechnology M.Sc. (Agri. Biotech) |
| 4 | Agricultural Engineering M.Tech (Agril. Engg.) |
| 5 | Agricultural Business Management M.B.A. (Agri.) |
| 1 | Agriculture |
| 2 | Agricultural Engineering |
List of colleges affiliated with Mahatma Phule Krishi Vidyapeeth

| Sr.No. | College Name |
| --- | --- |
| 1 | College Of Agriculture Pune |
| 2 | College of Agriculture Dhule |
| 3 | College of Agriculture Kolhapur |
| 4 | College of Agriculture Karad College of Agriculture Nandurbar |
| 5 | Post Graduate Institute MPKV Rahuri |
| 6 | Dr. A. S. College of Agricultural Engineering and Technology, Rahuri |
| 7 | College of Agriculture Muktainagar |
| 8 | Punyashlok Ahilyadevi Holkar College of Agriculture, Halgaon |
Maharashtra University List