Mother Teresa Women University Exam Result 2023
Onlineresultportal.com | Updated: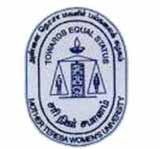 Mother Teresa Women's University is a Public University situated in a quiet hill station at Kodaikanal in the Indian University of Tamil Nadu. Established in 1984, this seat of higher learning is especially dedicated to the girl students of the State. This University endeavors to expand its service to women students of all population. It strives for Academic Excellence and promotes Personality Development and provides equal importance for promotion of employment prospects to young girls. Moreover, Mother Teresa Women's University also offers various distance education courses with the Directorate of Distance Education (DDE) since 1988. All types of courses are open to the women students only. The University Grants Commission (UGC) and the Government of Tamil Nadu holds recognition to this University.
The University provides postgraduate, diploma and research programmes in areas of Biotechnology, Chemistry, Commerce, Computer Science, Economics, Education, English, Historical Studies & Tourism Studies, Home Science, Management Studies, Mathematics, Physical Education, Physics, Sociology, Tamil Studies, Visual Communication and Women's Studies. Moreover, postgraduate diploma one year courses are also offered in Computer Applications, Mass Communication, Translation, Gerontological Studies, Herbal Medicine and Human Rights. The campus of Mother Teresa Women's University is also filled facilities like hostels, library, sports room, academic building, computer center, Central Instrumentation facility and many more on the list.
Interested students who are eagerly waiting for admission at Mother Teresa Women's University are advised to check the official website of the University- www.motherteresawomenuniv.ac.in for details concerning eligibility criteria, admission, courses, fees structures and other important notifications. On the other hand, www.onlineresultportal.com is also helpful in providing information of all Universities along with results of important examinations.
For queries, please contact
University Exams
04542-240895, 04542-245685
Admission
04542-244116
TN-SET
04542-244417, 04542-244418
Research Dean
04542-245671
General
04542-241685

Details of Mother Teresa Women University
Full name
Mother Teresa Women University
Affiliations
UGC, NAAC
Contact No
04542 243 977
Website
www.motherteresawomenuniv.ac.in
Founded
1984
Email
vicechancellor@motherteresawomenuniv.ac.in
Address
Attuvampatti, Dindigul District, Kodaikanal, Tamil Nadu 624101
State
Tamil Nadu
Country
India
List of courses offered by Mother Teresa Women University

Degree
Duration
Arts Courses
B.A. (English)
3 Years
B.A. (Fine Arts)
3 Years
B.A. (History)
3 Years
B.A. (Public Administration)
3 Years
B.A. (Tamil)
3 Years
B.A. (Tourism Studies)
3 Years
B.Ed.
1 Years
Bachelor in Tourism Management (B.T.M.)
3 Years
Bachelor of Library and Information Science (B.Lib.I.Sc.)
1 Years
M.A. (Business Economics)
2 Years
M.A. (English)
2 Years
M.A. (History)
2 Years
M.A. (Music)
2 Years
M.A. (Social Work)
2 Years
M.A. (Sociology)
2 Years
M.A. (Tamil)
2 Years
M.A. (Women's Studies)
2 Years
M.Ed.
2 Years
M.Lib.Sc.
2 Years
M.Phil. (Counselling Psychology)
2 Years
M.Phil. (Economics)
2 Years
M.Phil. (Education)
1 Years
M.Phil. (English)
2 Years
M.Phil. (History)
2 Years
M.Phil. (Library & Information Science)
2 Years
M.Phil. (Music - Hindustani/Karnatic)
2 Years
M.Phil. (Sociology)
2 Years
M.Phil. (Tamil)
2 Years
M.Phil. (Women's Studies)
2 Years
Ph.D. (Counselling Psychology)
3 Years
Ph.D. (Economics)
3 Years
Ph.D. (Education)
3 Years
Ph.D. (English)
3 Years
Ph.D. (History)
3 Years
Ph.D. (Music)
3 Years
Ph.D. (Psychology)
3 Years
Ph.D. (Sociology)
3 Years
Ph.D. (Tamil)
5 Years
Ph.D. (Women's Studies)
3 Years
Post Graduate Diploma in Counselling Psychology
1 Years
Science Courses
B.Sc. (Mathematics)
3 Years
B.Sc. (Physics)
3 Years
B.Sc. (Plant Biology and Plant Biotechnology)
3 Years
M.Phil. (Biotechnology)
1 Years
M.Phil. (Food Science and Nutrition)
2 Years
M.Phil. (Food Service Management and Dietetics)
2 Years
M.Phil. (Physics)
2 Years
M.Sc. (Biotechnology)
2 Years
M.Sc. (Chemistry)
2 Years
M.Sc. (Computer Science)
2 Years
M.Sc. (Counselling Psychology)
2 Years
M.Sc. (Food Nutrition)
2 Years
M.Sc. (Food Service Management and Dietetics)
2 Years
M.Sc. (Mathematics)
2 Years
M.Sc. (Nutrition and Dietetics)
2 Years
M.Sc. (Physics)
2 Years
Ph.D. (Biotechnology)
3 Years
Ph.D. (Computer Science)
3 Years
Ph.D. (Physics)
3 Years
Management Courses
B.B.A.
3 Years
M.A. (Tourism Management)
2 Years
M.B.A.
2 Years
Ph.D. (Management Studies)
3 Years
Post Graduate Diploma in Entrepreneurship Development
1 Years
Post Graduate Diploma in Event Management
15 Months
Mass Communications Courses
B.Sc. (Visual Communication)
3 Years
B.Sc. (Visual Communication) (Electronic Media)
3 Years
M.A. (Mass Communication & Journalism)
2 Years
M.Sc. (Visual Communication)
2 Years
Commerce Courses
B.Com.
3 Years
M.Com.
2 Years
Professional Courses Courses
M.T.T.M. (Master of Tourism and Travel Management)
2 Years
Agriculture Science and Technology Courses
B.Sc. (Plant Science and Plant Biotechnology)
3 Years
Information Technology Courses
B.C.A.
3 Years
M.C.A.
3 Years
M.Sc. (Information Technology)
2 Years
Post Graduate Diploma in Computer Applications (P.G.D.C.A.)
1 Years
Fashion and Interior Designing Courses
M.Sc. (Fabric and Apparel Designing)
2 Years
M.Sc. (Fashion Designing)
2 Years
List of colleges affiliated with Mother Teresa Women University

City
College Name
Dindigul
1
Arulmigu Palaniandavar Arts College for Women - Autonomous
2
MVM Government College of Arts and Science
3
Surabi School of Nursing
Salem
1
Annai Theresa B.Ed College
Theni
1
Annai College of Education for Women
2
Jayaraj Annapackiam College for Women - Autonomous
3
Nadar Saraswathi College of Arts and Science
4
Nadar Saraswathy College of Education
5
St. Anne's College of Education for Women
6
Thiravium College of Education