Netaji Subhas Open University Exam Result 2023
Onlineresultportal.com | Updated: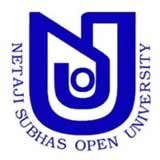 The Netaji Subhas Open University is a premium State Open University which teaches distance education programmes in Eastern India. This University was established by the West Bengal Government in 1997 at Kolkata to observe the birth centenary of Netaji Subhas Chandra Bose and thus the name of this institution is named after this great freedom fighter. This is one of the largest growing distance education Universities in India recognized by the University Grants Commission and Directorate of Distance Education. Moreover, this Open University is recognized by other State Universities of West Bengal and is also an active member of Association of Indian Universities, Association of Asian Open Universities and Association of Commonwealth Universities.
The Netaji Subhas Open University is a boon to those aspiring students who want to complete their higher education but could not do so due to their varied reasons. Now with the help of this Open University they can pursue their higher education through distance mode. This University operates its work with 120 study centre from its 6 campuses. This Open University offers higher education through its schools of Humanities, Social Science, Science, Vocational Studies, Education and Professional Studies in levels of undergraduate, postgraduate, PhD and M.Phil courses. This University offers its teaching methods as per advanced technique which includes Self Instruction study materials, Audio-Video CD, Personal Contact Programme, Gyan Vani FM Channel and Interactive Radio Counseling in its study centres.
Interested students can check its official website- www.wbnsou.ac.in for admission notice, courses, fee structures and other important updates. Moreover, www.onlineresultportal.com is also helpful for the students to gather information about other Indian Universities and results of various competitive examinations.

Details of Netaji Subhas Open University
Full name
Netaji Subhas Open University
Affiliations
UGC
Contact No
(033) 40047568, 40047569, 40047570, 40047571
Website
http://www.wbnsou.ac.in/
Founded
1997
Email
nsou@cal2.vsnl.net.in
Address
Guriabhata, Sahapur P, West Bengal
City
Kolkata
State
West Bengal
Country
India
List of courses offered by Netaji Subhas Open University

| Degree | Duration |
| --- | --- |
| B.A. | 3 Years |
| B.A. (Hons.) (Economics) | 3 Years |
| B.Ed. (Special Education) | 1 Years |
| B.L.I.Sc. (Hons.) | 3 Years |
| Bachelor of Library and Information Science (B.Lib.I.Sc.) | 1 Years |
| M.A. (Bengali) | 2 Years |
| M.A. (Education) | 2 Years |
| M.A. (English) | 2 Years |
| M.A. (Geography) | 2 Years |
| M.A. (History) | 2 Years |
| M.A. (Mathematics) | 2 Years |
| M.A. (Political Science) | 2 Years |
| M.A. (Social Work) | 2 Years |
| M.Lib.Sc. | 2 Years |
| Certificate Course in Communicative English | 3 Months |
| B.Sc. (Botany) | 3 Years |
| B.Sc. (Chemistry) | 3 Years |
| B.Sc. (Geography) | 3 Years |
| B.Sc. (Hons.) (Botany) | 3 Years |
| B.Sc. (Hons.) (Geography) | 3 Years |
| B.Sc. (Hons) (Mathematics) | 3 Years |
| B.Sc. (Hons) (Physics) | 3 Years |
| B.Sc. (Mathematics) | 3 Years |
| B.Sc. (Physics) | 3 Years |
| B.Sc. (Zoology) | 3 Years |
| M.Sc. (Geography) | 2 Years |
| M.Sc. (Mathematics) | 2 Years |
| M.Sc. (Zoology) | 2 Years |
| Ph.D. (Computer Science) | 3 Years |
| Ph.D. (Mathematics) | 3 Years |
| M.B.A. | 2 Years |
| Ph.D. (Management Studies) | 3 Years |
| B.Com. | 3 Years |
| M.Com. | 2 Years |
| M.C.A. | 3 Years |
| Certified Course in Human Rights | 2 Years |
List of colleges affiliated with Netaji Subhas Open University

City
College Name
Kolkata
Bengal National Chamber of Commerce and Institute - BNCCI
Medinipur
Vidyasagar Industrial College of Training Centre