Nizam's Institute of Medical Sciences Exam Result 2023
Onlineresultportal.com | Updated: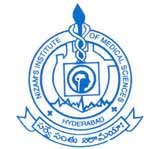 The Nizam's Institute of Medical Sciences commonly known as NIMS is a Public University situated in the princely city of Hyderabad in the Indian State of Telangana. It was established the State Government of Andhra Pradesh and was earlier established as The Nizam's Charitable Trust in 1961 and later in 1980 it was upgraded as a full-fledged medical institute called the Nizam's Institute of Medical Sciences. This premium educational institute is recognized by University Grants Commission, Medical Council of India and Association of Indian Universities. The University campus covers over 23 acres of land and its construction area is more than six lakh sq.ft.
Eminent and well experienced faculties teach quality education to over 100 students. It imparts training and research in several courses recognized by Medical Council of India in over 40 disciplines. Admission is given to the students on the basis of the selection is based on the performance in the Entrance Test- "NIMSET". Here various undergraduate, postgraduate and diploma courses like MD, MS, DM, BPT, MPT, B.Sc, MHM, Diploma courses in Anesthesiology, Biochemistry, General Medicine, Pathology, Radiation Oncology, Radiology, Hospital Administration, Cardiology, Nursing, Paramedical courses, Hospital Management, Physiotherapy, Neurosciences, etc are taught by the faculty members.
Aspiring students can check more details about Nizam's Institute of Medical Sciences through its official website- www.nims.edu.in. Moreover, they can also check www.onlineresultportal.com about various Indian Universities of all States, courses and fees, admit card and can also download their admission forms and admit cards.

Details of Nizam's Institute of Medical Sciences
Name
NIMS (Nizam's Institute of Medical Sciences)
Affiliations
UGC
Contact No
040 2348 9000
Website
www.nims.edu.in
Founded
1961 (as Nizam's Charitable Hospital); 1980 (as Nizam's Institute of Medical Sciences)
Email
nims@ap.nic.in
Address
Mumbai Highway, Punjagutta, Hyderabad, Telangana 500082
State
Telangana
Country
India
List of courses offered by Nizam's Institute of Medical Sciences

Degree
Duration
Medical Courses
B.P.T.
4½ Years
B.Sc. (Nursing)
4 Years
D.M. (Cardiology)
3 Years
D.M. (Clinical Pharmacology and Therapeutics)
2 Years
D.M. (Medical Oncology)
3 Years
D.M. (Nephrology)
3 Years
D.M. (Neurology)
3 Years
D.M. (Rheumatology)
3 Years
M.Ch. (Cardio-Vascular Thoracic Surgery)
3 Years
M.Ch. (Genito-Urinary Surgery)
3 Years
M.Ch. (Neuro Surgery)
5 Years
M.Ch. (Plastic Surgery)
3 Years
M.D. (Anaesthesiology)
2 Years
M.D. (Biochemistry)
3 Years
M.D. (General Medicine)
2 Years
M.D. (Hospital Administration)
3 Years
M.D. (Pathology)
2 Years
M.D. (Radiotherapy)
3 Years
M.P.T.
2 Years
M.S. (Orthopaedics)
3 Years
M.Sc. (Nursing)
2 Years
Diploma in Vascular Surgery Technician training
1 Years
Post Graduation Diploma Course in Cardiovascular Technology
2 Years
Post Graduate Diploma Course in Neurotechnology
2 Years
Post Graduate Diploma in Anaesthesia
2 Years
Post Graduate Diploma in Cardiac Pulmonary Perfusion Technology
2 Years
Post Graduate Diploma in Clinical Research (PGDCR)
1 Years
Post Graduate Diploma in Dialysis Technology
2 Years
Post Graduate Diploma in Medical Laboratory Technology
2 Years
Post Graduate Diploma in Radiation Therapy Technology
2 Years
Post Graduate Diploma in Radiography and Imaging Technology
2 Years
Post Graduate Diploma in Transfusion Medicine Technology
2 Years
Management Courses
Master in Hospital Management (M.H.M.)
2 Years
List of colleges affiliated with Nizam's Institute of Medical Sciences