Pandit Deendayal Upadhyaya Shekhawati University Exam Result 2023
Onlineresultportal.com | Updated: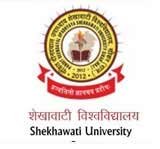 Pandit Deendayal Upadhyaya Shekhawati University, formerly known as Shekhewati University is a newly created University to cater the higher education needs of the students from the Shekhawati region. This public state University is established in 2012 which is situated in Katrathal village of Sikar district in the Indian State of Rajasthan. The jurisdiction areas of Pandit Deendayal Upadhyaya Shekhawati University lie in areas of Sikar, Jhunjhunu and Churu districts of the Rajasthan state. The University provides affiliation to over 75 colleges which lies in these districts. Moreover, the University is recognized under the act of University Grants Commission (UGC).
The 30 acres campus of Pandit Deendayal Upadhyaya Shekhawati University comprises of around 1000 students studying various courses in levels of undergraduate and postgraduate levels. Here quality education by dynamic faculty members are provided in areas of English, European Languages, Literature & Culture Studies, Hindi, Philosophy, Sanskrit, Botany, Chemistry, Geography, Geology, Home Science, Mathematics, Physics, Psychology, Statistics, Zoology, Accountancy & Business Statistics, Economic Administration & Financial Management, Business Administration, Nanotechnology, Biotechnology and many more interesting subjects on the list. Apart from incredible academic achievements, the University also provided its students various facilities of sports, library, studio, auditorium, computer lab, cafeteria and various interexchange programmes.
For more information you can check its official website- www.shekhauni.ac.in regarding admission, courses, admit card, fees structure and other important updates, Moreover, www.onlineresultportal.com is also involved in helping the students with accurate information about various Indian Universities and results of important examinations.
Latest Updates:
Announcement: Result 2023 | All Exam Result
Date
BED.MED- II,IV Exam Result 2023
19-05-2023
MED-II,IV Exam Result 2023
23-05-2023
PDUSU LL.B. III,LL.B DUE Exam Result 2022
28-11-2022
PDUSU B.A. B.ED. PART-IV & B.SC. B.ED. PART-IV,B.A. B.ED. PART-III & B.SC. B.ED. PART-III Result
14-11-2022
Shekhawati University M.A. (Previous) Drawing & Painting Exam Result
31-10-2022
Shekhawati University M.A. (Previous) Economics Exam Result
31-10-2022
Shekhawati University M.A. (Previous) English Exam Result
31-10-2022
Shekhawati University M.A. (Previous) Hindi Exam Result
31-10-2022
Shekhawati University M.A. (Previous) History Exam Result
31-10-2022
Shekhawati University M.A. (Previous) Home Science Exam Result
31-10-2022
Shekhawati University M.A. (Previous) Philosophy Exam Result
31-10-2022
Shekhawati University M.A. (Previous) Political Science Exam Result
31-10-2022
Shekhawati University M.A. (Previous) Public Administration Exam Result
31-10-2022
Shekhawati University M.A. (Previous) Sanskrit Exam Result
31-10-2022
Shekhawati University M.A. (Previous) Sociology Exam Result
31-10-2022
Shekhawati University M.A. (Previous) URDU Exam Result
31-10-2022
Shekhawati University M.A./M.Sc (Previous) Geography Exam Result
31-10-2022
Shekhawati University M.A./M.Sc (Previous) Mathematics Exam Result
31-10-2022
Shekhawati University M.A./M.Sc (Previous) Psychology Exam Result
31-10-2022
Shekhawati University M.Com (Previous) Accountancy & Business Statistics Exam Result
31-10-2022
Shekhawati University M.Com (Previous) Business Administration Exam Result
31-10-2022
Shekhawati University M.Com (Previous) Eafm Exam Result
31-10-2022
Shekhawati University M.Sc (Previous) Botany Exam Result
31-10-2022
Shekhawati University M.Sc (Previous) Chemistry Exam Result
31-10-2022
Shekhawati University M.Sc (Previous) Physics Exam Result
31-10-2022
Shekhawati University M.Sc (Previous) Zoology Exam Result
31-10-2022
Shekhawati University B.ED. Part-II Exam Result
11-10-2022
Shekhawati University BCA. PART-II Exam Result 2022
28-09-2022
Shekhawati University BBA PART-I & PART-II Exam Result 2022
28-09-2022
Shekhawati University B.A Part-I Exam Result 2022
23-09-2022
Shekhawati University B.A Part-II Exam Result 2022
20-09-2022
Shekhawati University B.SC. PART-I Result
12-09-2022
Shekhawati University BSc 2nd Year Result 2022
07-09-2022
Details of Shekhawati University
Name
Shekhawati University
Affiliations
UGC
Contact No
01572 273 100
Website
http://shekhauni.ac.in/
Founded
2012
Email
reg.shekhauni@gmail.com
Address
Nawalgarh Road, Katrathal, Rajasthan
State
Rajasthan
Country
India
List of courses offered by Pandit Deendayal Upadhyaya Shekhawati University

| S.N. | Course Name |
| --- | --- |
| B.A. | 3 Years |
| B.A. + B.Ed. | 4 Years |
| B.Ed. | 2 Years |
| M.A. | 2 Years |
| B.Sc. | 3 Years |
| B.Sc. + B.Ed. | 4 Years |
| M.Sc. | 2 Years |
| B.B.A. | 3 Years |
| Master in Journalism and Mass Communication - MJMC | 2 Years |
| B.Com. | 3 Years |
| M.Com. | 2 Years |
| B.C.A. | 3 Years |
| L.L.B. | 3 Years |
| L.L.M. | 2 Years |
| Post Graduate Diploma in Labour Law and Labour Welfare | 1 Years |
List of colleges affiliated with Pandit Deendayal Upadhyaya Shekhawati University

| S.N. | College Name |
| --- | --- |
| 1 | Adarsh Career College, Jhunjhunu Road, Chanana, Jhunjhunu |
| 2 | Adarsh Rajasthan P.G College, F-77, Industrial Area, Rajgarh Road, Pilani, Jhunjhunu |
| 3 | Arya College, Near Post Office, Singhana, TehsilBuhana, Jhunjhunu |
| 4 | Baba Ganga Nath Co-Ed. College, VillageParasrampura(Purana), Nawalgarh, Jhunjhunu |
| 5 | Baba Umad Singh College, Near Bus Stand, V.P.O.- Buhana, Jhunjhunu |
| 6 | Bal Sadhana Girls College, TodiGudha Gourji, Jhunjhunu |
| 7 | Bhaliya Devi Balika P.G. Mahavidyalaya, Pacheri Road, Buhana, Jhunjhunu |
| 8 | Bhaskar Kanya Mahavidyalaya, Gadakhera, TehsilBuhana, Via.-Chirawa, Jhunjhuu |
| 9 | Bhura Ram Mahavidyalaya, V.P.-Meghpur Pathadoli, TehsilBuhana, Jhunjhunu |
| 10 | Bihari Lal Mahavidyalaya, Gadrata, TehsilKhetri, Jhunjhunu |
| 11 | Bloom College, Ward No. 19, Chirawa, Jhunjhunu |
| 12 | Chanchal Ahilya Umrawati Mahila P.G. College, V.P.- Mandrella, Jhunjhunu |
| 13 | Chirawa P.G. College, Chirawa, Jhunjhunu |
| 14 | Dev Global College, Chirawa, Jhunjhunu |
| 15 | Dev Global Mahila Mahavidyalaya, Eslampur, Jhunjhunu |
| 16 | Dr. Mohan Lal Piramal Girls P.G. College, Bagar, Jhunjhunu |
| 17 | G.R. Memorial College, MeharaJatuwas, Khetri, Jhunjhunu |
| 18 | Geeta Girls College, Bhorki, Tehsil Udaipurwati, Jhunjhunu |
| 19 | Ginnidevi Satyanarayan Sekhsaria Girls P.G. College, Chirawa, Jhunjhunu |
| 20 | Global P.G. College, Sultana, Tehsil Chirawa, Jhunjhunu |
| 21 | Golden Balika Mahavidyalaya, V.P.O.-Jabasar, Jhunjhunu |
| 22 | Goswami Tulsidas P.G. College, Udaipurwati, Jhunjhunu |
| 23 | Govt. College, Gudha, Jhunjhunu |
| 24 | Govt. College,Nawalgarh, Jhunjhunu |
| 25 | Gramin Balika P.G. Mahavidyalaya, V.P.O.-Gudha Gourji, Jhunjhunu |
| 26 | Gramothan J.P. College, Chirawa Jhunjhunu By Pass Road, Mandrella, Jhunjhunu |
| 27 | Gyan Kunj College, Ladunda, ViaPilani, Jhunjhunu |
| 28 | Gyan Sindhu Girls College, Ward No. 24, Purana Verma Takies, Chirawa, Jhunjhunu |
| 29 | Gyan Vihar College, Behind Tehsil Nawalgarh, Jhunjhunu |
| 30 | Gyanodaya Mahavidyalaya, Ward No.-13, Bissau, Jhunjhunu |
| 31 | Indian College, Hansalsar (OldName "Gurukripa Mahavidayalya"), Via.-Baragaon, Tehsil-Udaipurwati, Jhunjhunu |
| 32 | ndian P.G. College, Buhana, Jhunjhunu |
| 33 | Indira Gandhi Balika Niketan Girls P.G. College, Ardawata, Jhunjhunu |
| 34 | J.B. Shah Girls P.G. College, Mandawa Road, Jhunjhunu |
| 35 | J.M. Kanya Mahavidyalaya, V.P.O.-Buhana, Jhunjhunu |
| 36 | Jhunjhunu Icon College, Maan Nagar, Jhunjhunu |
| 37 | K.K.M.S. College,(Old nameIndian College) V.P.O.-Barau, ViaChirawa, Jhunjhunu |
| 38 | K.S. Bhaskar College, V.P.O.- Peepli, TehsilChirawa, Via.- Pilani, Jhunjhunu |
| 39 | Kanoria College, Mukundgarh, Jhunjhunu |
| 40 | Kothari Mahila Mahavidyalaya, Mandrella, TehChirawa, Jhunjhunu |
| 41 | Kuldeepak Mahavidyalaya, V.P.O.-Shimla, Tehsil-Khetri, Jhunjhunu |
| 42 | Laxmi Mahila Mahavidyalaya, Ismilpur Pichanwa, Tehsil Chirawa, Jhunjhunu |
| 43 | M.K. Saboo P.G. College of Commerce, Rajgarh Road, Pilani, Jhunjhunu |
| 44 | Maharani Balika Mahvidyalaya, Ghasiram ka Bass (Rampura), TehMalsisar, Jhunjhunu |
| 45 | Maharishi Dayananad Balika Vigyan Mahavidyalaya, Mandawa Road, Jhunjhunu |
| 46 | Mandawa College, Opposite to Mandawa Police Station, Mandawa, Jhunjhunu |
| 47 | Mata Keshri Devi Mahila Mahavidyalaya, Khetri, Jhunjhunu |
| 48 | Mrs. Helena Kaushik Women's P.G.College, V.P.O.-Malsisar, Jhunjhunu |
| 49 | Narayani Devi Girls College Sultana Vpo- Sultana Near Bypass Road, Jjn. |
| 50 | Naresh Kanya Mahavidyalaya, Chirawa By Pass Road, Singhana, Jhunjhunu |
| 51 | New Eden Mahila Mahavidyalaya, Choudahary Colony, Singhana, Jhunjhunu |
| 52 | New Indian Mahila Mahavidyalaya, Nawalgarh, jhunjhunu |
| 53 | New Rajasthan Balika P.G. Mahavidyalaya, Ward No. 5, Ganpati Nagar, Angasar Road, Jhunjhunu |
| 54 | New Rajasthan P.G.College, V.P.O.-Gadakhera, Tehsil- Buhana, Jhunjhunu |
| 55 | Poonam Girls College, Ward No. 4, Mandawa, Jhunjhunu |
| 56 | R.K.J.K. Barasia P.G. College, Ward No. 3, V.P.O.- Surajgarh, Jhunjhunu |
| 57 | Saint Zaviour College, Near Mahaveer Dal, Ward No. 3, Shrimadhopur, Sikar |
| 58 | Sanju College, Ward No. 1, Losal, Sikar |
| 59 | Sankalp College, N.H.52, Palsana (Sikar) Raj. |
| 60 | Sanskar Balika Mahavidyalaya, Jeen Mata Bye Pass, Danta, Tehsil Dantaramgarh, Sikar |
| 61 | Sanskar Balika P.G. College, Govati Road, Palsana, Sikar |
| 62 | Saraswati Mahila Mahavidyalaya, Dandhela Road, Patan, Sikar |
| 63 | Sardar Patel College, Near Mahaveer Dal, Ward No. 8, Shrimadhopur, Sikar |
| 64 | Sardar Patel P.G. College, Dhod Road, Losal, Sikar |
| 65 | Saroj Memorial Mahavidyalaya, Sirohi Nadi, Neem Ka Thana, Sikar |
| 66 | Sarvagya Mahavidhyalya Gokulpura Jaipur Bikaner Bypass Road Gokulpura (Sikar) |
| 67 | Savitri Bai Phule Mahila Mahavidyalaya, Near RTO Office, Jhunjhunu By Pass Road, Radha krishanpura, Sikar |
| 68 | Seth G.R. Chamaria P.G. College, Fatehpur Shekhawati, Sikar |
| 69 | Seth R.N. Ruia Govt. College, Ramgarh Shekhawati, Sikar |
| 70 | Seth Ram Kishan Dhanuka Girls College, Fatehpur Shekhawati |
| 71 | Shekhawati College, Opp. Shiv Mandir Cinema, Fatehpur Road, Sikar |
| 72 | Shekhawati Gramin College, V.P.O.-Bay, Tehsil-Danta Ramgarh, Sikar |
| 73 | Shekhawati Institute, Jaipur Road, SIkar |
| 74 | Shekhawati Mahavidyalaya, Behind Police Station, Ward No. 24, Losal, Sikar |
| 75 | Shekhawati P.G. Mahavidyalaya, By Pass Road, Kanwat, Sikar |
| 76 | Shree Balaji Mahavi -dyalaya, Divarala Road, Ajeetgarh, Sikar |
| 77 | Shree Ram College, Khandela Bazar, Shrimadhopur, Sikar |
| 78 | Shri Arjunram Mahavidyalaya, Laxman Road, Sikar |
| 79 | Shri Balaji College, Nawalgarh Road, Sikar |
| 80 | Shri Bhagwan Das Todi P.G. College, Lachhmangarh, Sikar, |
| 81 | Shri Ganesh Mahavidyalaya, Shahpura, Via.-Shiot Bari, Sikar, |
| 82 | Shri Jeevan Mahavidyalaya, Near Nawalgarh Railway Line, Choudhary Charan Singh Nagar, Sikar |
| 83 | Shri Krishna Girls College, By Pass Road, Kanwat, Sikar |
| 84 | Shri Krishna Satsang Balika Mahavidyalaya, Near Ghanta Ghar, Naya Shahar, Sikar |
| 85 | Shri Lal Bahadur Shastri Mahila Mahavidyalaya, Ajeetgarh, Sikar |
| 86 | Shri Lal Bahadur Shastri P.G. Girls College, Srimadhopur, Sikar |
| 87 | Shri Raghunath Balika Mahavidyalaya, Mukundgarh, Road, Near Railway Station, Lachhmangarh, Sikar |
| 88 | Shri Raghunath Mahavidyalaya, Ward No. 2, Danta Ramgarh, Sikar |
| 89 | Shri Shankar Mahila Mahavidyalay a Vp- Divrala Th.-Shrimadhopur, Disst. Sikar |
| 90 | Shri Shastri Kanya Mahavidyalaya,, V.P.O.-Kudan, Sikar, |
| 91 | Shri Shyam Kanya Mahavidyalaya, Hanspur, ViaShrimadhopur, Sikar |
| 92 | Shri Taijal Shikshan Sansthan Girls College, Bhaironji Mode, Reengus, Sikar |
| 93 | Shri Vinayak College, Choukri Road, Chala, TehsilNeem Ka Thana, Sikar |
| 94 | Siddhi Vinayak College Mundru, Srimadhopur, Sikar |
| 95 | Smt. Asha Devi P.G. College, Patan, Tehsil-Neem Ka Thana, Sikar |
| 96 | Smt. Parmeshwari Devi Dhanraj Khaitan Balika Mahavidyalaya, Railway Station Road, Ramgarh Shekhawati, Sikar |
| 97 | Smt. Ram Pyari Devi Mahila Mahavidyalaya, Nayabas, Tehsil Neem Ka Thana, Sikar |
| 98 | Subhash Vidya Mandir College, V.P.O.-Sewad Bari, Via.-Fagalwa, Sikar |
| 99 | Swami Keshwanand College of Arts, Science & Commerce, Kirdoli Road, N.H.-11, Bhadhader, Sikar |
| 100 | Tagore Balika Mahavidyalaya, Khandela, Sikar |
| 101 | Tagore Balika P.G. Mahavidyalaya, Ajeetgarh, Tehsil Shrimadhopur, Sikar |
| 102 | Tagore P.G. College, Danta Ramgarh, Sikar |
| 103 | Tagore P.G. Mahavidyalaya, Bhairon Ji Mode, Reengus, Sikar, |
| 104 | Tomar Mahavidyalaya, V.P.- Hasampur, Tehsil Neem Ka Thana, Sikar |
| 105 | Trilok Singh Mahavidyalaya, 444- 445, Comrade Trilok Singh Nagar, NH-11, Sikar Road, Laxmangarh, Sikar |
| 106 | Vedanta P.G. Girls College, Opp. Nagar Palika, P.O.- Reengus, Sikar |
| 107 | Vikas Mahila Mahavidyalaya, Raipura Jagir, Neem Ka Thana, Sikar |
| 108 | Vinayak College, Vinayak Vihar, Sikar Road, Laxmangarh, Sikar |
| 109 | Vinayak Girls College, Near Do Jaanti Balaji, Churu Road, Fatehpur Shekhawati, Sikar |
| 110 | Vinayak P.G. College, Vivek Colony, Nawalgarh Road, Sikar |
| 111 | Vishwa Bharti P.G. College, Near Circuit House, Jaipur Road, N.H.-11, Sikar |
| 112 | Vivek Bharti Mahavidyalaya, Bhilunda, Via-Shiot Bari, Sikar |
| 113 | Vivekanand College, Khoor, Tehsil-Danta Ramgarh, Sikar |
| 114 | Vivekanand Degree College, Po-Bajaj Gram Sanwali Sikar |
| 115 | Yaduvanshi Mahila Mahavidhalaya, VPO- Rajpura, Patan, Sikar |