Periyar University Exam Result 2023
Onlineresultportal.com | Updated: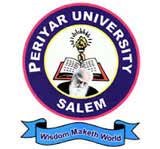 The Government of Tamil Nadu has established a State University called Periyar University at Salem in 1997. This University is named after social reformer Thanthai Periyar E. V. Ramasamy. The University has the responsibility to take care of the academic pursuits of local people especially for the peoples of Salem, Namakkal, Dharmapuri and Krishnagir districts. The University caters to the academic needs of these areas the jurisdiction of these districts fell under the roof of Periyar University. This University got its recognition status from the University Grants Commission (UGC) and furthermore it is currently accredited "A" Grade by the National Assessment and Accreditation Council (NAAC).
Periyar University offers higher education at 3 levels: Departments of Study and Research, Periyar Institute of Distance Education (PRIDE) and the affiliated colleges. Recently, all the courses have introduced the Choice Based Credit System (CBCS) which is followed by the various departments of study. There are total 26 departments of study providing higher education from graduation level till post graduation and research levels. These are listed under the schools of Biosciences, Mathematics, Business Studies, Physical Sciences, Languages, Professional Studies, Social Sciences and Life Sciences. Quality education by the experienced faculty members are provided to its students and scholars. Moreover the distance education of Periyar University has almost 400 study centers throughout India and abroad.
If the concerned students want more information about Periyar University regarding admission, courses, fees structures, admit cards and other important updates and notifications, then they can visit its official website- www.periyaruniversity.ac.in. Additionally, www.onlineresultportal.com also provides updated information about Indian Universities and keeps updating the students about results of various examinations.

Details of Periyar University
Name
Periyar University
Affiliations
UGC, NAAC
Contact No
0427-2345766 , 2345520.
Website
www.periyaruniversity.ac.in
Founded
17 September 1997
Email
info@periyaruniversity.ac.in
Address
Periyar Palkalai Nagar, Salem, Tamil Nadu 636011
State
Tamil Nadu
Country
India
List of courses offered by Periyar University

Degree
Duration
Arts Courses
B.A. (English)
3 Years
B.A. (History)
3 Years
B.A. (Hons.) (Economics)
3 Years
B.A. (Political Science)
3 Years
B.A. (Tamil)
3 Years
B.Ed.
1 Years
B.P.Ed.
3 Years
Bachelor of Library and Information Science (B.Lib.I.Sc.)
1 Years
M.A. (Economics)
2 Years
M.A. (English)
2 Years
M.A. (History)
2 Years
M.A. (Public Administration)
2 Years
M.A. (Social Work)
2 Years
M.A. (Sociology)
2 Years
M.A. (Tamil)
2 Years
M.Ed.
2 Years
M.Lib.Sc.
2 Years
M.Phil. (Economics)
2 Years
M.Phil. (Education)
1 Years
M.Phil. (English)
2 Years
M.Phil. (History)
2 Years
M.Phil. (Mathematics)
2 Years
M.Phil. (Sericulture)
1 Years
M.Phil. (Statistics)
2 Years
M.Phil. (Tamil)
2 Years
Engineering Courses
M.Sc. (Software Engineering)
2 Years
Diploma in Textile Technology
3 Years
Medical Courses
B.Sc. (Nutrition & Dietetics)
3 Years
Science Courses
B.Sc. (Bio-Informatics) (Integrated)
3 Years
B.Sc. (Biochemistry)
3 Years
B.Sc. (Biotechnology)
3 Years
B.Sc. (Botany)
3 Years
B.Sc. (Chemistry)
3 Years
B.Sc. (Electronics & Communication)
3 Years
B.Sc. (Geography)
3 Years
B.Sc. (Home Science)
3 Years
B.Sc. (Hons.) (Computer Science)
3 Years
B.Sc. (Mathematics)
3 Years
B.Sc. (Mathematics, Computers, Statistics)
3 Years
B.Sc. (Microbiology)
3 Years
B.Sc. (Physical Sciences)
3 Years
B.Sc. (Physics)
3 Years
B.Sc. (Statistics)
3 Years
B.Sc. (Zoology and Animal Biotechnology)
3 Years
B.Sc. (Zoology)
3 Years
M.Phil. (Biochemistry)
2 Years
M.Phil. (Biotechnology)
1 Years
M.Phil. (Botany)
1 Years
M.Phil. (Chemistry)
1 Years
M.Phil. (Geology)
2 Years
M.Phil. (Microbiology)
2 Years
M.Phil. (Zoology)
1 Years
M.Sc. (Analytical Chemistry)
2 Years
M.Sc. (Applied Electronics)
2 Years
M.Sc. (Applied Geology)
2 Years
M.Sc. (Applied Mathematics)
2 Years
M.Sc. (Applied Microbiology)
2 Years
M.Sc. (Biochemistry)
2 Years
M.Sc. (Bioinformatics)
2 Years
M.Sc. (Biomedical Science)
2 Years
M.Sc. (Biotechnology)
2 Years
M.Sc. (Botany)
2 Years
M.Sc. (Chemistry)
2 Years
M.Sc. (Computer Science)
2 Years
M.Sc. (Electronics & Communication)
2 Years
M.Sc. (Food Processing Technology)
2 Years
M.Sc. (Food Science and Nutrition)
2 Years
M.Sc. (Industrial Microbiology)
2 Years
M.Sc. (Mathematics)
2 Years
M.Sc. (Maths & Computer Applications)
2 Years
M.Sc. (Nutrition and Dietetics)
2 Years
M.Sc. (Organic Chemistry)
2 Years
M.Sc. (Physics)
2 Years
M.Sc. (Statistics)
2 Years
M.Sc. (Zoology)
2 Years
Management Courses
B.B.A.
3 Years
B.B.A. (Computer Applications)
3 Years
B.Sc. (Catering Science and Hotel Management)
3 Years
M.B.A.
2 Years
M.B.A. (Executive)
2 Years
M.B.A. (International Business)
2 Years
M.Sc. (Information Tech. and Management)
2 Years
Mass Communications Courses
B.Sc. (Visual Communication) (Electronic Media)
3 Years
M.A. (Mass Communication & Journalism)
2 Years
M.Sc. (Communication)
2 Years
Commerce Courses
B.Com.
3 Years
B.Com. (Computer Applications)
3 Years
B.Com. (Corporate Accountancy)
3 Years
B.Com. (Corporate Secretaryship)
3 Years
B.Com. (Electronic Education)
3 Years
M.Com.
2 Years
M.Com. (Computer Applications)
2 Years
M.Com. (Corporate Accountancy)
2 Years
M.Phil. (Commerce)
1 Years
Information Technology Courses
B.C.A.
3 Years
B.Sc. (Information Technology)
3 Years
M.C.A.
3 Years
M.Sc. (E-Commerce & Web Design)
2 Years
M.Sc. (Information Technology)
2 Years
Diploma in Computer Hardware and Networking (DCHN)
1 Years
Vocational Courses Courses
Diploma in Hotel and Catering Management (DHCM)
1 Years
Fashion and Interior Designing Courses
B.Sc. (Textiles and Apparel Designing)
3 Years
M.Sc. (Textiles and Fashion Apparel)
2 Years
Diploma in Fashion Design
1 Years
Diploma in Interior Design
1 Years
List of colleges affiliated with Periyar University

City
College Name
Bangalore Rural
1
Sri Saradha B.Ed. College
Chennai
1
Bridge Academy for Media Studies - Chennai
Dharmapuri
1
Christ College of Education
2
E.R.K. Arts and Science College
3
Harur Muthu Arts and Science College for Women
4
Kamadhenu College of Arts and Science
5
P.M.P. College of Arts and Science
6
Pachamuthu Arts and Science Women's College
7
Pachamuthu College of Education
8
Pee Gee College of Arts and Science
9
Sapthagiri college of Education
10
Vishwa Bharathi Arts and Science college
Erode
1
Sri Kandhan College of Arts and Science
Ghaziabad
1
DPA Institute of Higher Education
Kolkata
1
Attitude Management Academy - AMA
Krishnagiri
1
M.G.R. College of Arts and Science
Namakkal
1
Anbu Arts and Science College
2
Arignar Anna Government Arts College
3
J.K.K.Nattraja College of Arts and Science
4
Kandaswami Kandar's College
5
Kings College of Arts and Science for Women
6
KS Rangasamy College of Arts and Science (Autonomous)
7
Mahendra Arts and Science College
8
Muthayammal College of Arts and Science
9
Pavai Arts and Science College for Women
10
PGP College of Arts and Science
11
S.S.M. College of Arts and Science
12
Sengunthar Arts and Science College
13
Thiruvalluvar Government Arts College
14
Trinity College for Women
15
Vidyaa Vikas College of Education
16
Vivekanandha College for Women
17
Vivekanandha College of Arts and Sciences for Women
New Delhi
1
M.S. Institute of Education
Salem
1
A.A. Government Arts College
2
AVS College of Arts and Science
3
Gem Gates Arts and Science College
4
Government Arts College - Autonomous
5
HTP College of Education
6
Jairam Arts and Science College
7
Minerva College of Arts and Science
8
Paavendhar College of Arts and Science
9
Rainbow B.Ed College
10
Salem Christian College of Arts and Science
11
Salem Sowdeswari College - SSC
12
Shri Sakthikailassh Women's College
13
Sri Ganesh College
14
Sri Sarada College for Women
15
Sri Saradha Institute for Teacher Training
16
The Kavery College of Education
17
Vedha Vikas College of Education
18
Vysya College