Rajasthan Technical University Exam Result 2023
Onlineresultportal.com | Updated: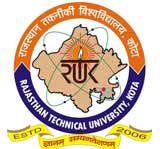 Technical education helps a State in its technical development and enhances technological background around the place. So due to this factor technical education is very mandatory around all states of a country. India is also not far behind in offering technical education to its young citizens and there are many technical universities established in various states of India which offers quality technical education. In Rajasthan, the technical education is imparted by the Rajasthan Technical University which is located in Kota. This University was established in 2006 and earlier it was known as Kota Engineering College. The State Government of Rajasthan and University Grants Commission (UGC) recognized and approved this seat of higher learning in technical field.
Around 2.5 lac students are studying in various institutes of Rajasthan Technical University which includes 130 Engineering Colleges, 4 Architecture Colleges, 41 MCA Colleges, 95 MBA Colleges, 44 M.Tech Colleges and 3 Hotel Management and Catering Institute. Here the University offers bachelors and master degree courses in disciplines of Technology, Business Administration, Computer Applications and Hotel Management & Catering Technology. The lush green 385 acres campus of the University consists of high-end facilities like hostels, dispensary, banks, post office, cafeteria, sport room, academic and administrative blocks which is enough to capture the students with rapt attention.
Every year thousands of students are admitted here on basis of the marks scored at Joint Entrance Examination. One can access the official website of Rajasthan Technical University – www.rtu.ac.in to get information about courses, fees structures, admission notification, admit cards and other related information. Moreover, www.onlineresultportal.com is also a useful educational website to help the students with information about all Universities of India and results of various examinations.
Rajasthan Technical University Result Out at www.rtu.ac.in
The Rajasthan Technical University (RTU) makes available the provisional examination results of its affiliated courses on its official web portal, https://www.rtu.ac.in/index/. Students appearing for the RTU exams can check their respective exam results via the official website.
After the RTU exam authorities declare the examination results, your first step should be to visit the home page of the official portal. You then have to locate the "Examination" tab and select the "Results" option for the system to be directed to a new page containing a list of examination results. You have to follow by tapping the relevant result link. Enter all mandatory details if the system prompts you to do so and then your RTU exam results become viewable on the screen. Remember, taking a copy of the RTU exam result for record purposes is mandatory. Besides, you are advised to check the RTU exam results for any errors and report any discrepancies to the concerned authorities for the mandatory changes.
Latest Updates:
Latest Announcement: Click Here
Date
RTU MCA Bridge Course Exam Notification 2023
15-09-2023
B.Tech VII Sem 2023 Online Copy View Schedule Name wise
14-09-2023
RTU M.TECH II SEM RESULT 2022-23
22-08-2023
RTU CAM 2023 Tentative Seat Matrix for M Tech Admission
20-07-2023
RTU CAM 2023-24 Information Notification {Centralized Admission for M. Tech. and M. Arch}
14-07-2023
RTU Online examination forms for B.Tech, BHMCT & B.Arch IV & VI Sem (Main/Back/Mercy Back) 2022-23
28-06-2023
RTU Online Form for Even Sem (Main/Back/Mercy Back) Exam 2022-23
11-05-2023
RTU Academic Calendar for Even Semester Session 2022-23
28-03-2023
RTU M.Arch 4th Sem Exam Result 2022-23
21-03-2023
RTU B.ARCH 9th Sem Main/ Back Result 2022 (After Reval)
20-03-2023
RTU B.Arch 7th Sem Main/ Back Result 2022 (After Reval)
17-03-2023
RTU B.Arch 6th Sem Result 2022 (After Reval)
16-03-2023
RTU MBA I SEM MAIN/BACK RESULT 2022 (After Reval) (Grading)
16-03-2023
RTU B.TECH IV SEM RESULT 2022 (MAIN/ BACK/ REBACK/ OLD BACK)
16-03-2023

Details of Rajasthan Technical University
Full Name
Rajasthan Technical University (RTU)
Affiliations
UGC
Contact No
0744-2473003
Website
http://www.rtu.ac.in
Founded
2006
Email
http://www.rtu.ac.in
Address
Kota, Rajasthan, India
State
Rajasthan
Country
India
List of courses offered by Rajasthan Technical University

| S.N. | Course Name |
| --- | --- |
| | Bachelor of Technology (B.Tech) |
| 1 | Aeronautical Engineering |
| 2 | Automobile Engineering |
| 3 | Bio- Medical Engineering |
| 4 | Bio-Technology |
| 5 | Civil Engineering |
| 6 | Chemical Engineering |
| 7 | Ceramic Engineering |
| 8 | Computer Science Engineering |
| 9 | Electronics & Communication Engineering |
| 10 | Electrical Engineering |
| 11 | Electrical & Electronics Engineering |
| 12 | Electronics Instrumentation & Control Engineering |
| 13 | Food Technology |
| 14 | Information Technology |
| 15 | Industrial Engineering |
| 16 | Mechanical Engineering |
| 17 | Petroleum Engineering |
| 18 | Production and Industrial Engineering |
| 19 | Textile Chemistry |
| 20 | Textile Engineering |
| 21 | Textile Technology |
| 22 | Applied Electronics & Instrumentation Engineering |
| 23 | Mining Engineering |
| 24 | Petrochemical Engineering |
| | Other courses |
| 1 | Bachelor of Architecture (B.Arch.) |
| 2 | Bachelor of Hotel Management & Catering Technology (BHMCT) |
| | Post Graduate courses |
| | Master of Technology (M.Tech) |
| 1 | Control & Instrumentation |
| 2 | Computer Science Engineering |
| 3 | Digital communications |
| 4 | Environmental Engineering |
| 5 | Geo-Technology Engineering |
| 6 | Industrial Management & Engineering |
| 7 | Information Technology |
| 8 | Machine Design |
| 9 | Nano-Technology |
| 10 | Production Engineering |
| 11 | Renewable Energy Technology |
| 12 | Power Systems |
| 13 | Software Engineering |
| 14 | Structural Engineering |
| 15 | Textile Technology |
| 16 | Thermal Engineering |
| 17 | Transportation Engineering |
| 18 | VLSI Design |
| 19 | Power Electronics & Electric Drives |
| | Master of Architecture (M.Arch) |
| 1 | Urban Design |
| 2 | Architectural conservation |
List of colleges affiliated with Rajasthan Technical University