Rajasthan University of Veterinary & Animal Sciences Exam Result 2023
Onlineresultportal.com | Updated: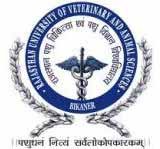 The Rajasthan University of Veterinary & Animal Sciences (RAJUVAS) is a newly established University came into existence on 13 May 2010 at Bikaner in the Indian State of Rajasthan. The University campus is located in the 200 acres property of the palatial Bijey Bhawan Palace. The University is well-equipped with sophisticated equipments and advanced facilities to execute teaching, research and extension. Every year the Rajasthan University of Veterinary & Animal Sciences produces many veterinarians in the service of animal healthcare since it is the strength of the rural economy of Rajasthan.
The University is recognized by the University Grants Commission (UGC) and is accredited by Veterinary Council of India (VCI) and Indian Council of Agricultural Research (ICAR). The University is well known in providing undergraduate, postgraduate and diploma courses in Animal Engineering and Livestock research. Various courses were conducted by the academic departments of the University which constitutes Animal Biotechnology, Animal Genetics & Breeding, Animal Nutrition and Livestock Production & Management. Moreover, there are also courses in Veterinary field which includes Anatomy & Histology, Clinical Medicine, Ethics & Jurisprudence, Gynecology & Obstetrics, Microbiology, Pathology, Parasitology, Surgery & Radiology, Animal Husbandry Extension, Biochemistry, Epidemiology & Preventive Medicine and Public Health. Moreover there are also research activities going on which are funded by UGC, DST, ICAR and many other reputed organizations.
The students studying here are provided with facilities well equipped library, excellent hostel accommodation, computer room, sports, counseling, Consultancy and Research. Moreover, for best sake of the University, there is also MOUs signed with organizations like National Meat and Poultry Processing Board, IGNOU, Ayurvet Ltd, ICAR, North Carolina University (USA) and many more on the list. Interested students can check www.rajuvas.org for more information about admission, courses, and fees, admit cards, etc. Moreover, www.onlineresultportal.com is also helpful for getting information about other Universities across India and results of various examinations.
Rajasthan University of Veterinary and Animal Sciences Result Out at rajuvas.org
The Rajasthan University of Veterinary and Animal Sciences (RAJUVAS) makes available the provisional exam results of its affiliated courses on its official web portal, https://rajuvas.org/. Students that have appeared for the RAJUVAS exams can access their respective exam results via the official website after the results are declared.
Once the RAJUVAS examiners declare the examination results, you must first go to the home page of the official portal. Next, on the main menu bar, you should locate the "Student Forum" tab and tap the "Results" tab under the "Student Activities" section. That done, the system gets directed to the "Results" page, where you are required to tap on the "Download" tab of the relevant RAJUVAS exam result link. You will then be able to view your RAJUVAS exam result on the screen. Note, taking a print copy of the RAJUVAS exam result for later reference is mandatory. Moreover, you are advised to collect the original RAJUVAS mark sheet from the respective college/ institute after a few days.

Details of Rajasthan University of Veterinary & Animal Sciences
Name
Rajasthan University of Veterinary & Animal Sciences
Affiliations
UGC
Contact No
0151 254 0021
Website
http://rajuvas.org/
Founded
1954
Email
urmila_pannu@yahoo.co.in, websiterajuvas@gmail.com
Address
Vijay Bhawan Palace Complex, Veterinary University Road, Near Deen Dayal Upadhyay Circle, Bikaner, Rajasthan 334001
State
Rajasthan
Country
India
List of courses offered by Rajasthan University of Veterinary & Animal Sciences

| S.N. | Course Name |
| --- | --- |
| M.V.Sc. (Animal Biotechnology) | 2 Years |
| M.V.Sc. (Animal Breeding & Genetics) | 2 Years |
| M.V.Sc. (Animal Nutrition) | 2 Years |
| M.V.Sc. (Epidemiology) | 2 Years |
| M.V.Sc. (Livestock Production & Management) | 2 Years |
| M.V.Sc. ((Veterinary Anatomy & Histology) | 2 Years |
| M.V.Sc. (Veterinary and Animal Husbandry Extension) | 2 Years |
| M.V.Sc. (Veterinary Biochemistry) | 2 Years |
| M.V.Sc. (Veterinary Clinical Medicine) | 2 Years |
| M.V.Sc. (Veterinary Gynaecology & Obstetrics) | 2 Years |
| M.V.Sc. (Veterinary Microbiology) | 2 Years |
| M.V.Sc. (Veterinary Parasitology) | 2 Years |
| M.V.Sc. (Veterinary Pathology) | 2 Years |
| M.V.Sc. (Veterinary Physiology) | 2 Years |
| M.V.Sc. (Veterinary Preventive Medicine) | 2 Years |
| M.V.Sc. (Veterinary Public Health) | 2 Years |
| M.V.Sc. (Veterinary Surgery and Radiology) | 2 Years |
| Ph.D. (Animal Breeding & Genetics) | 3 Years |
| Ph.D. (Animal Nutrition) | 3 Years |
| Ph.D. (Ethics and Jurisprudence) | 3 Years |
| Ph.D. (Livestock Production and Management) | 3 Years |
| Ph.D. (Veterinary Anatomy & Histology) | 3 Years |
| Ph.D. (Veterinary Biochemistry) | 3 Years |
| Ph.D. (Veterinary Gynaecology and Obstetrics) | 3 Years |
| Ph.D. (Veterinary Microbiology) | 3 Years |
| Ph.D. (Veterinary Parasitology) | 3 Years |
| Ph.D. (Veterinary Pathology) | 3 Years |
| Ph.D. (Veterinary Physiology) | 3 Years |
| Ph.D. (Veterinary Surgery & Radiology) | 3 Years |
| B.V.Sc. & A.H. | 5 Years |
| Ph.D. (Animal Biotechnology) | 3 Years |
| Ph.D. (Clinical Veterinary Medicine) | 3 Years |
| Diploma in Animal Husbandry | 1 Years |
List of colleges affiliated with Rajasthan University of Veterinary & Animal Sciences

| S.N. | College Name |
| --- | --- |
| 1 | Apollo College of Veterinary Medicine, Jaipur |
| 2 | Mahatma Jytiba Fule College of Veterinary & Animal Sciences (CV06), Jaipur |
| 3 | Arawali Veterinary College (CV08) Sikar, Jaipur |