About Ranchi University
Onlineresultportal.com | Updated: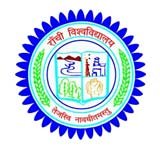 Ranchi University is one of the oldest Universities in the country which was established in 1960 at Ranchi- the capital city of Jharkhand. This educational institution is better known as RU and is a teaching cum affiliating University. Ranchi University provides affiliation to those colleges which falls under its jurisdiction of Ranchi, Gumla, Khunti, Simdega and Lohardaga. This State University has gained immense recognition from the University Grants Commission (UGC), Association of Indian Universities (AIU) and 'A' Grade from the National Assessment and Accreditation Council (NAAC). In the current scenario the University has 23 post graduate departments, 15 constituent colleges, and 49 affiliated colleges, imparting teaching in medicine, psychiatry, law, engineering, business management, education, and general courses. Besides these institutions there is UGC sponsored Academic Staff College.
Ranchi University offers various undergraduate and postgraduate courses in various durations with varied fees structures. It offers various courses in Humanities & Social Sciences, Commerce, Engineering, Education, Law, Medicine and Science. The faculty in University's post graduate departments and colleges are working on various projects sponsored by UGC, DBT and other prestigious organizations. Moreover the Council of Scientific and Industrial Research (CSIR) has chosen the University department of Geology under its FIST programme. This University also provides modern facilities for its students which includes automated library with a capacity of 2 lakh books and 4000 journals, sports, coaching classes for NET/SET, hostels, scholarships, INFLIBNET, etc. The students of Ranchi University also get placements every year from TCS, HDFC Bank, ICICI Prudential Life, Infosys, SAP Labs, etc.
Students seeking admission at Ranchi can apply through both online and offline medium and selection is based strictly upon merit. Those who wish to apply can download the application form from the official website of university- www.ranchiuniversity.ac.in and also get information about courses, fees structures, notifications and important dates. Plus, www.onlineresultportal.com also helps the students to know about various Indian Universities, course, admit cards, results and much more related to education field.
Latest Updates:
29-11-2020
29-11-2020
29-11-2020
29-11-2020
16-11-2020

Details of Ranchi University
Full Name
Ranchi University
Affiliations
UGC
Contact No
0651-2205177
Website
www.ranchiuniversity.ac.in
Founded
12 July 1960
Email
info@ranchiuniversity.ac.in
Address
Ranchi, Jharkhand
State
Jharkhand
Country
India
List of courses offered by Ranchi University

Degree
Duration
Arts Courses
B.A. (Hons.) (Mundari)
3 Years
B.A. (Hons.) Oriya
3 Years
B.A. (Hons.) (Anthropology)
3 Years
B.A. (Hons.) (Geography)
3 Years
B.A. (Hons.) (Home Science)
3 Years
B.A. (Hons.) (Santali)
3 Years
B.A. (Hons.) (Bengali)
3 Years
B.A. (Hons.) (Economics)
3 Years
B.A. (Hons.) (English)
3 Years
B.A. (Hons) (Hindi)
3 Years
B.A. (Hons) (History)
3 Years
B.A. (Hons) (Mathematics)
3 Years
B.A. (Hons) (Philosophy)
3 Years
B.A. (Hons) (Political Science)
3 Years
B.A. (Hons) (Psychology)
3 Years
B.A. (Hons) (Sanskrit)
3 Years
B.A. (Hons) (Sociology)
3 Years
B.A. (Hons) (Urdu)
3 Years
B.A. (Travel and Tourism Management)
3 Years
B.A. (Hons) (Music)
3 Years
B.Ed.
1 Years
B.P.Ed.
3 Years
M.A. (Anthropology)
2 Years
M.A. (Bengali)
2 Years
M.A. (Economics)
2 Years
M.A. (English)
2 Years
M.A. (Geography)
2 Years
M.A. (Hindi)
2 Years
M.A. (History)
2 Years
M.A. (Home Science)
2 Years
M.A. (Philosophy)
2 Years
M.A. (Political Science)
2 Years
M.A. (Psychology)
2 Years
M.A. (Sanskrit)
2 Years
M.A. (Santali)
2 Years
M.A. (Sociology)
2 Years
M.A. (Urdu)
2 Years
Engineering Courses
B.E. (Biotechnology)
4 Years
Medical Courses
B.Pharm
4 Years
B.Sc. (Nursing)
4 Years
M.B.B.S.
5½ Years
Science Courses
B.Sc. (Biotechnology)
3 Years
B.Sc. (Botany)
3 Years
B.Sc. (Chemistry)
3 Years
B.Sc. (Computer Applications)
3 Years
B.Sc. (Computer Maintenance & Electronics)
3 Years
B.Sc. (Environmental Science & water Management)
3 Years
B.Sc. (Food Processing Technology)
3 Years
B.Sc. (Geology)
3 Years
B.Sc. (Mathematics)
3 Years
B.Sc. (Physics)
3 Years
B.Sc. (Statistics)
3 Years
B.Sc. (Zoology)
3 Years
M.Sc. (Botany)
2 Years
M.Sc. (Chemistry)
2 Years
M.Sc. (Computer Science)
2 Years
M.Sc. (Electronics & Communication)
2 Years
M.Sc. (Electronics)
2 Years
M.Sc. (Geology)
2 Years
M.Sc. (Mass Communication & Journalism)
2 Years
M.Sc. (Mathematics)
2 Years
M.Sc. (Physics)
2 Years
M.Sc. (Zoology)
2 Years
Management Courses
B.B.A.
3 Years
M.A. (Rural Development)
2 Years
M.B.A.
2 Years
Mass Communications Courses
B.Sc. (Mass Communication and Videography)
3 Years
Commerce Courses
B.Com.
3 Years
M.Com.
2 Years
Agriculture Science and Technology Courses
B.Sc. (Sericulture)
3 Years
Information Technology Courses
B.Sc. (Information Technology)
3 Years
B.Tech. (Information Technology)
4 Years
M.C.A.
3 Years
Law Courses
L.L.B.
3 Years
L.L.M.
2 Years
Fashion and Interior Designing Courses
B.Sc. (Fashion Design)
3 Years
List of colleges affiliated with Ranchi University

City
College Name
Garhwa
1
Devki Mahavir Homeopathic College and Hospital
2
Vananchal Dental College and Hospital
Gumla
1
PVAE College
Jamshedpur
1
Loyola College of Education
Lohardaga
1
B.S. College
2
Ursuline Women's Teachers' Training College - UWTTC
Pashchim Singhbhum
1
Jawahar Lal Nehru College
Ranchi
1
Aditya Prakash Jalan Teacher's Training College
2
Alice Institute of Technology
3
Bethesda Women Teachers Training B.Ed College
4
Birsa College
5
Cambridge Institute of Technology - CIT
6
Central Institute of Psychiatry - CIP
7
Chotanagpur Law College - CLC
8
Doranda College
9
Fatma Teachers Training College - FTTC
10
Gossner College
11
Jagannath Nagar College
12
JD National B.Ed. College
13
Kartik Oraon Degree College
14
Manrakhan Mahto B.Ed. College
15
Marwari College
16
Maulana Azad College
17
National Institute of Foundry and Forge Technology - NIFFT
18
Nilai Institute of Management
19
Nilai Institute of Technology
20
Nirmala College
21
Panch Pargana Kisan College
22
Rajendra Institute of Medical Sciences - RIMS
23
Ram Lakhan Singh Yadav College
24
Ranchi College
25
Ranchi Institute of Neuro-Psychiatry and Allied Sciences - RINPAS
26
Ranchi Women's College
27
Ranchi Women's College
28
RTC B.Ed. College
29
RTC Institute of Technology
30
Sanghamitra Teacher Training College
31
Sanjay Gandhi Memorial College
32
Simdega College
33
SN Sinha Institute of Business Management
34
St. Xavier's College
35
Suraj Singh Memorial College
36
Uday Memorial B.Ed. College
37
Yogoda Satsanga Mahavidyalaya