Rani Durgavati Vishwavidyalaya Exam Result 2022
Onlineresultportal.com | Updated: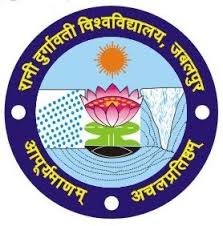 Rani Durgavati Vishwavidyalaya is also known as the University of Jabalpur is a Public University is named after the Queen Rani Durgavati. This University has been recognized and approved by the University Grants Commission (UGC) and the National Assessment and Accreditation Council (NAAC) has awarded "B++" Grade upon this University. The University was established as the University of Jabalpur on 12th June 1956 and finally on 1983 it was renamed as Rani Durgavati Vishwavidyalaya. The University campus is located at Jabalpur, Madhya Pradesh and its jurisdiction is spread over at Jabalpur, Mandla, Seoni, Balaghat, Narsinghpur, Katni, Dindori and Chindwara. The scenic beauty of the University campus is remarkable and it accommodates administrative and academic block, Central Library, Computer Center, USIC, University Institute of Management, University Law Department, hostels, Health Centre, Guest House, Canteen, Staff residential quarters, post office, bank, printing press and other facilities for the students and staffs.
Around 245 colleges were affiliated by Rani Durgavati Vishwavidyalaya where undergraduate, postgraduate and doctoral courses were taught both the campus and the affiliated colleges. There various courses taught under the faculty of Arts, Education, Life Science, Law, Management, Mathematical Science, Sciences and Social Sciences. Moreover, there are also learning centres for Vocational Studies & Skill Development, Bio-Design Innovation Centre, Dr. Ambedkar Study Centre, Women Studies & Research Centre, Community College and Computer Centre. Students who were interested to get admission here can check the University's official website- www.rdunijbpin.org for details about admission, admit card, online application form, courses, fees structures and other notifications. Students can also take help from educational portals like www.onlineresultportal.com for getting details about various Universities, courses, downloading admit card, examinations and results.

Details of Rani Durgavati Vishwavidyalaya
Name
University of Jabalpur (Rani Durgavati Vishwavidyalaya)
Affiliations
UGC
Contact No
076126 00568
Website
http://www.rdunijbpin.org/1068/Home
Founded
1956
Email
rdvvcc1@rediffmail.com, cc@rdunijbpin.nic.in
Address
Saraswati Vihar, Pachpedi, Jabalpur, Madhya Pradesh 482001
State
Madhya Pradesh
Country
India
List of courses offered by Rani Durgavati Vishwavidyalaya
List of colleges affiliated with Rani Durgavati Vishwavidyalaya