Ravenshaw University Exam Result 2023
Onlineresultportal.com | Updated: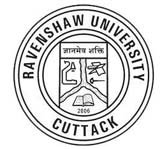 Ravenshaw University came into existence in 2006 at Cuttack in the Indian State of Orissa. This State University was earlier founded as the Ravenshaw College in 1868 by Thomas Edward Ravenshaw- the presiding Commissioner of Orissa division in British India. This is the reason behind the mane of the University. This is the one of the premium and oldest educational institutions of India which is recognized by the University Grants Commission (UGC) and "A" Grade by the National Assessment and Accreditation Council (NAAC). The University has nine degree-granting schools which offers undergraduate programs in science, arts, commerce, management, computer science, electronics and telecommunication, hospitality and hotel management and information technology. Moreover, postgraduate programs in science, arts, commerce, management (MBA) and computer application (MCA) and master of philosophy and doctoral programs are also offered in areas of science, arts and commerce. Admission is given to the prospective students on the basis of merit and clearing of entrance examinations which is conducted by the University every year.
The University has an excellent team of faculty members which are posted in various departments under Schools of: Languages, Regional Studies & Earth Sciences, Social Sciences, Life Sciences, Mathematical Sciences, Information & Computer Sciences, Physical Sciences, Commerce and Management Studies. Ravenshaw University is a haven for students who want to gain good education. For the sake of its students the University has arranged separate hostels for the girls and boys, Bank, Post-Office, ATMs, Sports Complex, Students Information Bureau, etc. For more information students can check the University website- www.ravenshawuniversity.ac.in regarding information about admission, results, courses, fees, announcements and many more details. Moreover, www.onlineresultportal.com is also helpful to get information about Universities, colleges, courses, admit cards, results, etc.
Ravenshaw University Exam Result 2023 at ravenshawuniversity.ac.in
Ravenshaw University (RU) releases the provisional exam results of its academic programs on its official web portal, https://ravenshawuniversity.ac.in/. Students appearing for the RU exams are advised to browse the official website to access their respective examination results.
Once the RU examiners declare the exam results, candidates must go to the home page of the official portal. Next, you should locate and tap the "Student Login" tab for the login page to come up on the screen. In the subsequent step, you are required to fill in the login credentials in the relevant boxes. When done, your RU exam results are visible on the screen. Note, taking a copy of your RU examination result is mandatory. Additionally, make sure to college your RU original marksheet from the stipulated college.
Students also have the option of applying for revaluation of their RU exam results before the prescribed timeline. Also, if you notice any errors in your RU exam result, contact the RU exam authorities for the necessary corrections.
Details of Ravenshaw University
Name
Ravenshaw University
Affiliations
UGC
Contact No
073280 83159
Website
www.ravenshawuniversity.ac.in
Founded
January 1868
Email
vc@ravenshawuniversity.ac.in
Address
College Square to Cuttack Railway Station Road, Cuttack, Odisha 753003
State
Odisha
Country
India
List of courses offered by Ravenshaw University

Degree
Duration
Arts Courses
B.A. (Bengali)
2 Years
B.A. (Education)
3 Years
B.A. (English)
3 Years
B.A. (Geography)
3 Years
B.A. (Hindi)
3 Years
B.A. (History)
3 Years
B.A. (Hons.) (Economics)
3 Years
B.A. (Mathematics)
3 Years
B.A. (Oriya)
3 Years
B.A. (Philosophy)
3 Years
B.A. (Political Science)
3 Years
B.A. (Sanskrit)
3 Years
B.A. (Sociology)
3 Years
B.A. (Urdu)
3 Years
M.A. (Economics)
2 Years
M.A. (Education)
2 Years
M.A. (English)
2 Years
M.A. (Hindi)
2 Years
M.A. (History)
2 Years
M.A. (Mathematics)
2 Years
M.A. (Oriya)
2 Years
M.A. (Philosophy)
2 Years
M.A. (Political Science)
2 Years
M.A. (Psychology)
2 Years
M.A. (Sociology)
2 Years
M.Phil. (Economics)
2 Years
M.Phil. (English)
2 Years
M.Phil. (Geography)
2 Years
M.Phil. (Hindi)
2 Years
M.Phil. (History)
2 Years
M.Phil. (Mathematics)
2 Years
M.Phil. (Political Science)
2 Years
Science Courses
B.Sc. (Botany)
3 Years
B.Sc. (Chemistry)
3 Years
B.Sc. (Hons) (Geology)
3 Years
B.Sc. (Information Science and Telecommunication)
2 Years
B.Sc. (Physics)
3 Years
B.Sc. (Statistics)
3 Years
B.Sc. (Zoology)
3 Years
M.Phil. (Botany)
1 Years
M.Phil. (Chemistry)
1 Years
M.Phil. (Physics)
2 Years
M.Phil. (Zoology)
1 Years
M.Sc. (Biotechnology)
2 Years
M.Sc. (Botany)
2 Years
M.Sc. (Chemistry)
2 Years
M.Sc. (Computer Science)
2 Years
M.Sc. (Electronics and Telecommunication)
2 Years
M.Sc. (Physics)
2 Years
M.Sc. (Zoology)
2 Years
Management Courses
B.B.A.
3 Years
M.A. (Rural Development)
2 Years
M.Sc. (Information Tech. and Management)
2 Years
Mass Communications Courses
M.A. (Mass Communication & Journalism)
2 Years
Commerce Courses
B.Com.
3 Years
M.Com.
2 Years
M.Phil. (Commerce)
1 Years
Information Technology Courses
M.C.A.
3 Years
Post Graduate Diploma in Computer Applications (P.G.D.C.A.)
1 Years
List of colleges affiliated with Ravenshaw University