Sri Dev Suman Uttarakhand University Exam Result 2023
Onlineresultportal.com | Updated: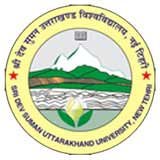 Sri Dev Suman Uttarakhand University is a State University located in the Indian State of Uttarakhand at Badshahithaul in Tehri Garhwal district. This University was established in 19 October 2012 by the State Government of Uttarakhand. The establishment of this University has lightened the hopes and aspirations of the people of Garhwal region since the mode of development of the region through the instrument of higher education. The University is nestled in the lap of Himalayan ranges in the Tehri Garhwal and has juridiction over seven districts namely Chamoli, Raudraprayag, Pauri, Tehri, Uttarakashi, Haridwar and Dehradun of Garhwal region of Uttrakhand. The main objective of Sri Dev Suman Uttarakhand University is to distribute and develop knowledge by providing training and research facilities in all branches of learning which will build up the career of an individual.
Sri Dev Suman Uttarakhand University offers UGC recognized undergraduate, postgraduate and doctoral courses in areas of Hindi, Philosophy, Sociology, Commerce & Management, Agriculture, Physics, Chemistry, Mathematics, Biology, Journalism & Mass Communication, Hospital Administration, Botany, History, English, Political Science, Economics and many more subjects. Here quality higher education is provided to its students by the experienced faculty members. Moreover, various research and exchange programmes are also conducted by the University for the welfare of its students.
Moreover, world-class facilities like hostels, library, computer centre, sports, etc are provided by the University. Aspiring students can check the official website of Sri Dev Suman Uttarakhand University- www.sdsuv.ac.in for details regarding admission, courses, fees structures and other updated notifications. Moreover, www.onlineresultportal.com is also helpful for the students to get details about all Indian Universities.
Latest Updates:
Date
SDSUV M.Sc Forestry III Sem Exam Result 2019-2021
11-10-2022
SDSUV MSC Forestry III Sem Exam Result 2019-2021
11-07-2022
SDSUV B.A. II Sem Exam Result (2019-2022) BACK
04-03-2022
04-03-2022
-
-
03-10-2021
30-09-2021
30-09-2021
25-09-2021
25-09-2021
18-09-2021

Details of Sri Dev Suman Uttarakhand University
Name
SDSUV (Sri Dev Suman Uttarakhand University)
Affiliations
UGC
Contact No
(01376) 254065, 254142
Website
http://sdsuv.ac.in/
Founded
2012
Email
sdsuv123@gmail.com
Address
Suman Colony, Chamba, Uttarakhand
City
Garhwal
State
Uttarakhand
Country
India
List of courses offered by Sri Dev Suman Uttarakhand University

Degree
Duration
Arts Courses
B.Ed.
1 Years
M.A. (English Literature)
2 Years
M.A. (History)
2 Years
M.A. (Mathematics)
2 Years
M.A. (Philosophy)
2 Years
M.A. (Political Science)
2 Years
Commerce Courses
M.Com.
2 Years
List of colleges affiliated with Sri Dev Suman Uttarakhand University

City
College Name
Dehradun
College of Education
Northern Institute of Management Studies
Ram Institute of Hotel Management - RIHM
Haridwar
Harsh Vidhya Mandir P.G. College
Roorkee
B.S.M. Women B.Ed. College
Phonics School of Education
Phonics School of Sciences and Commerce