Sri Venkateswara Veterinary University Tirupati Exam Result 2022
Onlineresultportal.com | Updated: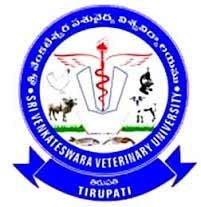 SVVU (Sri Venkateswara Veterinary University) was established in 1955 to 2006 strengthen education research and services in the fields of Veterinary Science, Dairy Technology and Fishery Science in the State of Andhra Pradesh. The establishment of three Veterinary Colleges, the first at Rajendranagar during 1946, the second at Bapatla during 1955 and the third at Gannavaram during 1998, paved the way for strengthening Veterinary education in the State. The first college Veterinary Science Tirupati celebrated Golden Jubilee Year during July 2004 to 2005.

About Sri Venkateswara Veterinary University
Name
Sri Venkateswara Veterinary University (SVVU)
Affiliations
UGC
Contact No
0877 224 9932
Website
www.svvu.edu.in
Founded
2005
Email
info@svvu.edu.in
Address
Chittoor Road, Prakasam Nagar Colony, Sri Padmavati Mahila Visvavidyalayam
City
Tirupati - 517502
State
Andhra Pradesh
Country
India
List of courses offered by Sri Venkateswara Veterinary University

Degree
Duration
Medical Courses
Ph.D. (Veterinary Preventive Medicine)
3 Years
Science Courses
B.F.Sc.
4 Years
B.V.Sc.
4½ Years
M.F.Sc. (Aquaculture)
2 Years
M.F.Sc. (Aquatic Environment Management)
2 Years
M.F.Sc. (Fish Processing Technology)
2 Years
M.V.Sc. (Animal Biotechnology)
2 Years
M.V.Sc. (Animal Breeding & Genetics)
2 Years
M.V.Sc. (Animal Nutrition)
2 Years
M.V.Sc. (Livestock Production & Management)
2 Years
M.V.Sc. (Livestock Products Technology)
2 Years
M.V.Sc. (Veterinary and Animal Husbandry Extension)
2 Years
M.V.Sc. (Veterinary Bacteriology)
2 Years
M.V.Sc. (Veterinary Biochemistry)
2 Years
M.V.Sc. (Veterinary Gynaecology & Obstetrics)
2 Years
M.V.Sc. (Veterinary Medicine)
2 Years
M.V.Sc. (Veterinary Microbiology)
2 Years
M.V.Sc. (Veterinary Parasitology)
2 Years
M.V.Sc. (Veterinary Pathology)
2 Years
M.V.Sc. (Veterinary Pharmacology & Toxicology)
2 Years
M.V.Sc. (Veterinary Physiology)
2 Years
M.V.Sc. (Veterinary Public Health & Epidemiology)
2 Years
M.V.Sc. (Veterinary Surgery and Radiology)
2 Years
Ph.D. (Animal Breeding & Genetics)
3 Years
Ph.D. (Animal Nutrition)
3 Years
Ph.D. (Live Stock Production & Management)
3 Years
Ph.D. (Veterinary Anatomy & Histology)
3 Years
Ph.D. (Veterinary Biochemistry)
3 Years
Ph.D. (Veterinary Microbiology)
3 Years
Ph.D. (Veterinary Parasitology)
3 Years
Ph.D. (Veterinary Pathology)
3 Years
Ph.D. (Veterinary Pharmacology & Toxicology)
3 Years
Ph.D. (Veterinary Physiology)
3 Years
Ph.D. (Veterinary Public Health & Epidemiology)
3 Years
Ph.D. (Veterinary Surgery & Radiology)
3 Years
Agriculture Science and Technology Courses
B.Tech. (Dairy Technology)
4 Years
B.V.Sc. & A.H.
5 Years
M.Sc. (Dairy Science)
2 Years
M.Tech. (Dairy Microbiology)
2 Years
M.Tech. (Dairy Technology)
2 Years
M.V.Sc. (Poultry Science)
2 Years
Ph.D. (Animal Reproduction Gynaecology & Obstretrics)
3 Years
M.Sc. (Dairying)
2 Years
Ph.D. (Poultry Science)
3 Years
Ph.D. (Veterinary Science and Animal Husbandry)
3 Years
Diploma in Animal Husbandry
1 Years
Diploma in Fishery
1 Years
List of colleges affiliated with Sri Venkateswara Veterinary University

| S. No. | College Name |
| --- | --- |
| 1 | CVSc, Rajendranagar |
| 2 | HYDCVSc, Tirupati |
| 3 | NTR CVSc, Gannavaram |
| 4 | CVSc, Proddatur |
| 5 | CVSc, Korutla |
| 6 | CFSc, Muthukur |
| 7 | DTC, Tirupati |
| 8 | DTP, Kamareddy |