Tamil Nadu Physical Education and Sports University Result 2023
Onlineresultportal.com | Updated: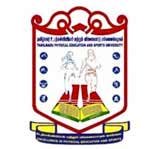 Tamil Nadu Physical Education and Sports University is the first Physical Education University in India. Established in 2004 at Chennai in Tamil Nadu, the University is unique as an affiliating University which deals exclusively for teaching and training of physical education and sports. The University is recognized by the University Grants Commission (UGC) and additionally the National Assessment and Accreditation Council (NAAC) have accredited "B++" Grade upon this seat of higher learning. This unique University has a great vision to establish itself as a master of excellence in promotion and development of physical education and sports. Here the University has a pursuit of creating new methods and modern techniques of teaching, coaching and involve in research and outreach activities. This is done to produce the best workforce and professionals for the world of sports and physical education. Moreover, another mission of this University is to lead the present society to be a place of physically fit and healthy environment.
The University offers undergraduate, postgraduate, diploma, M.Phil and P.Hd courses in its respective academic departments. Moreover, it also provides distance education through a wide range of study centres. The academic departments consist of Physical Education, Yoga, Exercise Physiology & Biomechanics, Sports Management, Sports Psychology & Sociology and Advanced Sports Technology & Coaching. Interested students who dreams of a career in sports and physical education can take admission at this incredible University. They are advised to look for more details at www.tnpesu.org regarding admission procedure, courses, fees structures and other notifications. Moreover, www.onlineresultportal.com too provides information about Indian Universities and results of various examinations.
Details of Tamil Nadu Physical Education and Sports University
Name
TNPESU (Tamil Nadu Physical Education and Sports University)
Affiliations
UGC, NCTE
Contact No
044 2747 7906
Website
www.tnpesu.org
Founded
15 September 2005
Email
tnpesu@rediffmail.com
Address
Melakottaiyur, Chennai, Tamil Nadu 600127
State
Tamil Nadu
Country
India
List of courses offered by Tamil Nadu Physical Education and Sports University

Degree
Duration
Arts Courses
B.P.Ed.
3 Years
M.P.Ed.
2 Years
M.Phil. (Physical Education)
2 Years
Ph.D. (Physical Education)
3 Years
Diploma in Coaching Badminton
1 Years
Diploma in Coaching Basket Ball
1 Years
Diploma in Coaching Hockey
1 Years
Diploma in Coaching Soccer
1 Years
Diploma in Coaching Volley Ball
1 Years
Post Graduate Diploma in Adapted Physical Education
1 Years
Post Graduate Diploma in Movement Education
1 Years
Medical Courses
M.Phil. (Exercise Physiology and Nutrition)
2 Years
Master of Exercise Physiology & Nutrition (EPN)
2 Years
Ph.D. (Exercise Physiology and Nutrition)
3 Years
Science Courses
M.Sc. (Physiology)
2 Years
M.Sc. (Psychology)
2 Years
Management Courses
M.B.A. (Sports Management)
2 Years
Post Graduate Diploma in Fitness Management
1 Years
Post Graduate Diploma in Infrastructure Management
1 Years
Post Graduate Diploma in Marketing Management
2 Years
PG Diploma in Production Management
1 Years
Post Graduate Diploma in Wellness Management
1 Years
Professional Courses Courses
M.B.A. (Sports Marketing Management)
2 Years
M.B.A. (Sports Production Management)
2 Years
M.Phil. (Sports Coaching)
1 Years
M.Sc. (Sports Coaching)
1 Years
M.Sc. (Sports Psychology and Sociology)
2 Years
M.Tech. (Sports Technology)
2 Years
Ph.D. (Sports Coaching)
3 Years
Ph.D. (Sports Management)
3 Years
Ph.D. (Sports Technology)
3 Years
Post Graduate Diploma in Sports Coaching
1 Years
Post Graduate Diploma in Sports Marketing Information System
1 Years
Vocational Courses Courses
Certificate Course in Karate
4 Months
Yoga and Naturopathy Courses
M.Sc. (Health and Yoga Therapy)
2 Years
M.Sc. (Yoga and Naturopathy)
2 Years
M.Sc. (Yoga)
2 Years
Ph.D. (Yoga)
3 Years
Diploma in Yoga
1 Years
Post Graduate Diploma in Yoga
2 Years
Post Graduate Diploma in Yoga Therapy
18 Months
List of colleges affiliated with Tamil Nadu Physical Education and Sports University

City
College Name
Chennai
1
Y.M.C.A. College of Physical Education
Coimbatore
1
Maruthi College of Physical Education
Namakkal
1
Gnanamani College of Physical Education
2
Selvam College of Physical Education
Thoothukudi
1
Dr. Sivanthi Aditanar College of Physical Education