Tamil Nadu Teacher Education University Exam Result 2023
Onlineresultportal.com | Updated: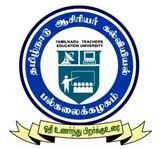 Tamil Nadu Teacher Education University is a State University located at Chennai in the Indian State of Tamil Nadu. Established in 2008, this University takes care of the teachers' education in Tamil Nadu. The uniqueness of this University is special since it is the only University in the entire state which is exclusively created for promoting excellent teachers education. Moreover, for the benefit of the society this University successfully carries out its responsibilities for producing smart and motivated teachers. The University Grants Commission (UGC) holds its recognition for all the courses taught in this University especially Bachelor of Education (B.Ed) and Master of Education (M.Ed.) degree courses including M.Phil and Ph.D programmes.
The University has established departments of Pedagogical Sciences, Value Education, Educational Psychology, Educational Technology, Curriculum Planning & Evaluation and Educational Planning & Administration. Experienced faculty members from these departments provide quality teachers education. Moreover, this University is proud to monitor all of its 731 affiliated colleges belonging from government, government-aided and self-financing colleges in whole of the State. The University and its affiliated colleges pays prime attention in propagating and promoting elementary, secondary and higher education and training of the teachers. In this regards there is a great demand for mentors who can provide training to the teachers.
Concerned teachers or aspiring teachers can take admission to this University in order to have the best grooming and training to be an ideal teacher. They can check the official website- www.tnteu.in for courses details, admission, fees structures and other important notifications. On the other hand, www.onlineresultportal.com is also involved in providing all types of information about Indian Universities and results of important examinations.

Details of Tamil Nadu Teacher Education University
Name
TNTEU (Tamil Nadu Teacher Education University)
Affiliations
UGC
Contact No
044 2844 7305
Website
www.tnteu.in
Founded
2008
Email
admin@tnteu.in
Address
Adjacent to Govt.High School, Gangaiamman Koil Street, Karapakkam, Chennai,
State
Tamil Nadu
Country
India
List of courses offered by Tamil Nadu Teacher Education University

Degree
Duration
Arts Courses
B.Ed.
1 Years
M.Ed.
2 Years
M.Phil. (Education)
1 Years
Ph.D. (Education)
3 Years
List of colleges affiliated with Tamil Nadu Teacher Education University

City
College Name
Ariyalur
1
Meenakshi Ramasamy College of Education
2
Sri Lakshmi College of Education
3
Sri Sowbackiya College Education
4
Vinayaga Education College
Chennai
1
ACT College of Education
2
Alwin College of Education
3
Anand Teacher Training Institute
4
Apollo College of Education
5
Cholan Teacher Training Institute
6
Cosmopolitan College of Education
7
DMI College of Education
8
ES College of Education
9
Gojan College of Teacher Education
10
Jaya College of Education
11
Jayalakshmi Narayanaswamy College of Education
12
K.J.N. Educational College
13
Lady Willingdon Institute of Advanced Study in Education - Autonomous
14
Loyola College of Education
15
Madha College of Education
16
MEASI College of Education
17
Meston College of Education - Autonomous
18
Mohamed Sathak Teacher Training College
19
Nazareth College of Education for Women
20
NKT National College of Education for Women - Autonomous
21
Our Lady College of Education
22
Ponnusamy Nadar College of Education
23
Prof. SA College of Education
24
Punitha Valanar College of Education
25
Rajalakshmi College of Education - RCE
26
S. Preethi B.Ed. College
27
Sathyasai B.Ed. College
28
Sivanthi College of Education
29
Sri Muthukumaran College of Education
30
St. Christopher's College of Education
31
St. Gonsalo College of Education
32
Vinayaga College of Education
33
34
CMS College of Education
35
CSI Bishop Appasamy College of Education
36
Dr. GR Damodaran College of Education
37
Dr. NGP College of Education
38
Dr. SNS College of Education
39
Government College of Education for Women
40
GR Govindarajulu College of Education - GRGCE
41
Hindusthan College of Education
42
Holy Angels College of Education
43
JAS College of Education
44
Karpagam College of Education
45
Lisieux College of Education
46
Michael Job Memorial College of Education for Women
47
P.K.D. College of Education
48
P.P.G. College of Education
49
Park College of Education
50
R.V.S. College of Education
51
RKR College of Education
52
Sri Kalaivani College of Education
53
Sri Ramakrishna Mission Vidyalaya College of Education
54
St. Mark's College of Education
55
St. Peter's College of Education
Cuddalore
1
Bhavani College of Education
2
Blessy College of Education
3
CSM College of Education
4
DVC College of Education
5
J.S.J.V. College of Education
6
Kamaraj College of Education
7
Muna Institute of Education
8
National College of Education
9
New Millennium College of Education
10
O.P.R. Memorial College of Education
11
Omm Muruga College of Education
12
Sandaravadhanam College of Education
13
Sri Arumugam Teacher Training College
14
Sri Viruthambigai College of Education
15
Vinayaga Teacher Training Institute
Dharmapuri
1
E.R.K. College of Education
2
P.D.R. Vellachiammal College of Education
3
Paramveer College of Education
4
Saya Gosh College of Education
5
Sri Gokulakrishna College of Education
6
Sri Paspo College of Education
7
Thalapathy College of Education
8
Varuvan Vadivelan College of Education
9
Vishwa Bharathi College of Education - VBCE
Dindigul
1
Cauvery Ammal Teacher Training Institute
2
M.V.M. Chellamuthu Alagurathinam College of Education for Women
3
Meenakshi B.Ed. College
4
N.P.R. College of Education
5
Peace College of Education
6
Peniel Rural College of Education
7
R.V.S. College of Education
8
Sakthi College of Education for Women
9
Sri Ragavendra College of Education
Erode
1
Grace College of Education
2
Jaya Shanthi College of Education
3
Kumutha College of Education
4
Maharaja College of Education
5
Nandha College of Education
6
Vellalar College of Education for Women
7
Vishnu Lakshmi B.Ed College
Jabalpur
1
Thiyagi Dharmakkan Amirtham College of Education
Kanchipuram
1
Amirtham Teacher Training Institute and Amirtham College of Education
2
Arulmigu Meenakshi Amman College of Education - AMAC
3
Cholan College of Education
4
Kanchi College of Education
5
Om Shanti College of Education
6
Sri Angalamman College of Education
7
U.P.R. College of Education
8
U.P.R. Teacher Training Institute - UPRTTI
9
Vidhya Sagar Women's College of Education - VSWCE
Kanyakumari
1
All Saints College of Education
2
Bapuji Memorial College of Education
3
Bethany Navajeevan College of Education
4
Bethesda College of Education for Women
5
Bethlahem College of Education - BCE
6
Christian College of Education
7
Grace College of Education
8
Holy Trinity of College of Education
9
Immanuel Arasar B.Ed. College of Education
10
Kamaraj College of Education
11
M.E.T. College of Education
12
Mar Chrysostom College of Education
13
N.V.K.S.D. College of Education
14
Ponjesly College of Education
15
R.P.A. College of Education
16
Ruben College of Education
17
Siddhartha College of Teacher Education
18
Udaya College of Education
19
Vivekananda College of Education
20
White Memorial College of Eduaction
Karur
1
AASEE College of Education
2
Arasu College of Education for Women
3
Jairam College of Education
4
Kaliammal College of Education
Krishnagiri
1
Concord College of Education
2
Rajiv Gandhi College of Education
3
Rajiv Gandhi Institute of Teachers Training
Krishnankovil
1
Adhiyamaan College of Education
Madurai
1
Assefa College of Education
2
Crescent College of Education for Women
3
CSI College of Education
4
Devasagayam Annathayammal College for Women
5
Kalvithanthai A.K.R. Sourashtra Teachers College
6
Mangayarkarasi College of Education for Women
7
Raj College of Education
8
Ruby College of Preceptor
9
Shri Balaji College of Education for Women
10
St. Justin's College of Education
11
Thiagarajar College of Preceptors
Nagapattinam
1
Andavar College of Education
2
Devarajan College of Education
3
EGS Pillay College of Education
4
Nagai College of Education
5
Prime College of Education
Namakkal
1
Annai Mathammal Sheela College of Education
2
Arputha Jothi College of Teacher Education
3
Chandra Chellappan College of Education
4
Dharma Vidyaalaya College of Education
5
Esther College of Education
6
Excel College of Education
7
Gnamani College of Education
8
K.R.P. College of Education
9
K.S. Maniam College of Education
10
K.S.R. College of Education
11
Kandhaswamy College of Education
12
Kasthooribha Gandhi College of Education
13
King College of Education
14
Krishna College of Education for Women
15
M. Shanthi College of Education
16
Mahendhira College of Education
17
Mahendhira College of Education
18
Mahendra College of Education
19
Paavai College of Education
20
PGP College of Education
21
Rainbow Educational College
22
Rajapalayam Deivanai Ammal College of Education
23
RASI College of Education
24
Sri Rengeswarar College of Education
25
Sri Vengalamani Amman College of Education
26
Star College of Education
27
Vivekanandha College of Education for Women
Perambalur
1
Dhanalakshmi Srinivasan College of Education for Women
2
Elizabeth College of Education
3
K. Indira College of Education
4
Roever College of Education
5
Vidhya Vikas Plus The Institute of Education
Puducherry
1
Sri Sai Ram College of Education
Pudukkottai
1
B.T.K. College of Education
2
Bharathi Vidyalaya College of Education
3
Bishop Packiam Arokiaswamy College of Education
4
Keerai Tamil Selvan College of Education for Women
5
Mahatma College of Education
6
Mother Teresa College of Education
7
Ponmari College of Education
8
S.M.R. College of Education
9
Sastha College of Education
10
Sri Bharathi College of Education
11
Sri Manickam College of Education
12
Sudharsan College of Education
13
Vestly College of Education
Ramanathapuram
1
Puratchi Thalaivar Dr. M.G.R. College of Education
2
R.K. Samy College of Education
3
Sri Karpaga Vinayagar College of Education
Salem
1
Annai College of Education
2
AVS College of Education
3
Balakrishna College of Education
4
Dhanam College of Education
5
Dr. Nagarathnam's B.Ed. College
6
Kamarajar College of Education
7
Kevi Women's College of Education
8
Kongunaadu B.Ed. College
9
Mahendhira College of Education
10
Maruthi College of Education
11
Padmavani College of Education
12
Rabindranath Tagore College of Education for Women
13
Sengunthar College of Education
14
Sri Ganesh College of Education
15
Sri Jayajothi College of Education
16
Sri Sarada College of Education - Autonomous
17
Sri Swamy College of Education for Women
18
St. Basil College of Education Women
19
St. Grace Lilian College of Education
20
Tagore College of Education
21
Vysya College of Education
Sivaganga
1
P.S.Y. College of Education
2
Tamil Nadu College of Education
3
Thavathiru Kundrakudi Adigalar College of Education for Women
Tanjore
1
MASS College of Education
Thanjavur
1
Annai Matha College of Education
2
Annai Saraswathi College of Education
3
ARR College of Education for Women
4
Arun College of Education
5
Bharath College of Education
6
Dr. Vellasamynadar College of Education
7
R.D.B. College of Education
8
S.R.J. College of Education
9
Sri Kumaran B.Ed. College
10
St. John De Britto College of Education
11
Umamaheswara College of Education
12
Vandayar College of Education
13
Veludayar College of Education
The Nilgiris
1
St. Joseph's College of Education
2
St. Joseph's College of Education
Theni
1
Chellammal College of Education
2
Ramakrishnan Chandra College of Education
3
Shri V.P.R. College of Education
4
Sourashtra College of Education
5
Theni Kammavar Sangam College of Education
Thiruchirapalli
1
Annai Indira Memorial Teacher Training Institute
2
Indra Ganesan College of Education
3
J.J. College of Education
4
Jenneys College of Education
5
M.A.M. College of Education
6
Mariamman College of Education
7
Vekkaliyamman College of Education
Thiruvallur
1
DGS College of Education and Teacher Training Institute
2
ESSM College of Education
3
Good Shepherd College of Education
4
Rangaswamy College of Education
5
T.V.M. College of Education
6
Vadaranyam College of Education
7
Vishwaksena College of Education
Thiruvarur
1
Arcot Sri Mahalakshmi Women's College of Education
2
Arunamalai College of Education
3
Veludayar S.E. College of Education
Thoothukudi
1
Annammal College of Education for Women
2
Chandy College of Education
3
Dr. Sivanthi Aditanar College of Education
4
Punitha Ohm College of Education
5
RMP CSI PSK Rajaratnam College of Education
Tiruchirappalli
1
Holy Cross College of Education
2
Merit College of Education
Tirunelveli
1
Annai Meenakshi College of Education
2
BKR College of Education
3
JP College of Education
4
Keins College of Education
5
S Veerasamy Chettiar College of Education
6
S. Veerasamy Chettiar College of Education
7
SCAD College of Education
8
Sri Balaji College of Education
9
Sri Muppudathi Amman College of Education
10
St. Ignatius College of Education - Autonomous
11
St. Joseph College of Education
12
St. Xavier's College of Education - Autonomous
13
Universal College of Education
Tiruppur
1
Century Foundation College of Education
2
Centwin College of Education and Institute for Teacher Training
3
D.K.T. College of Education
4
Jayanthi College of Education
5
Maharani College of Education
Tiruvannamalai
1
All Angels College of Education
2
Annai Theresa College of Education for Women
3
Arunai College of Education
4
Crescent College of Education
5
Dhivya College of Education
6
Jayam College of Education
7
KEC College of Education
8
M. Durai College of Education
9
Sri Balaji College of Education
10
Sri Ramajayam College of Education
11
Sri Vari College of Education
12
Vignesh College of Education
13
Vijay College of Education
14
Wisdom College of Education
Trichy
1
Divine College of Education
2
Imayam College of Education
3
Kongunadu College of Education
4
Sri Adhisankarar College of Education
5
Thirumalai Srinivasa College of Education
Vellore
1
AMES College of Education
2
Amritalaya College of Education
3
Beattie Memorial College of Education
4
Bharat College of Education
5
CKS College of Education
6
CS College of Education
7
Devi Venkatachalam College of Education and Teacher Training Institute
8
Durai Vidhyalakshmi College of Education
9
Durai Vidyalakshmi College of Education
10
GP Secondary Teacher Education Training College
11
GVC College of Education
12
J.M.S. College of Education
13
K.K.S. Mani College of Education
14
Kennedy College of Education
15
Meera College of Education
16
T.K. Raja College of Education
17
Thirumal College of Education
18
V.S. Isaac College of Education
19
Vani College of Education
20
Vellore College of Education
Villupuram
1
Billgates College of Education
2
Danie College of Education
3
Dr. Rajabather-Tagore Women Teacher's Training College
4
Paulsons Teachers Training College
5
Siga College of Education
6
Sri Lakshmi College of Education
7
Sri Saravana College of Education
8
Susila College of Education
9
T.S.M. College of Education
10
V.P.N. College of Education
Virudhunagar
1
Akshaya College of Education
2
Angel College of Education
3
Arasan Ganesan College of Preceptoprs
4
Arulmigu Kalasalingam College of Education
5
P.S.N.L. College of Education
6
P.S.R. College of Education
7
S.R.V. College of Education
8
Smt. A.K.D. Sakkaniamma College of Education for Women
9
Sri Vatsa College of Education
10
V.P. Muthiah Pillai Meenakshi Ammal College of Education for Women
11
Vathsala Johnson College of Teacher Education
12
Virudhunagar M.S.P. Nadar College of Education