Telangana University Exam Result 2023
Onlineresultportal.com | Updated: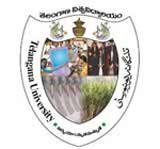 Telangana University is a Public University established in 2006 by the State Government at Dichpally in Nizamabad in the Indian State of Telangana. This 600 acre campus houses administrative buildings, academic departments and hostels to cater to the academic quests for the weaker and rural student sections of Nizamabad and Adilabad districts. The recognition of Telangana University is provided by the University Grants Commission and moreover this premium University is also an active member of Association of Indian Universities. On the other hand, the National Assessment and Accreditation Council have awarded "B" Grade with quite a good score.
Over 1500 students pursue their studies in various courses at the University campus and these courses were taught by the good number of regular faculty members who are quite experienced in research and foreign teaching. The Telangana University has its main camou at Dichpally and other two campuses at Bhiknoor and Sarangpur. This University offers undergraduate, postgraduate and research programmes in various disciplines which also includes some of the best job-oriented courses. These courses are imparted by the faculties of Arts, Business Management, Social Sciences, Education, Science, Commerce and Law. Students are admitted to various courses on the basis of the merit and performance in TUCET/OU Common Entrance Test.
Interested students and scholars can have a look at the University website- www.telanganauniversity.ac.in for getting details like admission, courses, fees structures and other important notifications. Moreover, www.onlineresultportal.com is also involved in providing details about all Indian Universities and courses state wise along with results of important examinations.
Latest Updates:

Result Announcement

Date
21-09-2021
11-02-2021
18-01-2021
05-01-2021
17-12-2020
17-12-2020
17-12-2020
Details of Telangana University
Name
Telangana University
Affiliations
UGC
Contact No
084612 22211
Website
www.telanganauniversity.ac.in
Founded
2006
Email
tu@telanganauniversity.ac.in
Address
Telangana University, Nizamabad-503322(T.S)
State
Telangana
Country
India
List of courses offered by Telangana University

Degree
Duration
Arts Courses
M.A. (Applied Economics)
2 Years
M.A. (English)
2 Years
M.A. (Hindi)
2 Years
M.A. (Social Work)
2 Years
M.A. (Telugu)
2 Years
M.A. (Urdu)
2 Years
M.Sc. (Economics)
2 Years
Medical Courses
M.Sc. (Pharmaceutical Chemistry)
2 Years
Science Courses
M.Sc. (Applied Statistics)
2 Years
M.Sc. (Biotechnology)
2 Years
M.Sc. (Botany)
2 Years
M.Sc. (Geoinformatics)
2 Years
M.Sc. (Organic Chemistry)
2 Years
M.Sc. (Physics)
2 Years
M.Sc. (Statistics)
2 Years
Management Courses
M.B.A.
2 Years
Mass Communications Courses
M.A. (Mass Communication & Journalism)
2 Years
Commerce Courses
M.Com. (e-Commerce)
2 Years
Information Technology Courses
M.C.A.
3 Years
Law Courses
L.L.B.
3 Years
List of colleges affiliated with Telangana University

City
College Name
Nizamabad
1
Karshak B.Ed. College