University of Calcutta Exam Result 2023
Onlineresultportal.com | Updated: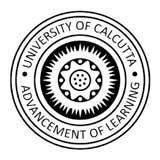 The University of Calcutta was formed by the East India Company on January 24, 1857 at the former Capital of India – Kolkata (Calcutta). This was the first institute in Asia to be established in multidisciplinary and secular Western –style University since it was previously followed the academic pattern of London University. Later, the academic pattern was modified as per the rules of Indian Constitution. The University of Calcutta has a world ranking of 601-650 in the QS World University Rankings (2011) and holds 2nd position by the India Today Top India Universities consecutively in 2012, 2013 and 2014.
The University of Calcutta is one of the largest educational institutes of India with four campuses in different parts of Kolkata city. It also includes 18 research centers, 710 teachers, 3000 non-teaching staff and 22,520 undergraduate and post-graduate students. This five star University is also recognized by the UGC, NAAC ("A" grade) and AIU. More than 100 colleges were also affiliated by the University of Calcutta. The world-class education provided by this University is done by its 65 departments which are further divided into 8 faculties of Agriculture, Arts, Commerce, Social Welfare & Business Management, Education, Journalism &Library Science, Engineering & Technology, Fine Arts, Music & Home Science, Law and Science.
There are many hopeful students who have a dream to study in this Heritage University. Admission is based totally upon merit. Students can check the official website of the University of Calcutta- www.caluniv.ac.in for information regarding admission procedure, admission forms, applying through online, admit cards, courses and other important updates and notifications. In addition to that, www.onlineresultportal.com is also involved in providing details about all Indian Universities from different states.
Latest Updates:
Result Announcement: Exametc.com | Click Here
Date
BA & B.Sc. (Sem 4) Hons., Gen & Major CBCS Exam 2023 Result
26-09-2023
BA & B.Sc. (Sem 4) Hons., Gen & Major CBCS Exam 2023 Result
Release soon
BA LLB (Sem 3,5 & 7) Year 5 Non-CBCS Exam 2022 Result
22-09-2023
BA LLB (Sem 7) Year 5 Hons. CBCS Exam 2022 Result
22-09-2023
BA LLB (Sem 7) Year 5 Gen. CBCS Exam 2022 Result
22-09-2023
BA LLB (Sem 5) Year 5 CBCS Exam 2022 Result
22-09-2023
BA LLB (Sem 3) Year 5 CBCS Exam 2022 Result
22-09-2023
BA LLB (Sem 1) Year 5 CBCS Exam 2022 Result
22-09-2023
LLB KP (Sem 6) Year 3 Exam 2023 Result
21-09-2023
BA & B.Sc. (Part 3) Hons., Gen. & Major Exam 2023 Result
18-09-2023
B.Com. (Part 3) Hons., Gen. & Major Exam 2023 Result
18-09-2023
B.Com. (Sem 6) Hons., Gen. & Major CBCS Exam 2023 Result
30-08-2023
BA & B.Sc. (Sem 4) Hons., Gen. & Major CBCS Exam 2023 Result
25-08-2023
BA LLB (Sem 10) Year 5 Hons. CBCS Exam 2023 Result
11-08-2023
BA LLB (Sem 9) Year 5 Gen. Non CBCS Exam 2022 Result
11-08-2023
BA LLB (Sem 9) Year 5 Gen. CBCS Exam 2022 Result
11-08-2023
BA LLB (Sem 9) Year 5 Hons. CBCS Exam 2022 Result
11-08-2023
B.Com. (Sem 1) Hons., Gen. & Major CBCS Exam 2022 Result
28-06-2023
B.A./B.Sc.Semester-I (Honours/General/Major) Examinations,2022(Under CBCS)
28-06-2023
B.Com. (Sem 3) Hons., Gen. & Major CBCS Exam 2022 Result
14-06-2023
B.A./B.Sc. Semester-III (Honours/General/Major) Examinations, 2022 (Under CBCS) Result
09-06-2023
Results of B.Com. Semester-V (Honours/General/Major) Examinations, 2022 (Under CBCS)
26-05-2023
Results of Re-examination & F.S.I. for B.A./B.Sc./B.Com. Semester - II (Hons./General/Major) Examination, 2022 (Under CBCS)
26-05-2023
B.A./B.Sc./B.Com. Part -I & II (Hons./Genl./Major) Examinations 2022 Result
26-05-2023
B.A./B.Sc.Semester-V(Honours/General/Major) Examinations 2022(Under CBCS)
03-05-2023
B.Com. (Sem 2) Hons., Gen. & Major CBCS Exam 2022 Result
20-12-2022
BA & B.Sc. (Sem 2) Hons.,Gen & Major CBCS Exam 2022 Result
07-12-2022
B.Com. (Sem 4) Hons., Gen. & Maj CBCS Exam 2022 Result
01-12-2022
Details of University of Calcutta
Name
University of Calcutta
Affiliations
UGC
Contact No
088246 15445
Website
www.caluniv.ac.in/
Founded
24 January 1857
Email
admin@caluniv.ac.in
Address
87, 1, College St, Calcutta University, College Square, Kolkata, West Bengal
City
Kolkata
State
West Bengal
Country
India
List of courses offered by University of Calcutta

Degree
Duration
Arts Courses
B.Ed.
1 Years
M.A. (Ancient Indian History and Archaeology)
2 Years
M.A. (Arabic)
2 Years
M.A. (Archaeology)
2 Years
M.A. (Education)
2 Years
M.A. (French)
2 Years
M.A. (Islamic History & Culture)
2 Years
M.A. (Museology)
2 Years
M.A. (Persian)
2 Years
M.A. (Sociology)
2 Years
M.A. (Tamil)
2 Years
M.A. (Urdu)
2 Years
M.Ed.
2 Years
M.L.I.Sc.
2 Years
M.Lib.I.Sc. (Integrated)
5 Years
M.Phil. (Bengali)
2 Years
M.Phil. (Economics)
2 Years
M.Phil. (Education)
1 Years
M.Phil. (English Literature)
2 Years
M.Phil. (Hindi)
2 Years
M.Phil. (History)
2 Years
M.Phil. (Mathematics)
2 Years
M.Phil. (Pali)
2 Years
M.Phil. (Philosophy)
2 Years
M.Phil. (Sanskrit)
2 Years
M.Phil. (South Asian Studies)
2 Years
Diploma in Urdu
3 Years
Engineering Courses
B.Tech. (Ceramic Technology)
4 Years
B.Tech. (Chemical Engineering)
4 Years
B.Tech. (Computer Science and Engineering)
4 Years
B.Tech. (Electrical Engineering)
4 Years
B.Tech. (Instrumentation Engineering)
4 Years
B.Tech. (Optics and Optoelectronics)
3 Years
B.Tech. (Polymer Engineering)
4 Years
M.Tech. (Electrical Engineering)
2 Years
M.Tech. (Information Technology)
2 Years
M.Tech. (Optics and Optoelectronics)
2 Years
Medical Courses
B.Sc. (Hons.) (Food Nutrition)
3 Years
B.Sc. (Hons.) (Physiology)
3 Years
Science Courses
B.Sc. (Hons.) (Vocational-Nutrition)
3 Years
B.Sc. (Physiology)
3 Years
M.Sc. (Anthropology)
2 Years
M.Sc. (Applied Genetics)
2 Years
M.Sc. (Applied Mathematics)
2 Years
M.Sc. (Applied Psychology)
2 Years
M.Sc. (Biochemistry)
2 Years
M.Sc. (Bio Physics)
2 Years
M.Sc. (Botany)
2 Years
M.Sc. (Electronics)
2 Years
M.Sc. (Geography)
2 Years
M.Sc. (Human Development)
2 Years
M.Sc. (Human Genetics)
2 Years
M.Sc. (Marine Science)
2 Years
M.Sc. (Physics)
2 Years
M.Sc. (Physiology)
2 Years
M.Sc. (Psychology)
2 Years
M.Sc. (Statistics)
2 Years
M.Sc. (Zoology)
2 Years
M.Tech. (Computer and Information Science)
2 Years
Mass Communications Courses
M.A. (Mass Communication & Journalism)
2 Years
Commerce Courses
B.Com. (Hons.) (Computer Applications and e-Business)
3 Years
B.Com. (Hons.) (Taxation)
3 Years
M.Com.
2 Years
Information Technology Courses
B.Tech. (Computer and Information Science)
3 Years
B.Tech. (Information Technology)
4 Years
M.C.A.
3 Years
M.Tech. (Computer Science and Engineering)
2 Years
Law Courses
L.L.B.
3 Years
L.L.B. (Hons.)
3 Years
L.L.M.
2 Years
List of colleges affiliated with University of Calcutta

City
College Name
Bankura
1
Bankura Christian College
Bardhaman
1
Durgapur Women's College
Calicut
1
St. Alphonsa College of Hotel Management Studies
Hooghly
1
Bidhan Chandra College
2
George School of Law
3
Hooghly Mohsin College
4
Nabagram Hiralal Paul College
5
Raja Peary Mohan College
6
Serampore College
7
Swami Niswambalananda Girl's College
8
Vidyasagar Mahavidyalaya
Howrah
1
Azad Hind Fouz Smriti Mahavidyalaya
2
Bagnan College
3
Dr. Kanailal Bhattacharya College
4
Gangadharpur Sikshan Mandir
5
Hope Institute of Bengal - B.Ed. Section
6
Indira Gandhi Memorial B.Ed college
7
Joypur Panchanan Roy College
8
Lalbaba College
9
Ramakrishna Mission Sikshanamandira
10
Ramakrishna Mission Vidyamandira
11
Shibpur Dinabandhu College
12
Sovarani Memorial College
13
Sree Agrasain College
14
Sureswar Datta Law College
15
Syampur Siddheswari Mahavidyalaya
16
Uluberia College
Indore
1
Indore Christian College - ICC
Kolkata
1
Acharya Girish Chandra Bose College
2
Acharya Jagadish Chandra Bose College
3
Ali Yavar Jung National Institute for the Hearing Handicapped - AYJNIHH
4
All Bengal Teachers Training College
5
All India Institute of Hygiene and Public Health
6
Ananda Mohan College
7
Asutosh College
8
Bangabasi College
9
Bangabasi Evening College
10
Bangabasi Morning College
11
Basanti Devi College
12
Behala College
13
Behala College of Commerce
14
Bengal Music College
15
Bethune College
16
Bijoy Krishna Girls College
17
Budge Budge College
18
Calcutta Girls' College
19
Calcutta Girls' B.T. College
20
Charuchandra College
21
Chittaranjan College
22
City College
23
City College of Commerce and Business Administration
24
College of Leather Technology
25
Deshbandhu College for Girls
26
Dinabandhu Andrews College
27
El- Bethel College for B.Ed.
28
Fakir Chand College
29
Goenka College of Commerce and Business Administration
30
Government College of Arts and Crafts
31
Gurudas College
32
Harimohan Ghosh College
33
Heramba Chandra College - South City Day College
34
Indian Institute of Social Welfare and Business Management - IISWBM
35
Institute of Education for Women
36
Institute of Jute Technology
37
Institute of Post Graduate Ayurvedic Education and Research
38
J.B. Roy State Ayurvedic Medical College and Hospital
39
Jagadish Chandra Basu Sikshak Sikshan Mahavidyalaya College - JCBSSMC
40
Jogesh Chandra Chaudhuri College
41
Jogesh Chandra Choudhury Law College - JCCLC
42
Jyotirmoy School of Law
43
K.K. Das College
44
Kamala Devi Sohanraj Singhvi Jain College of Education
45
Khudiram Bose Central College
46
Kidderpore College
47
Kishore Bharati Bhagini Nivedita College
48
Kishore Bharati Bhagini Nivedita Girls College
49
Lady Brabourne College
50
Loreto College
51
Maharaja Manindra Chandra College
52
Maharaja Srischandra College
53
Maharani Kasiswari College
54
Maheshtala College
55
Maulana Azad College
56
Milli-Al-Ameen College for Girls
57
Mrinalini Datta Mahavidyapith
58
Muralidhar Girl's College
59
Naba Ballygunge Mahavidyalaya
60
Netaji Nagar Day College
61
New Alipore College
62
Pailan College of Education - PCE
63
Panchur College
64
Panihati Mahavidyalaya
65
Purash Kanpur Haridas Nandi Mahavidyalaya
66
Rabin Mukherjee College
67
Rabindra Shiksha Sammillani Law College
68
Ramakrishna Mission Residential College - Autonomous
69
Ramakrishna Sarada Mission Vivekananda Vidyabhavan
70
Rammohan College
71
Ramsaday College
72
Rani Birla Girls' College
73
Reverend Carey Institute of Horticulture
74
Sammilani Mahavidyalaya
75
Sammilani Teachers' Training College
76
Sanskrit College
77
Sarojini Naidu College for Women
78
Sarsuna College
79
Savitri Girls College
80
Scottish Church College
81
Seth Anandaram Jaipuria College
82
Seth Soorajmull Jalan Girls College
83
Shri Shikshayatan College
84
Shyambazar Law College
85
Sir Gurudas Mahavidyalaya
86
Sivnath Sastri College
87
South Calcutta Girls' College
88
South Calcutta Law College
89
St. Paul's Cathedral Mission College
90
St. Xavier's College - SXC
91
State Institute of Physical Education College for Women
92
Surendranath College
93
Surendranath College for Women
94
Surendranath Evening College
95
Surendranath Law College
96
Swami Vivekananda College of Education for Women - SVCEFW
97
Syamaprasad College
98
Syamaprasad Institute of Advance Education - SIAE
99
Taradevi Harakh Chand Kankaria Jain College
100
The Bhawanipur Education Society College - BESC
101
The Bhowanipur Education Society College
102
Umesh Chandra College
103
Victoria Institution
104
Vidyasagar College
105
Vidyasagar College for Women
106
Viharilal College for Home and Social Science
107
Vijaygarh Jyotish Roy College
108
Vivekananda College
109
Vivekananda College for Women
110
Women's Christian College
111
Women's College
Kozhikode
1
Government Arts and Science College
Malappuram
1
Safi Institute of Advanced Study - SIAS
Medinipur
1
Tamralipta Mahavidyalaya
Murshidabad
1
Sripat Singh College
North 24 Parganas
1
Bankim Sardar College
2
Banuali and Ajiran Teacher's Training Institute
3
Chandraketugarh Sahidullah Smriti Mahavidyalaya
4
Dhruba Chand Halder College
5
Dinabandhu Mahavidyalay
6
Gandhi Centenary B.T. College
7
Kalinagar Mahavidyalaya
8
Kingston College of Science
9
Kingston Law College
10
Naba Barrackpore Prafulla Chandra Mahavidyalaya
11
Nahata Jogendranath Mandal Smriti Mahavidyalaya
12
Nandalal Ghosh B.T. College
13
Parameswar Mahavidyalaya
14
Raidighi B.Ed College
15
Rishi Bankim Chandra College
16
Sonarpur Mahavidyalaya
17
Sree Sree Ramkrishna B.Ed. College
18
Sri Chaitanya Mahavidyalaya
19
Sundarban Hazi Desarat College
20
Sundarban Mahavidyalaya
21
Sushil Kar College
Palakkad
1
Chembai Memorial Government Music College
South 24 Parganas
1
Baruipur College
2
Bhangar Mahavidyalaya
3
Bikash Bharati Law College
4
Gourmohan Sachin Mondal Mahavidyalaya
5
Lieutenant Abhishek Ray Chaudhuri Teachers Training College
6
Magrahat College
7
Raidighi College
8
Sagar Mahavidyalaya
9
Sishu Bikash College of Education
10
Sundarban Ashutosh B.Ed. College for Women
Thrissur
1
Government College of Fine Arts
2
Sacred Heart College