About University of Horticultural Sciences, Bagalkot
Onlineresultportal.com | Updated: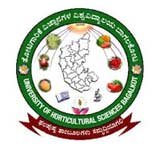 The University of Horticultural Sciences is a public university which is exclusively dedicated to the study and research of horticultural sciences. Situated at Bagalkot, Karnataka, the university was established by the Government of Karnataka through a special ordinance on 22nd November 2008. The mission of the university is to enhance the growth of horticulture sector by providing right kind of education and research facilities to the students.
The university offer certificate, undergraduate and postgraduate courses to the students. In its undergraduate courses, it offers B.Sc.(Hons.) horticulture and B.Tech(Food Technology) at its eight constituent colleges. The Normal duration of the degree programmes is 4 years with 8 semesters. The minimum qualification to get admission to both these courses is the student must pass in two years PUC examination of Karnataka Pre-university board with the combination of subjects such as Physics, Chemistry, Mathematics and Biology. The seats will be allotted through common web counselling conducted by Karnataka Examination Authority (KEA), Bengaluru.
The programmes of postgraduate education in the university consist of Doctor of Philosophy Ph.D. M.Sc. (Horticulture) and Post graduate diploma courses. To get admission to the Master's degree programmes the candidate must possess a Bachelor's degree in horticulture/agriculture. For more information regarding the admission criteria, courses, online admission form aspirants can visit the official website of the university http://www.uhsbagalkot.edu.in or they can check the online education portal www.onlineresultportal.com which is a comprehensive database of all the valuable information regarding all the universities of the country. From here they can download online application forms, admit cards, check out the important notification dates or result etc.

Details of University of Horticultural Sciences
Name
University of Horticultural Sciences
Affiliations
UGC
Contact No
083542 30279
Website
www.uhsbagalkot.edu.in
Founded
22 November 2008
Email
registrar@uhsbagalkot.edu.in
Address
University of Horticultural Sciences, Udyanagiri, Bagalkot-587104
State
Karnataka
Country
India
List of courses offered by University of Horticultural Sciences

Degree
Duration
Science Courses
M.Sc. (Architecture)
2 Years
M.Sc. (Fruit Science)
2 Years
Post Graduate Diploma in Wine Technology
1 Years
Agriculture Science and Technology Courses
B.Sc. (Horticulture Science)
3 Years
M.Sc. (Entomology)
2 Years
M.Sc. (Floriculture and Landscaping)
2 Years
M.Sc. (Horticulture- Fruit Production and Post Harvest Technology)
2 Years
M.Sc. (Plant Pathology)
2 Years
M.Sc. (Spices & Plantation Crops)
2 Years
M.Sc. (Vegetable Science)
2 Years
Ph.D. (Horticulture)
3 Years
Post Graduate Diploma in Post Harvest Technology
1 Years
Post Graduate Diploma in Precision Farming and High- Tech Horticulture
1 Years
Certificate Course in Fower Cultivation and Arrangements
1 Years
Certificate Course in Nursery Management, Seed Production
1 Years
Certificate Course in Plant Protection
1 Years
Certificate Course in Post Harvest Processing and Value Addition
1 Years
List of colleges affiliated with University of Horticultural Sciences