About Vijayanagara Sri Krishnadevaraya University, Bellary
Onlineresultportal.com | Updated: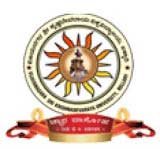 Vijayanagara Sri Krishnadevaraya University (VSKU) is a state university which was established by the Government of Karnataka mainly covers the districts of Ballari and Koppal. It is an affiliated university with about 100 affiliated colleges offering both undergraduate and postgraduate programs to the students in various disciplines. The main aim of the university is to impart education to the economically and educationally backward students and make it affordable and qualitative for them.
The university has three postgraduate campuses with the main campus at Jnana Sagara which is located at Vinayaka Nagar, Bellary and houses all the key administrative departments as well as 14 postgraduate departments. The second campus is Jnana Sarovara which is located at Nandi hill in Sandur Taluka of Ballari has 10 post graduate courses along with adequate hostel facilities for both boys and girls. A third campus has come up at Koppal is also decked with all the modern facilities. The courses offered by the university include Pure Science, Social Science, Arts, Applied Science, Law, Business Studies and Education. Students can fill online admission form for both undergraduate and postgraduate disciplines and for more details can visit the official website http://vskub.ac.in/
Aspirants can also visit http://www.onlineresultportal.com as well which is a comprehensive data base of valuable information regarding online admission, checking of result, downloading of the application form, admit card etc for all the universities of the country.
Details of Vijayanagara Sri Krishnadevaraya University
Name
VSKUB (Vijayanagara Sri Krishnadevaraya University)
Affiliations
UGC
Contact No
083922 42873
Website
vskub.ac.in
Founded
2010
Email
registrar@vskub.ac.in
Address
Jnana Sagara Campus,Vinayaka Nagar Cantonment,Bellary 583105
State
Karnataka
Country
India
List of courses offered by Vijayanagara Sri Krishnadevaraya University

Degree
Duration
Arts Courses
B.A. (Economics)
3 Years
B.A. (Education)
3 Years
B.A. (History)
3 Years
B.A. (Political Science)
3 Years
B.A. (Sociology)
3 Years
B.A. (Statistics)
3 Years
M.A. (Economics)
2 Years
M.A. (Political Science)
2 Years
M.A. (Sociology)
2 Years
M.S.W.
2 Years
Science Courses
B.Sc. (Botany)
3 Years
B.Sc. (Chemistry)
3 Years
B.Sc. (Computer Science)
3 Years
B.Sc. (Electronics)
3 Years
B.Sc. (Mathematics)
3 Years
B.Sc. (Physics)
3 Years
B.Sc. (Zoology)
3 Years
M.Sc. (Chemistry)
2 Years
M.Sc. (Computer Science)
2 Years
M.Sc. (Mathematics)
2 Years
Ph.D.
2 Years
Management Courses
B.H.M. (Bachelor of Hotel Management)
4 Years
M.B.A.
2 Years
Diploma in Hotel Management
3 Years
Mass Communications Courses
B.A. (Journalism)
3 Years
Commerce Courses
B.Com.
3 Years
M.Com.
2 Years
Information Technology Courses
B.C.A.
3 Years
List of colleges affiliated with Vijayanagara Sri Krishnadevaraya University

City
College Name
Bellary
1
Jnana Bharathi College of Education
2
JSS Institute of Education
3
Kottur Swamy College of Education
4
Royal College of Education
5
Tungabhadra College of Education
Koppal
1
SA Ningoji College of Education
2
Sri Gavisiddeshwar College of Education